Car hire in Brussels – For the best of Belgium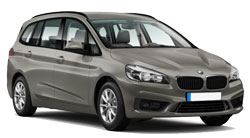 A thriving metropolis in every sense, Brussels is a dynamic city with a superb restaurant scene and a vibrant night-life. Despite being less cosmopolitan than Paris and less historic than Rome, in recent years it has emerged as the symbolic capital of the European Union and a city of global prominence. Brussels is very much a tale of two cities, with the Upper Town and its lofty Royal Quarter looking imperiously down upon the maze of medieval streets and alleyways of the late-17th century Lower Town. Grand Place, the city's timeless cobbled square, is famed for its ornate stonework and gilt decoration set around a magnificent centre-piece, the 14th-century Town Hall, one of the most beautiful examples of civic architecture in the world.
There's much to see and enjoy in Brussels; almost every corner of the Belgian capital offers an architectural treat of some sort and the city's rich mix of Romanesque churches, Gothic towers, Baroque theatres and Art Nouveau houses provides a wealth of photo opportunities. And to best appreciate the narrow, cobbled streets of the older, more historic parts of town, our advice is to park your car hire in Brussels and explore the whole area on foot or hop on one of the trams regularly criss-crossing the inner city.
Perfectly positioned in the centre of Belgium, Brussels is the ideal base from which to explore the hinterland and visit some of the country's most interesting towns and cities. The lovely town of Brugge close to the North Sea coast is high on the agenda for most tourists on account of its splendid medieval buildings, enchanting historic centre and gorgeous squares lined with churches, extravagant buildings and fine mansions. Both thriving towns in the Middle Ages, Antwerp and Ghent are equally appealing for their excellent museums, bustling medieval squares and stately town halls, while the Grand Duchy of Luxembourg just over 100 miles away to the south-west makes for a very interesting day trip for people staying in Brussels.
Since being established in 1954, Auto Europe has grown into a market-leading car hire broker with over 24,000 pick-up/drop-off locations in more than 180 destinations. By working with all the world's leading and most trusted car rental suppliers, we are able to offer a comprehensive range of vehicles at the lowest prices in the market. With Auto Europe you can rent a car in Brussels in just a few simple clicks. On our booking engine just select your dates, destination, supplier and car, and we'll find you the cheapest rates in a couple of seconds. For more useful advice and help with your travel itinerary if required, please feel free to get in touch with our rental specialists on +44 123 3225 114, who are available seven days a week. For additional peace of mind, visit our Brussels car hire reviews and Belgium car hire reviews pages to see what other customers thought of the quality of Auto Europe's wide-ranging car hire services in the Belgian capital and elsewhere.
For more information on renting a vehicle in Brussels, click on the car hire related topics listed below:
---
Where to pick up a car hire in Brussels
We have joined forces with many local, national and internationally trusted car hire suppliers to provide all our customers with competitive quotations, regular special offers and an award-winning customer service during their car rental in Brussels. Through our partners you'll have access to a large vehicle fleet and numerous convenient locations across the country. Within Brussels, our most popular locations are at airports, train stations and central Brussels.
Our secure online booking engine allows you to see all the available locations for your desired supplier and dates. You can select the best pick-up office by simply conducting a search, and then clicking on "All Locations" to view every location in Brussels. An interactive Map is available which allows you to see just how far everything is from where you're staying. Additional filters are available that allows you to search based on car type, engine type, suppliers and much more. Please note that there is a minimum age requirement to hire a car in Belgium.
Brussels Airports
Conveniently located just 7.5 miles north-east of the city, Brussels Airport's origins date back to World War II when it was built by the German Luftwaffe. Following the country's liberation, it was developed by the local authorities with a new terminal building to replace the existing wooden one and all the runways were lengthened as part of the airport's expansion. In 1958, a new airport was inaugurated adjacent to the original site, which was further improved in the 1960s and 70s during the boom years of commercial aviation.
Consisting of several levels, Brussels Airport Zavantem uses a one terminal concept, meaning that all the facilities are located under a single roof. The railway station is located on −1, buses and taxis arrive at 0, arrivals are located on level 2 and departures on level 3. Brussels Airport today is one of the largest airports in Europe, handling 26,4 million passengers and 667,220 tonnes of freight annually. It links the European capital with over 230 passenger and cargo destinations worldwide that are served by more than 70 different airlines. For passengers, there's an excellent choice of bars, cafés and restaurants for those with enough time on their hands to relax with a drink or meal before catching their flight.
Car hire supplier desks are located at the Arrivals Hall, with vehicles conveniently located a short walk away in the car rental garage. Returning your cheap car rental in Brussels is also easy, simply following the signs to the entrance of the car rental garage. For anyone with their own vehicle, it's also possible to park very close to the terminal building with over 10,000 spaces available in P1, P2 and P3 which are located opposite the Departures Hall, with P4 a dedicated facility for longer stays.
Brussels South Charleroi Airport is another international airport located near the city of Charleroi. The airport is 26 miles south of central Brussels – making it another great option for renting a car in Brussels from. As the second busiest airport in the country, it welcomes just over 7 million annual passengers. Air Belgium, Ryanair, Air Corsica and other low-cost airlines operate out of this airport. Car rental suppliers can be found on Level 0 and Level 1 within the terminal building.
Brussels Zavantem Airport (BRU)
Website: Brussels Zavantem Airport
Address: Leopoldlaan, 1930 Zaventem, Belgium
Telephone: +32 2 753 77 53
Charleroi Brussels South Airport (CRL)
Website: Charleroi Brussels South Airport
Address: Rue des Frères Wright 8, 6041 Charleroi, Belgium
Telephone: +32 902 02 490
Brussels Train Station
Conveniently located just south of Brussels – Brussels South Train Station is the busiest of three main train stations operating in the city. The station is in Saint-Gilles, and dates back to 1949. It has interconnections with the metro and the local tram system. From here you can board an intercity train, a regional train or a high-speed train with connections across Europe. Car hire desks are located in the actual train station with cars parked in a reserved section of the train station car park.
Brussels South Train Station
Website: Brussels South Train Station
Address: Avenue Fonsny 47B, 1060 Brussel, Belgium
Telephone: +32 2 528 28 28
---
Book with the best car hire suppliers in Brussels
Find the perfect vehicle that matchs your travel budget through our simple to use and secure online booking engine. Along with competitive quotations, a large fleet of vehicles in which to choose from, regular special offers, deals and an award winning customer service – Auto Europe also provides fully-trained reservation agents to make your booking experience as stress-free as possible. When you rent a car in Brussels you can rest assured that you're driving away with the best possible option.
Through our strong partnerships, we save you time and money when looking for a car. We provide quotes from popular and trusted car hire suppliers, such as; Alamo, Avis, Keddy, Hertz, Sixt and many more. When looking for your car rental options, simply enter your desired travel dates and all available suppliers will be displayed. If you're looking to explore more of what central Europe has on offer, consider a one-way car hire. It allows you to pick-up your vehicle in Brussels and then return the car to a different location altogether – for example, Antwerp – for a small fee.
If you need more information about what car hire companies are available in Brussels or about their policies, please contact one of our reservation agents via email or by phone.
---
Frequently asked questions about renting a car in Brussels
For anyone considering on hiring a car in Brussels, we have put together the following answers to the most popular questions asked by customers who have previously benefited from the best car rental deals in Brussels. If you have a concern or question that is not covered here, please contact our trained reservation agents as soon as possible. Our agents are available to provide you with local knowledge and advice.
---
Yes – for collecting your vehicle, a valid credit card is required. The credit card must be in the main drivers name and have enough funds in order to hold a deposit on. Luxury cars may require two credit cards to be supplied. The held deposit will be released back onto the credit card once you return your vehicle. The returned car must be in the same condition as when it left. If this is not the case, you may lose your deposit. It is important that you inspect the car before driving away. Take photos and videos evidence if required and make sure anything you see if noted on the pick-up form.
Up on returning the car, make sure a member of staff inspects and signs off the vehicle drop-off form. Suppliers accept all major credit cards; Mastercard, Visa, Diners and American Express. Please note, debit cards are not accepted by the local suppliers for deposit purposes. Only credit cards are accepted. Failure to produce a valid credit card under the main drivers name, may mean you lose you booking and money.
All base rates shown on our website include the legally required protection for driving a vehicle in Belgium. This is Collision Damage Waiver (CDW), Liability Insurance and Theft Protection (TP). These insurances do not cover everything. For a more comprehensive cover we recommend taking out our Full Protection Cover. This will provide cover to the cars roof, glass, mirrors, loss and damage to vehicle keys, misfueling, administration and towing costs.
Local suppliers may offer you additional insurances during your pick-up. These are optional and for the most part if you have already taken out our full protection cover, it won't be needed. Insurances offered include Personal Accident Insurance (PAI), Roadside Assistance, Personal Effects Insurance and many more. Consult our car hire coverage section for full details of all insurances.
Despite its size and political importance, Brussels is a relatively well-organised city when it comes to navigating it by car, especially the inner city which is accessible via the Petit Ring, while the outer limits are contained within the busy Ring motorway. The maximum speed limit on motorways in and around Brussels and the rest of Belgium is 120kph (74mph), while in built-up areas the speed limits are 50kph (31mph) or 30kph (18mph) in the vicinity of schools. For the most part, driving around Brussels and its environs is a smooth experience compared with many other capital cities due to its excellent road network and modern transport infrastructure.
Always remember to drive on the right side of the road and at intersections the driver on the right always has priority unless otherwise indicated. Trams have the right of way over other vehicles, so be very careful because there are many of them in the busy Lower Town district. In the event of an accident, call the local police on 101, all of whom speaking very good English as well as French, German and Dutch. Consult our road rules and regulations in Belgium section for further information.
Due to the city's rising popularity, street parking in Brussels (usually by meter) is becoming increasingly difficult in the centre of the city. Please note that there is no free street parking in any part of Brussels city centre during the day, but in some parts of the city parking is free of charge at night and on Sundays. The good news is that the Interparking Group, which has been a leader of the Brussels parking sector for more than 60 years, now operates around 25 car parks in the Belgian capital, offering a total of almost 15,000 spaces in prime locations all over the city.
Some of the more conveniently located state-run car parks include Centrum (Rue du Damier 26), Royale (Rue Royale 128), City 2 Rue Des Cendres 8), Alhambra (Boulevard Emile Jacqmain 14) and Dansaert ( Place du Nouveau Marché aux Grains 2). Low-cost park and ride (P&R) parking lots are located in the outskirts of Brussels to help diminish congestion in the city centre. From the Park and Ride car parks, visitors can quickly get to the city centre with direct access to public transport services such as metro, tram, bus or train, making it an ideal way to get around Brussels whilst avoiding traffic jams and high city parking costs.
Yes – from 2018 all vehicles wishing to enter into the Low Emission Zone (LEZ) must be registered on the appropriate website before entering. Please check with your car hire supplier during your pick-up if your vehicle is registered. The LEZ is in operation all week and weekends, 24 hours per day. Day passes are available for purchase for a maximum of eight days per year. Transit car parks are present for any unregistered cars to use. Registration is free on the website with any unauthorised vehicles liable for a 150 – 350 euro fines. Cameras are present at all entry points to monitor vehicles and operate across the whole of Brussels. It is important to note being registered or having a day pass for Brussels will not give you access to the Antwerp Low Emissions Zone. For this you must register or buy day passes for the city of Antwerp.
---
Brussels Travel Guide
Brussels is a great place to visit, and with so much to see and do, we wouldn't want you to miss out on anything. This is why the following sections will provide you with a summary of what we think are the best day trips from Brussels, and also what we recommend to see and do whilst in Brussels itself. With lush green landscapes, history, culture and easy access to the rest of Europe, Brussels in Belgium is a place with many onward travel options.
Best day trips with my car rental in Brussels
Belgium is a small country and Brussels is the perfect base from which to explore most, if not all, of the country's most popular attractions, such as the charming cities of Brugge, Ghent and Antwerp. When hiring a car in Brussels, you can also head for the delightful North Sea coast with its long sandy beaches or cross the border into France, Germany, Luxembourg or the Netherlands for an exciting two- or three-destination itinerary.
Brugge
A small picture postcard city with a very pretty medieval heart, Brugge (60 miles north-west of Brussels) has many must-see attractions, including the 15th-century Basilica of the Holy Blood and the ever-popular Chocolate Museum. Stroll around the city's old cobbled streets before visiting the Groeninge Museum, home to many top-class paintings by the renowned Flemish primitives.
Ghent
Ghent is notable for its exquisite ancient architecture, this lively university town a short drive north-east of Brussels is criss-crossed by a network of picutresque waterways. The city's pride and joy is without doubt the Adoration of the Mystic Lamb, a polyptych altarpiece painted by the Van Eyck Brothers in the 15th century and one of the world's most famous paintings which can be seen on display at St Bavo's Cathedral.
Ardennes
Situated in the south-east of the country, the Ardennes is a vast unspoilt region of rivers, steep-sided valleys, verdant forests, medieval villages and centuries-old castles. Arguably the most picturesque part of Belgium, visitors can enjoy pure air and natural beauty all around with lots of hidden surprises, such as Belgium's last steam-powered brewery and the chance to spend the night in a windmill.
Antwerp
Famous for its diamonds, and once the centre of the European cloth trade, Antwerp is well worth visiting for its lovely old medieval district surrounding the beautiful Grote Markt town square. Don't miss the Cathedral of Our Lady with its paintings by locally-born Peter Paul Rubens (1577-1640) nor DIVA, a recently-opened museum dedicated to diamonds, jewellery and silverware.
Belgian Coast
The country's 40-mile-long stretch of sandy North Sea coastline provides plenty of day-trip possibilities for people booking a car hire in Brussels. The Belgian coast has around twenty lovely beach resorts, each with its own character and unique atmosphere, all of which are ideal for families with young children. Here you can rent a bike and cycle the length of the promenade before spending the night in one of the many upmarket beachfront hotels for a relaxing stay.
What to do in Brussels
A large part of the pleasure of visiting Brussels is strolling around the city's many pedestrianised streets and spending time in the cafés and bistros in and around Grand Place, the city's famous main square. Most of the top sights in both the Lower and Upper Town are easily manageable on foot and there's much to see beyond the main museums and other more notable attractions. You'll need at least a couple of days to see the basics, but with one of the best public transport networks in Europe, getting from A to B is easily manageable with a choice of all-in-one travel passes cheaply available. If you're opting for a cheap car rental in Brussels, you can share the joy of driving by adding a free additional driver to your reservation.
Grand Place: Established in the 10th century, the city's world-renowned Grand Place is one of the most uniformly elegant enclosed city squares on the planet. Offering a stunning 360-degree panorama of exquisite Gothic and baroque architecture, it is the core the Belgian capital and the beating heart of the city's sightseeing portfolio. With its ornate stonework and gilt decoration, the 14th-century Town Hall (known as the Hôtel de Ville) is a fine example of European civic architecture. Nearby, you'll also want to see the famous Mannekin-Pis, a modern depiction of the 15th-century bronze fountain sculpture situated a five-minute walk from Grand Place.


Brussels Cathedral: Located in the heart of the city centre, the magnificent cathedral of St Michael and St Gudula is a medieval church built between the 11th and 16th centuries. Recognisable for its two striking towers, its key features include some remarkable stained glass windows produced by Antwerp glassmaker Jean Haeck in the 16th century. Housed in the cathedral's Treasury, another major highlight for visitors is the remarkable and extremely rare Drahmal Cross (also known as the Brussels Cross), an Anglo-Saxon inscribed cross-reliquary of the early 11th century.


Atomium: Built for the Expo 58 World Exposition, the futuristic Atomium rises high above the city and is regarded as one of Europe's most iconic symbols. Comprising 9 stainless steel spheres, the whole structure depicts a unit cell of an iron crystal magnified 165 billion times. Accessible by elevator, six of the spheres are open to visitors for exhibitions and educational events, as well as a very popular 360-degree viewing gallery and restaurant affording extensive city vistas stretching as far as Antwerp on a clear day.


Mini Europe: Hopping from country to country in just a few steps is one of the joys of Mini Europe, a captivating portrayal of the continent as a whole with over 350 miniatures depicting 80 European cities in a prime location adjacent to the city's landmark Atomium monument, signifying that both of these top attractions can be seen in the same visit. The kids will love the visual and sound effects, particularly the chimes of Big Ben, one of Mini Europe's star attractions.


Parc du Cinquantenaire: Located in one of the more modern parts of the city, this large area of peripheral parkland contains many first-class tourist attractions, including several museums and a lavish triumphal arch. The centrepiece is the magnificent Musée du Cinquantenaire, a cultural treasure trove and one of the largest museums in Europe. Well-organised with a vast ethnographical collection, visitors can see many rare artefacts ranging from Native American to Indonesian, along with totem poles and genuine Balinese beds.

Botanical Garden: Often overlooked, the city's wonderful 6-hectare Botanical Garden provides plenty of peace and quiet on a warm summer's day. A pleasant mix of mostly French, Italian and English styles, it was first inaugurated in 1829 and still serves as a popular visitor attraction with twisting paths, two large greenhouses, plenty of secluded seating areas and a children's playground.
---
Useful links