Car hire in Belgium - The Heart of Western Europe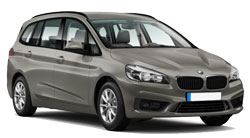 A small country but hugely diverse, Belgium delights its visitors with a vast array of cultural attractions and a plethora of UNESCO-protected sites. It's a wonderland of gabled architecture, pretty villages connected by tree-lined canals and some of the most impressive town squares in the whole of Europe. Most first-time visitors make a beeline for Brussels, the unofficial capital of Europe and a city with all the sophistication of Paris and much of the fun and informality of nearby Amsterdam.
Dominated by a magnificent 14th-century church with a 123-metre-high steeple, Antwerp is the city that really has it all, including a vibrant night-life, innovative design scene and some of the best museums in the country. And there's Bruges, a medievel gem of a town that's been expertly preserved over the centuries to offer the very best of Belgium's illustrious past, all contained within a historic square mile.
Besides an excellent coast road (the N34) that stretches the entire length of the country's golden sandy shoreline, Belgium offers a lush green interior with a wealth of enchanting scenery, along with a succession of parks, gardens, dense forests, uniquely-interesting sights and many charming medieval villages to be enjoyed en route. Charleroi is Belgium's third-largest city and well worth exploring with a low-cost car hire in Belgium, especially the Glass Museum, one of the best of its kind in Europe.
The kids will be thoroughly entertained too, with some of the world's top family attractions within easy reach of Brussels city centre, most notably Technopolis (a cutting-edge science museum), the Musée des Sciences Naturelles (which features a family of real dinaosaurs) and the Euro Space Centre where the little ones can immerse themselves in one of the most interactive experiences in Europe. They'll also love the many Christmas markets taking place in towns, cities and villages across the country during the run-up to the festive season.
A car hire in Belgium offers you the chance to savour a memorable road-trip through one of Europe's most interesting and varied tourist destinations. Choose a car hire from Auto Europe and soak up some of the continent's most strikingly beautiful scenery along the way. Founded in 1954, we now offer over 24,000 convenient pick-up and drop-off locations in more than 180 different destinations, including Belgium.
In just a few clicks of the mouse you can confirm your reservation through the Auto Europe booking engine just by selecting your dates and destination, after which you can choose from the cheapest deals available on the Internet - guaranteed! You can save even more money by taking advantage of our special promotions offering free upgrades, GPS included, free winter tyres, etc.
Alternatively, you can call our rental specialists on +44 123 3225 114 for ideas and/or help making your reservation; they're always on hand to get you the best deal and find you the right vehicle for your journey. Check out what others wrote in our Belgium car hire reviews page for extra peace of mind before booking your next low-cost car hire in Belgium.
For more information on renting a vehicle in Belgium, click on the car hire related topics listed below:
Where to Pick up a Car Hire in Belgium
Auto Europe offers car hire services across Belgium, with pick-up stations at all main airports and railway stations, complemented by a number of downtown offices. This allows us to offer our clients maximum flexibility, always at the most competitive rates. So whether you're headed for Brugge, Oostende, or fancy a trip to Waterloo, we are there for you. Should you have any questions about how to pick up your car rental in Belgium, then please take a look at our handy pick-up procedures page.
Planning a trip in a country like Belgium takes a bit of planning, especially if you are not too familiar with the destination. If you can't find the information you require here, Auto Europe's award-winning rental specialists are available 7 days a week on +44 123 3225 114 should you have any further questions. We've also posted an article on our blog covering everything you need to know when picking up a car hire to give you a head start when you arrive at your destination to collect your vehicle.
Compare Car Hire Rates at the Most Popular Airport and Rail Stations in Belgium
Antwerp Central Station
Liege Gare des Guillemins
Mons Train Station
Book with the Best Car Hire Suppliers in Belgium
In order to bring you the best car rental deals in Belgium, we've developed strong partnerships with local and international car hire suppliers across the country, from household names such as Europcar and Hertz, to favourites with budget-conscious travellers, such as Keddy or Thrifty. This allows us to bring you not just a first-rate service, but also the best prices in the business.
Besides offering the best rates for people searching for a low-cost car hire in Belgium, we also take pride in the fact that our suppliers' car hire fleets are the most modern and extensive with the right car always available for the right person at the right price.
Should you have any questions about the specific policies of the car rental companies we work with in Belgium, or about the pick-up process, desk opening hours, special services or others, do not hesitate to contact us and one of our experienced agents will provide you with all the information you need.
---
Frequently Asked Questions about Renting a Car in Belgium
At Auto Europe, we strive to make the car hire booking process as easy and straightforward as possible, and to provide you with all the information you need to tailor your booking to your needs. In order to help address some of the questions you may have about our services, we've gathered below the answers to some of the most frequently asked questions about booking a car hire in Belgium.
---
In order to hire a car in Belgium, you need to be at least 19 years old (unfortunately none of the suppliers we currently we work with in Belgium offer services to 18-year-olds). However, while some of our partners do permit 19-year-olds to hire a car, most of them have a minimum age limit of 21-23 years. Furthermore, a young driver surcharge applies to drivers under 26, to be paid locally when picking up the car.
If this is your first time hiring a car, make sure you take a look at our handy primer on the subject! Most of our partners in Belgium do not set maximum age limits to hire a card. However, we recommend double checking the terms of individual suppliers. You might also like to read our page all about car hire age requirements whilst planning your low-cost car hire in Belgium.
During the booking process, you're prompted to enter the age of the main driver, and this will bring up any applicable restrictions. You can additionally check whether any additional fees apply by consulting the Rate Details of individual offers in our booking engine prior to booking, or by checking your voucher after you've booked.
Yes, you can! At Auto Europe, we're all about flexibility, and we aim to ensure our clients are free to tailor their holidays to their exact wishes. To this end, we offer both domestic one-ways and international one-ways. This means that you can pick-up your car in one Belgian city, such as Liege, and drop it off in a different city, such as, say, Brugge. It additionally means that you can hire a car in Belgium and drop off the vehicle in a different country, such as the Netherlands or Germany, if that's where your itinerary is taking you. There are a couple of things to keep in mind about one-way rentals. First of all, restrictions may apply depending on the supplier, car category and pick-up/drop-off locations, and one-way rentals may be subject to a minimum rental duration.
It's further important to know that one-way rentals are normally subject to one-way fees. These fees are set by the different car hire companies, and may thus vary considerably from one company to the next.
One important tip: Since the restrictions and fees are set by the individual car hire companies, some companies may allow travel between locations or under conditions disallowed by others, or may offer the service for a considerably lower fee.
Depending on the car rental company, the one-way fee is paid either online during the booking process or locally at the counter when picking up the vehicle. Regardless of which situation applies, the one-way fee is already included in the prices displayed in our booking engine when looking for one-way rentals. The full price of the rental is followed by an indication of the portion of the total that refers specifically to the one-way fee, along with the indication of whether you're meant to pay it online or locally. When the latter, the fee is to be paid in the local currency.
In the case of international one-ways, it's also worth mentioning that while travel to other western European countries is normally allowed, travel to eastern European countries may be subject to additional restrictions. This is the case even during normal rentals (when you pick-up and drop-off the vehicle in the same location), and means that should you wish to travel outside of Belgium, you must let us know during the booking process using the field designated for that effect.
Yes. You need a credit card both to pay for your rental when booking online (or on the phone), and to pick up your vehicle.
When picking up your vehicle, the vast majority of car rental suppliers will require a credit card in the name of the main driver in order to block a security deposit for the duration of the rental. The deposit amount (which you can always check for individual vehicles in our booking engine under Rate Details) is blocked, not charged, but it still means that the credit card in question must have the necessary balance to accommodate that amount. The block is lifted after the vehicle is returned, provided it is returned in the same condition.
The credit card used to pick-up the vehicle does not have to be the same credit card that was used to pay for the booking online. Of particular importance is that it be in the name of the main driver as listed in the voucher. Failure to present a valid credit card may result in the refusal by the car rental company to release the vehicle.
In the case of some specialty vehicles (luxury or premium), it may be necessary for you to present two credit cards in the name of the main driver to pick up the vehicle. For more information, please read our blog post highlighting six of the most important things to know about credit cards and deposits.
Most of our suppliers accept the following credit cards: Visa, Mastercard, Diners and American Express. However, we urge you to confirm the credit card requirements of individual suppliers/for individual vehicles. This can be done in our booking engine under Rate Details. After the booking is made, this information is also included in your voucher.
Like everywhere else in mainland Europe, cars in Belgium drive on the right side of the road and overtake on the left. Seat belts are mandatory for all passengers, and children under 1.35m must use an appropriate child seat. The car hire companies we work with provide child car seats upon request, for an additional fee. You can request the seat (or any other optional equipment) when picking up your vehicle, but requesting it during the online booking process ensure availability. In either case, fees for any additional equipment are paid locally (though you can find an estimate of the amount to be paid locally in your voucher).
Belgium enforces strict drink driving laws, with a legal limit of 0.5g of alcohol per litre of blood (a lower limit than the UK's 0.8g/l) for non-commercial drivers.
Talking on the phone while driving your Belgium car rental is also prohibited, except with the aid of a hands-free system. On this subject, it's also worth mentioning that if you're using your phone's GPS capabilities, you should check whether the GPS app you're using uses mobile data (and how much mobile data), as that may result in you incurring high data usage fees while travelling abroad.
Drivers are required to carry a valid drivers' licence, vehicle registration documents, proof of ID and insurance documents. Additionally, vehicles must be equipped with a warning triangle, a first-aid kit, a fire extinguisher and a reflective jacket. While car hire companies provide all of these, we recommend you double check that they are all present and acquaint yourself with their location when picking up the vehicle.
In case of accident or if you find yourself having to leave the vehicle for any reason on a motorway or on any other major road, you must wear a reflective jacket. Failure to do so may result in a fine. For more information about what to do in case of accident, breakdown or theft of your rental, check out our dedicated page. For more info, please consult our Belgium driving guide for tips on driving distances and local rules of the road.
No. Passenger cars don't pay tolls in Belgian motorways. The only place where passenger vehicles pay tolls is in the Liefkenshoektunnel near Antwerp. That toll can be paid either in cash or by credit card.
When you rent a car in Belgium with Auto Europe, that vehicle will already be covered by all the mandatory insurance necessary to circulate in Belgium. This includes CDW (Collision Damage Waiver), TP (Theft Protection), and liability insurance. Some elements of the vehicle (such as tyres, glass, exterior mirrors, underside, interior, roof, engine, locks and keys) are normally excluded from the basic insurance.
Additionally, the insurance usually has an excess, i.e. the value amount for which the driver is personally responsible in case of accidental damage or theft. The excess amount varies depending on the car category and supplier, and the amount can be found in the Rate Details of every individual vehicle in our booking engine.
Should you wish to increase your protection by adding coverage to the excluded elements, you may wish to acquire Auto Europe's Full Protection package when booking your vehicle. Besides covering the parts of the vehicle not included in the car's basic insurance package, it also offers reimbursement of the excess amount in case of accidental damage or theft.
Finally, it's worth noting that car hire companies normally also offer additional insurance at the counter. This is optional and clients are under no obligation to take it. To reiterate: the basic car hire package already includes all the mandatory insurance necessary for a vehicle to circulate.
Should you wish to take the additional insurance offered locally, it's worth making sure that it isn't redundant and that it doesn't duplicate coverage you may already have. To avoid this, we recommend that you familiarise yourself with the vehicle's existing protection. Please consult our dedicated car hire coverage page for more details. If you've already booked your car, you can find this information in your Auto Europe voucher. Before booking, you can also find all the information about a vehicle's insurance coverage on the Rate Details for that specific car in our booking engine.
Please be aware that any additional insurance contracted locally is a matter for the car hire supplier in question, and that Auto Europe does not offer refunds for products acquired at the counter, even if these prove to be unnecessary. Check out our complete car hire coverage blog post for an overview of some of the most important things to look out for when organising your next car hire in Belgium.
Yes. You can legally drive in Belgium with your UK driving licence. You will have to present your licence when picking up the vehicle, and some car hire suppliers require that you have held it for at least 1 year (other suppliers may have a higher time requirement).
Some companies might wish to check your driving licence information for penalty points or other data. To this end, you may have to provide the company with a licence check code so that they may verify this information. You can find more information about this on our page on UK driving licence changes.
Some suppliers require an International Driving Permit (IDP) if the original driving licence is not fully in the Roman alphabet, and some suppliers require an IDP even if the original driving licence is fully in the Roman alphabet. We recommend you always check the driving licence requirements of individual suppliers.
You can do so by checking the General Business Terms under the Rate Details of individual offers in our booking engine.
Absolutely! Normally, additional drivers may be added to a rental contract for a small additional fee, but we also often run free additional driver promotions that allow clients to add additional drivers to their booking at no extra cost.
You can find information about fees pertaining to additional drivers in the Rate Details for individual vehicles in our booking engine, under Driving Information. If you've already booked your car hire in Belgium, this information is also included in your voucher.
Any additional drivers added to a booking will have to present the same documentation when picking up the vehicle as the main driver (i.e.: passport/ID, driving licence, and International Driving Permit when required), and anyone who drives the car must be added as an additional driver in the rental agreement.
A rental vehicle being driven by someone not listed in the rental agreement as an authorized driver would void the insurance in its entirety, and that person would be liable for the total amount due for any costs in case of accidental damage or theft.
Finally, it's important to mention that, as indicated elsewhere in this page, a credit card will have to be presented when picking up the vehicle for the security deposit. Regardless of any additional drivers added to the booking, this credit card must be in the name of the primary driver.
There are Low Emission Zones in Antwerp, Brussels, Ghent and the Wallonia region. Compliance is controlled by cameras, which check the licence plates of circulating vehicles. When you rent a non-polluting vehicle with a Belgian licence plate, that vehicle is already properly registered in the system and can, therefore, be driven in those low emission zones.
Normally, the cars picked up in areas with LEZ conform to the requirements, but if you're picking up a car in a different Belgian city and travelling to somewhere where a LEZ is in force, we advise you to double check with the car rental supplier on pick-up. If you're picking up a vehicle in a different country, such as Germany or the Netherlands, the vehicle will have to be registered before it can be driven in Belgian low emission zones.
---
Additional Vehicle Rental Options in Belgium
Bringing you the best rent a car deals in Belgium isn't just about offering top quality and competitive prices, but also about making sure you have a wide range of choice, so that you can opt for the vehicle best suited to your needs. Thanks to Auto Europe's strong partnership with leading car hire suppliers in Belgium, we're ideally positioned to offer just that!
Whether you're looking for a small car for a weekend getaway, for a Large car for a family holiday, or for something a little more high-end for a special occasion, we have what you're looking for! Check out our amazing offers and start planning your trip today. For a more detailed look at our fleet, take a look at our handy Belgium fleet guide, designed to help you make an informed choice when picking your car rental in Belgium.
Luxury Car Hire Belgium - Do you need a special car for a special occasion? Are you looking for something with a little more style? Have you always wanted to get behind the wheel of a Jaguar? Auto Europe offers an extensive range of high-end vehicles to satisfy even the most exacting tastes.
Van Hire Belgium - All the best things in life are shared. Small vehicles may have their place, but sometimes what the situation requires is lots of space! Whether you're headed on a road trip with a group of friends or planning to enjoy a nice, family holiday, we have the perfect car for you. Take a look at our great selection of 5+2, 7 and 9 seaters, and start planning your trip!
Campervan hire Belgium - Do you want the extra freedom and flexibility that comes with a campervan holiday? Then look no further than our amazing motorhomes deals in Belgium!
---
Useful links