Travel Guide Ireland - All the info for your journey
Enhanced by a well-developed economy and a modern tourism infrastructure, Ireland is one of Europe's most unspoiled destinations and a place of pure magic and inspiration. A capricious island brimming with enigmatic character, its historic treasures and vibrant culture intermingle with a wild, verdant landscape that never fails to surprise its many visitors. A large number of the country's most popular attractions are ruins or Stone Age archaeological sites located in deeply rural areas, the historical significance of which is imaginatively portrayed by well-organised interpretative centres dotted across the island.
History haunts many of Ireland's stunning land and seascapes, and you can follow in the footsteps of the Anglo-Normans as they spread across the island in the 12th century, building impressive castles and churches as they went. Each respective county has its own distinctive features, architecture and landscape and road-trippers are always thrilled to learn there are four excellent national parks to explore, not to mention fifteen designated Heritage Towns chosen for their strong links to the country's rich Celtic past. Wherever you go with your car hire in Ireland you'll find that there's no such thing as a wrong turn, so don't worry about getting lost in the country's extensive labyrinth of narrow, rock-walled country lanes because you're sure to stumble upon something amazing and quite unexpected around the next corner!
With Auto Europe you can drive for miles and miles on open roads with the freedom of going at your own pace and customising your adventure exactly as you see fit on a road network that never lets you down. You can enjoy an exhilarating trip down the Wild Atlantic Way, a 1,500-mile coastal route that stretches the entire length of Ireland's western seaboard. The country's two main airports at Dublin (the capital) and Shannon (on the west side of the island) are ultra-modern and handle most of the international traffic arriving on the island, while the smaller airports at Cork, Kerry, Donegal and Knock largely cater for domestic travellers coming in from the UK and other short-haul markets.
Since 1954, Auto Europe has been serving international travellers with the widest range of cars at the cheapest prices, guaranteed. Our service is second to none with our highly-trained reservations and customer service teams having won numerous prestigious awards over the years. Don't hesitate to give them a call on +44 123 3225 114 if you require assistance with any aspect of your car hire and they will be delighted to get you the car of your dreams at a price you can always afford. We pride ourselves on the fact that no other car rental company offers such a large number of pick-up and drop-off locations (over 24,000 in total) in so many different countries (more than 180). With Auto Europe's Travel Guide Ireland you'll find all the information you need regarding the many different options available when visiting this magnificent country, such as being able to pick up your car in one destination and dropping it off in another, plus all our regular promotions offering free upgrades, weekend specials, GPS included and free additional drivers, etc.
Look over the Ireland travel guide topics listed below and take a look at each page for information on a specific aspect of traveling in Ireland.
Road trips with my car hire in Ireland
Ireland excels when it comes to motoring itineraries and not just to and from the capital Dublin, because some of the wilder, more enchanting scenery lies in the southern and western parts of the island, in the areas around Shannon, Kerry and Donegal. With Auto Europe you can rent a car in Ireland and enjoy the very best of the Emerald Isle by following some of our road-trip suggestions;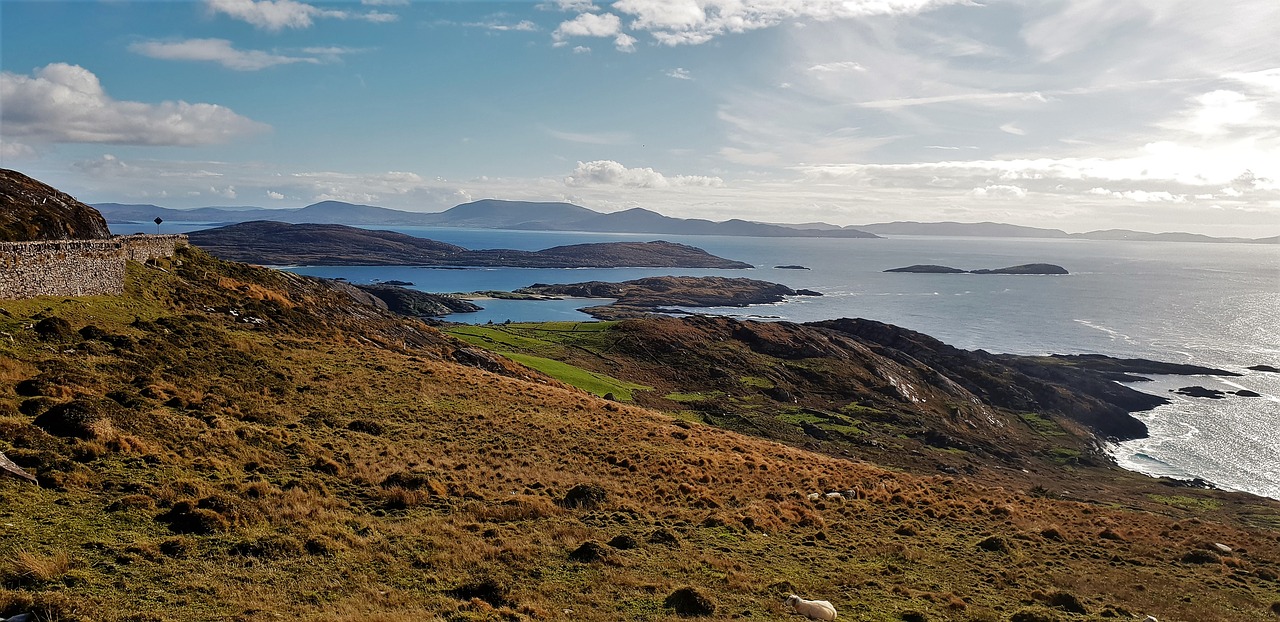 Ring of Kerry: No ordinary road, the famous Ring of Kerry offers a very scenic drive around south-west Ireland's Iveragh Peninsula, in the heart of the enchanting County Kerry region. The 111-mile-long circular route takes in rugged and verdant coastal landscapes and striking seaside village vistas with a highlight for visitrs being Skellig Michael, a rocky island with an abandoned 7th-century Christian monastery, reachable by the many boats that make the 7-mile crossing from Portmagee during the warmer summer months.
Wild Atlantic Way: Right on the western edge of the European continent is a vast stretch of gloriously rugged coastline skirted by one of the great driving routes of the world. With a succession of hidden highlights and killer views, this magnificent 1,500-mile-long coast road will amaze you with its soaring sea cliffs of dizzying heights interspersed with pretty fishing villages and long sandy beaches. Keep an eye out for the many whales and dolphins that revel in exploring the local waters and don't miss the Dolmen Centre near Portnoo with its two late-Neolithic stone portals dating back more than 4,000 years. Another highlight is the 17th-century hilltop village of Cnoc Suain comprised of old picture-book stone cottages adorned with charming thatched roofs. The Dingle Distillery in the heart of Kerry provides the perfect refreshment break with a tour of the premises and a chance to taste some of the best whiskeys on the island.
Copper Coast Geopark: Stretching 25 miles or so between Tramore and Dungarvan in County Waterford, the picturesque Copper Coast is named after the historic metal mining industry which boomed on this idyllic stretch of coast in the 19th century, the heritage of which is still largely visible. Extending for some 10 miles, the Copper Coast Geopark is a single, unified geographical area located along the southern coast of Ireland where a local interpretation centre tells the story of undersea volcanos, arid deserts and dramatic ice sheets of long ago. Follow the official Copper Coast trail and visit the Geopark Centre in Bunmahon before crossing the forested fringes of Stradbally to reach one of the best beaches in the whole of Ireland.
Burren: Framed by the imposing Cliffs of Moher, the Burren region of western Ireland is an enticing mix of lunar landscapes, megalithic monuments and rare botanic beauty. This very picturesque 205-square-mile UNESCO Global Geopark is blessed with a unique combination of arctic, alpine, and Mediterranean plants growing side by side all over the area. The name 'Burren' derives from the Irish Gaelic for 'stony place' and this dramatic rocky setting has captivated some of the world's most creative minds, from J.R.R. Tolkien (The Lord of the Rings was inspired by the Burren landscape) to Steven Spielberg who holidays here regularly with his family.
---
What to do in Ireland
With its rich scattering of historic sites, imposing castles, towers, monasteries and stately mansions, Ireland is as much a joy to visit in winter as well as summer. It's not possible to see everything the country has to offer in one trip, but we've listed a few of the highlights below as a way of getting you started, ranging from astonishing geological wonders to some of Ireland's most enthralling cultural attractions;
Dublin: One of the most welcoming cities in Europe, Dublin has a wealth of first-rate tourist attractions to offer, from its 13th-cenury castle and Irish Emigration Museum to Trinity College where the famous Book of Kells (written in the 8th-10th centuries) can be seen. You can't visit Dublin without drinking some Guinness and the best place to do it is at the Guinness Storehouse, a seven-floor visitor attraction recounting the history of the fine stout often described as 'a meal in a glass'.


National Museum (Dublin): This remarkable museum in the heart of the capital exhibits the cream of Ireland's ancient treasures covering more than 9,000 years of human inhabitation on the island. Star features include the prehistoric gold collection (one of the largest of its kind in Europe) featuring neck ornaments, gold sun-disks, arm-bands and clothes fasteners dating back to 2200 BC, much of which has been excavated from the local peat bogs. Other rare items include some early Christian relics of world importance, including an ancient bell which once belonged to St Patrick himself.


Newgrange: Dating back to 3,200 BC, this ancient passage tomb located about 30 miles north of Dublin is considered one of the great archaeological wonders of the world, more ancient even than Egypt's pyramids and equally mysterious. Housed in a flat-topped cairn, Newgrange comprises around 200,000 tons of loose stone and the entire structure took over 70 years to construct. One curious and very unique feature of the tomb is the bright beam of sunlight that shines through the roof box at dawn on the winter solstice (December 21). Don't miss!


Night-life: Nothing beats the energy and atmosphere of an Irish pub, especially in Ireland! The authenticity and vibrance of the country's fantastic night-life experience is further characterised by the nation's love of live traditional music with electrifying sessions happening every night all over the island with the occasional burst of singing and dancing involving everyone, including the bar-staff.


Galway: The beautiful harbour city of Galway on the west side of the island is regarded by many as the country's true cultural capital and the most Irish of all the cities. Standing proud on the banks of the River Corrib, visitors can lose themselves in the narrow lanes of the Latin Quarter where many pubs, boutiques and historic sites can be found. Built on the site of a former prison, Galway Cathedral is one of the most impressive buildings in Ireland and a fine example of medieval architecture.


Killarney National Park: Set in the south-western corner of the island, Killarney National Park is popular for its elegant lakeside gardens that burst with floral splendour at the beginning of summer. Dotted with ruined castles and abbeys, the 25,000-acre park has nature conservation at the core of its operation. A trip in one of the park's traditional horse-drawn carriages known as 'jaunting cars' will certainly be a highlight of your trip to Ireland.


Cliffs of Moher: One of the true natural wonders of Western Europe, the magnificent Cliffs of Moher promise visitors a panorama of phenomenal proportions. Running for several miles along the dramatic Burren shoreline in County Clare, the cliffs are more than 350 million years old and rise to over 700 feet at their highest point, providing one of the best photo opportunities on the entire island.


Shopping: Ireland has a thriving handicrafts industry with artisans busy plying their trade all over the island. Visitors can pick up all sorts of high-quality locally-made products, including Aran sweaters, Waterford crystal, Celtic brooches and hand-loomed Donegal tweed, all of which make splendid gifts for friends and family back home. And don't forget to pick up a book or two of Irish poetry in one of the many old second-hand bookshops tucked away in the backstreets of most towns and cities across the island.
---
A bit of history
Ireland's first inhabitants were hunter-gatherers and all over the island there are traces of Neolithic farmers and herdsmen who built field walls and monumental tombs, the most impressive one being Newgrange which is almost 5,000 years old. The Celts arrived from parts of Gaul and Britain around 1,200 BC and their presence has had a lasting impact on Irish culture today. Unusually, Roman legions never reached Irish soil and the island remains one of the very few parts of western Europe never to be conquered by Rome. Viking long-ships reached Ireland's rugged shores for the first time in 795 AD, after which a succession of raids led to a strong Viking presence in most parts of the country. In the 12th-century the Normans arrived on the island which marked the beginning of Ireland's 800-year struggle with England, which culminated with the gaining of independence following a full-scale uprising in 1922. In the interim, Irish culture had been quickly developing and by the Middle Ages, Ireland was already burning bright as a centre of learning and civilisation. With the dust still settling on The Troubles, which peaked in the 1970s, Ireland continues to prosper today as a prominent member of the European Union.
---
Frequently Asked Questions about travelling in Ireland
In this section we've included some of the most frequently asked questions regarding travelling around Ireland, a country that offers something for everyone at any time of the year. We cover issues such as the best type of car to hire according to your needs and whether or not you'll require a visa to visit the country, which is so green and lush it is commonly referred to as the Emerald Isle. If you can't find the answer you're looking for, just give our reservation specialists a call on +44 123 3225 114. They are on duty seven days a week and will be more than happy to assist you with your travel plans.
---
Ireland is so perfect for exploring by car that the chances are you'll be spending quite a long time on the road, driving along the many coast roads and exploring the country's fertile interior. Therefore, we suggest that you select a vehicle from our Large or Luxury categories in order to enjoy a higher level of comfort whilst soaking up the island's spectacular scenery. Of course, for the many budget-conscious travellers looking for something smaller and cheaper, we have a broad selection of low-cost options in our Economy and Midsize categories, just the thing for exploring Ireland's historic cities, such as Dublin, Cork and Donegal. Check out our range of car hire categories to find the vehicle that suits you best for your next car rental in Ireland.
The Republic of Ireland's currency is the euro (€) which is divided into 100 cents. Notes have seven denominations (€500, €200, €100, €50, €20, €10 and €5) and coins have eight denominations (€2, €1, 50 cents, 20 cents, 10 cents, 5 cents, 2 cents and 1 cent). If you are planning to cross the border into Northern Ireland, then you need to be aware that the currency there is the pound sterling (£), although euros are accepted in some places, especially in the border regions. The best exchange rates in Ireland are provided by banks.
Ireland is located in the Western European Time Zone, the same as Great Britain (GMT) which is one hour behind France and Germany and five hours ahead of New York.
The standard electricity voltage in both parts of Ireland is 230 volts AC, 50 Hz. The standard plug is the three-pin IS411 as used throughout Great Britain. Adaptors are readily available at airports and in high street stores up and down the country. Before using appliances, it's always best to check that they are compatible with the Irish electrical system and in some cases it might be necessary to use a power convertor or transformer.
UK nationals do not currently need a visa to enter the Republic of Ireland, although this situation might change after Brexit. For the most up-to-date information, please visit the UK government Ireland travel section for post-Brexit advice.
British nationals visiting the Republic of Ireland and requiring any kind of official assistance are asked to contact the British Embassy in Dublin at the following address;
British Embassy Dublin
29 Merrion Road
Ballsbridge, Dublin 4, Ireland
Telephone: +353 (1) 205 3700
Hello - Dia duit
Goodbye - Slán
Good afternoon - Bon après-midi
Cheers - Sláinte
Please - Le do thoil
Thank you - Go raibh maith agat
Open - Oscailte
Closed - Dúnta
Tourist information - Oifig Eolais
Parking - Páirceáil
---
Useful Links
Travel tip - Ireland's beautiful landscapes