Spain Car Hire Fleet Options
One of the world's great road trip destinations, Spain has a wealth of routes and fascinating stopover towns and cities to choose from, both on the mainland and its islands in the Mediterranean and Atlantic. Home to some of Europe's most popular art galleries, most notably the Museo del Prado, Madrid is very much the hub of the country, both culturally and geographically. Famous for its Modernist buildings, Barcelona also needs little introduction – the city crackles with creativity and is one of southern Europe's most appealing places. Its cathedral's treasures include the rarest of medieval Catalan paintings, while the city's Museu d'Història de la Ciutat houses the most extensive subterranean Roman ruins in the world. But there's a lot more to Spain than Madrid and Barcelona; take Toledo in central Spain for instance, a dream for sightseers travelling with an Auto Europe car hire. Toledo Cathedral dates back to the 13th century and its key cultural attraction, the Museo de Santa Cruz, boasts an unrivalled collection of medieval and Renaissance tapestries, paintings and sculptures. And there's no place quite like Galicia in the far north-western corner of the Iberian Peninsula, a land of head-spinning land and sea vistas and quaint little fishing villages. Southern Spain, likewise, is a car driver's dream come true with long coast roads and the 11,411-foot-high Sierra Nevada, the highest mountain on mainland Spain. The country is equally popular for its sun-soaked holiday islands, chiefly Ibiza, Mallorca and Menorca in the Balearics, and Tenerife and Lanzarote and in the Canaries.
Why opt for a Mini Car Hire in Spain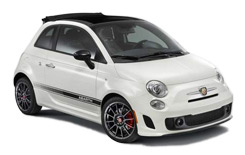 Mixing with the madrileños in downtown Madrid requires plenty of confidence and a solid driving ability, especially for visitors not used to the city's lay-out. Large cities can be tricky to navigate with the wrong-sized car, but thankfully our wide choice of vehicles caters for all budgets and every type of customer. A case in point is our Mini cars which are small, economical and perfect for extensive city sightseeing. Auto Europe's Mini cars cater for two people with carry-on luggage or a single person with a bit of additional space. These cars are perfectly agile and unbeatable when it comes to filling up the petrol tank. Use your Mini category car to explore Madrid's Plaza Mayor which has plenty of parking options close by, as well as the city's Puerta del Sol district with its abundance of shops, cafés and tapas bars.
Popular Mini Car Hire Models: Fiat 500, Skoda Citigo (2 Doors), Opel Agila (4 Doors), Toyota Aygo, Seat Mii, Chevrolet Spark and many more.
Why opt for an Economy Car Hire in Spain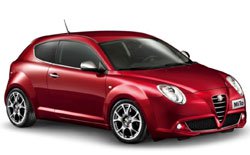 Very often, for a similar daily rate, it's possible to hire a car with a bit more space and a bigger engine. These cars are Auto Europe's very popular Economy category vehicles which can cater for up to four people with one large suitcase or two with additional luggage space. The good thing about our Economy cars is that they're versatile enough to enjoy the delights of Madrid with the benefit of having the extra power required for enjoying a road trip across Spain's picturesque interior. Once the city sightseeing is done, head north-west for the perfectly preserved walled city of Ávila with its unusual cathedral before continuing on to the lovely university city of Salamanca, notable for its impressive Renaissance and Plateresque architecture.
Popular Economy Car Hire Models: Fiat 500, VW Polo, Renault Clio, Ford Fiesta, Seat Ibiza (2 Doors), Opel Corsa and many more.
Why opt for a Compact Car Hire in Spain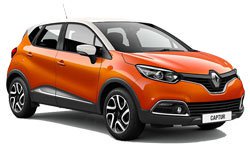 The fact that Spain is the third-largest country in Europe means that there's much to see and a wide variety of regions to explore. By far the quickest and most convenient way to cover as much ground as possible is with an Auto Europe car hire, but which one best suits your needs? Both comfortable and economical, our Compact cars have space enough for five people with three pieces of luggage, making them ideal for longer journeys through Spain's lush green northern regions, most notably Galicia, Asturias and the picturesque Basque country, home to Bilbao and the famous Guggenheim Museum.
Popular Compact Car Hire Models: Toyota Auris, Opel Astra Estate, Kia Rio (4 Doors), Renault Symbol, Mercedes A Class, Opel Astra, VW Golf, Ford C-Max, Audi A3 and many more.
Why opt for an Intermediate-Size Car Hire in Spain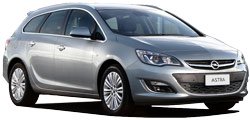 Two of southern Spain's more popular tourist regions, the Costa del Sol and Costa Blanca, arguably deserve a higher level of comfort, particularly the holiday hubs of Malaga and Alicante. Both cities are lively places to visit with a wealth of attractions, tapas bars and trendy boutiques in and around the town centre. For the hotter south we recommend one of Auto Europe's Intermediate-size cars which cater for five people with two large suitcases plus a carry-on case. Don't miss Malaga's popular Picasso Foundation and Alicante's lovely old castle built by the Moors in the 9th century.
Popular Intermediate-Size Car Hire Models: Citroen C4 Picasso, Toyota Corolla, Ford Kuga, Citroen Berlingo, Ford Grand C-Max, Skoda Octavia Estate, VW Touran and many more.
Why opt for a Large-Size Car Hire in Spain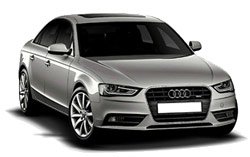 Spain is home to one of Europe's most popular cities - Barcelona - a magnet for people visiting the beautiful Costa Brava region. The city boasts many must-see attractions, such as the unfinished La Sagrada Família basilica and the magnificent Catalan National Art Museum. To make the most of the city and its long stretch of enchanting Mediterranean coastline, we suggest one of our Large cars with enough space for for up to five people and all their luggage, making them ideal for families with young children. And when visiting Barcelona, don't miss the fabulous Picasso Museum which chronicles the life and work of one of the world's most talented artists.
Popular Large-Size Car Hire Models: Audi A4, Ford Galaxy, Mercedes Vito, VW Passat Estate, Toyota RAV 4, Ford Mondeo Estate, Renault Talisman Grandtour and many more.
Why opt for a Luxury/Convertible Car Hire in Spain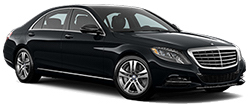 Holidaying in style and comfort is something we all aspire to, particularly on Spain's visually stunning Mediterranean islands, most notably Ibiza with its extraordinarily idyllic beaches and world-famous night-life. Wild and remote, the island's interior is prime road trip terrain and for this you might like to consider one of Auto Europe's Luxury or Convertible cars. With their superior engines and space enough for up to five people (with luggage), plus plenty of additional room to spare, these upmarket vehicles are ideal for transporting you to the top of Puig de Missa, a fortified hilltop above the town of Santa Eulária des Riu on the east side of the island.
Popular Luxury and Convertible Car Hire Models: BMW 5 Series, Jeep Grand Cherokee, Mercedes E Class, BMW 7 Series, Ford Edge, Audi A6 and more.
Why opt for an SUV or Van Hire in Spain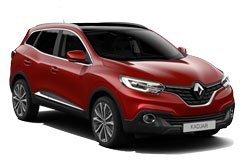 Some vehicles are tailor-made for the longer and more demanding type of road trip found in the Basque region of northern Spain, a land of fine food, long sandy beaches and towering peaks of the Pyrenees mountains. For this kind of terrain, you'll be much more comfortable in one of Auto Europe's stylish SUV cars which are safe, spacious and designed for steep climbs. For larger groups, it's best to opt for one of our 7 to 12-seater Vans which are perfect for families and sports teams touring the country. When touring Spain's fascinating Basque, region, take time to explore Bilbao and San Sebastian, both important cultural cities.
Popular SUV or Van Car Hire Models: Nissan Qashqai, Volvo XC90, Renault Captur, Suzuki Jimny 4x4, Opel Vivaro, Ford Tourneo, VW T5 and many more.
For your convenience, this Auto Europe fleet guide is designed to help you make the right choice of vehicle when booking your car hire in Spain. Our aim is the complete satisfaction of our clients, which means providing you with the very best products and services to complement our prices, which are the cheapest in the market. For more information, please feel free to contact Auto Europe's rental specialists who will be happy to ease you through the booking process, from start to finish. Please do not hesitate to call them on +441233225114 if you have any further questions about the best vehicle to hire for your forthcoming itinerary in sunny Spain. Have a great trip!