Travel Guide Croatia – An Adriatic Gem
The beautiful country of Croatia is located on the south-eastern part of the European continent and has for centuries been at the crossroads between western and eastern civilisations. Along with its vast coastline, Croatia has plenty to offer in terms of culture, arts, theatres, sports, media and entertainment. Along with the Croatian mainland, Dubrovnik is located further south and is divided from the mainland by a stretch of land that belongs to Bosnia & Herzegovina. The country is a magnet for summer revellers and tourists, with numerous resorts scattered along its Adriatic coastline.
Zagreb is the country's capital city and the largest city in Croatia. Dating back to the Roman era, the city is an important economical centre for the country. It houses central government, ministries and administrative government buildings. The city has become a major tourist destination for the region, hosting numerous annual festivals and events. Two statues of Saint George are the most popular attractions in the city.
As the second largest city in Croatia, Split is another popular destination for visitors. Its historical centre is a UNESCO World Heritage Site, and the city boasts plenty of culture, the Croatian Museum of Archaeological Monuments, the Croatian Maritime Museum, to name but a few. In addition, Split has numerous sporting venues, including the Poljud Stadium and Spaladium Arena. Locally you'll find popular beaches with shallow waters. Bacvice Beach and Firule Beach are amongst that most popular. Consult our travel guide to Croatia and make the most of your Croatian holiday. From sandy beaches to crystal clear waters and historical places, Croatia has the lot and more.
With over 60 year's car hire industry experience, Auto Europe is able through its partners to provide you exceptional quotations on car hire. In addition, we also provide motorhome hire, luxury car hire and a transfer service. Having partnered with trusted suppliers such as Avis, Herts and Europcar, allows us to provide a large fleet of vehicles to choose from, at numerous global locations. Contact our reservation centre today to find out more.
Look over the Croatia travel guide topics listed below and take a look at each page for information on a specific aspect of traveling in Croatia.
Road trips with my car hire in Croatia
With a rich and varied mix of attractions, Croatia is a great place to take a holiday. From Dubrovnik in the south to its vibrant capital city Zagreb in the north, Croatia's landscapes are just as varied and interesting. With an abundance of natural wonders, majestic lush forests and picturesque towns, a car hire in Croatia is one of the best options to get around easily. To maximise your visit, we would also recommend the following road trips.
Istria Peninsula: Located in northwest Croatia, adjacent to the Adriatic Sea, the Istria Peninsula is a must visit for anyone interested in history and culture. With a handful of historical monuments dating back to the Byzantine era, you're sure to quench your thirst for adventure. Istria Peninsula is home to numerous ancient port cities, such as, Pula, Rovinj and Porec. Drive around the peninsula and enjoy its alluring landscapes and mouth-watering cuisine.
City of Dubrovnik & Adriatic Coast: Savour some local Dubrovnik culture and enjoy southern Croatia. Dubrovnik boasts impressive defensive city walls – that of which have never been breached. Whilst inside you'll be presented with wonderful narrow alleyways, hosting quaint coffee houses, restaurants with excellent cuisine and vibrant bars. Drive north along route 8 and enjoy the views along the Adriatic coastline. This road trip will take you through some magical villages and coastal towns - including iconic tourist destinations, such as, Makarska, Split and Zadar. Don't forget that Dubrovnik is cut off from the rest of Croatia by a stretch of land that actually belongs to Bosnia & Herzegovina.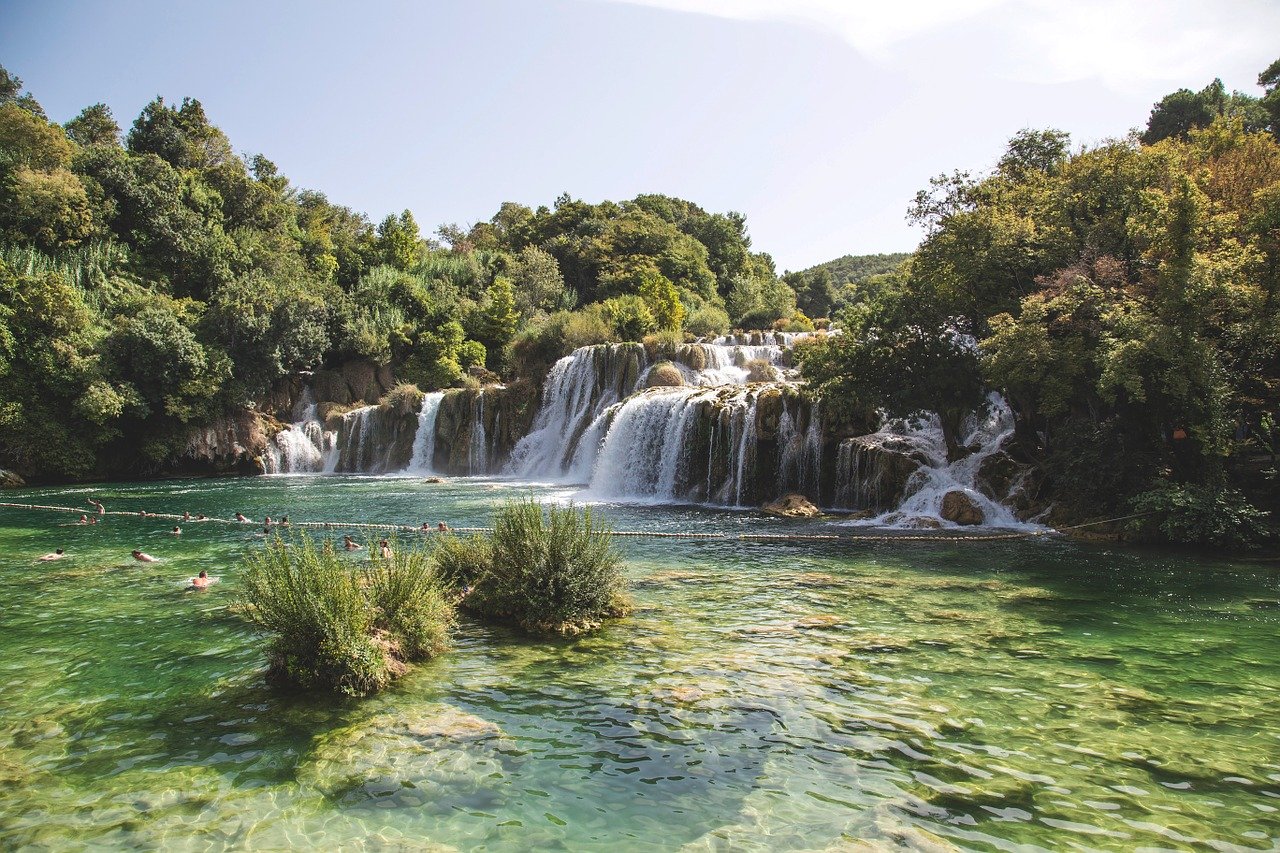 Krka National Park: No road trip in Croatia is complete without a rural swim amongst nature's backdrop - Krka National Park provides just that. Take a dip in the fresh blue waters, surrounded by lush greenery, and experience nature as it should be. With few facilities, make sure you arrive early before the tourists coaches do. Krka National Park is Croatia's second largest nature reserve; it also contains an impressive seven waterfalls to memorise over.
Town of Trogir: This beautiful medieval town is contained within an impressive city wall. Once you walk through its gates however, you'll be greeted with beautiful Venetian architecture, with the old town listed as an UNESCO World Heritage site. Originally a Greek trading port founded in the 3rd Century, Trogir boasts some beautiful sea views, historical cobbled streets and seafood cuisine hard to match. Along with the imposing Kamerlango Castle, you can also visit the Cathedral of St Lawrence, constructed in a Romanesque-Gothic style.
---
What to do in Croatia
Croatia is one of the best places in the Adriatic to visit. With plenty of history, culture and an abundance of entertainment options available, you're sure to have an amazing time. Relax in one of its many coffee houses or on a sandy beach, dive into bright blue waters and swim amongst some of the underwater wildlife. Inland you'll find exquisite natural parks, peaked mountains and lush forests to explore. We recommend you try out the following during your visit;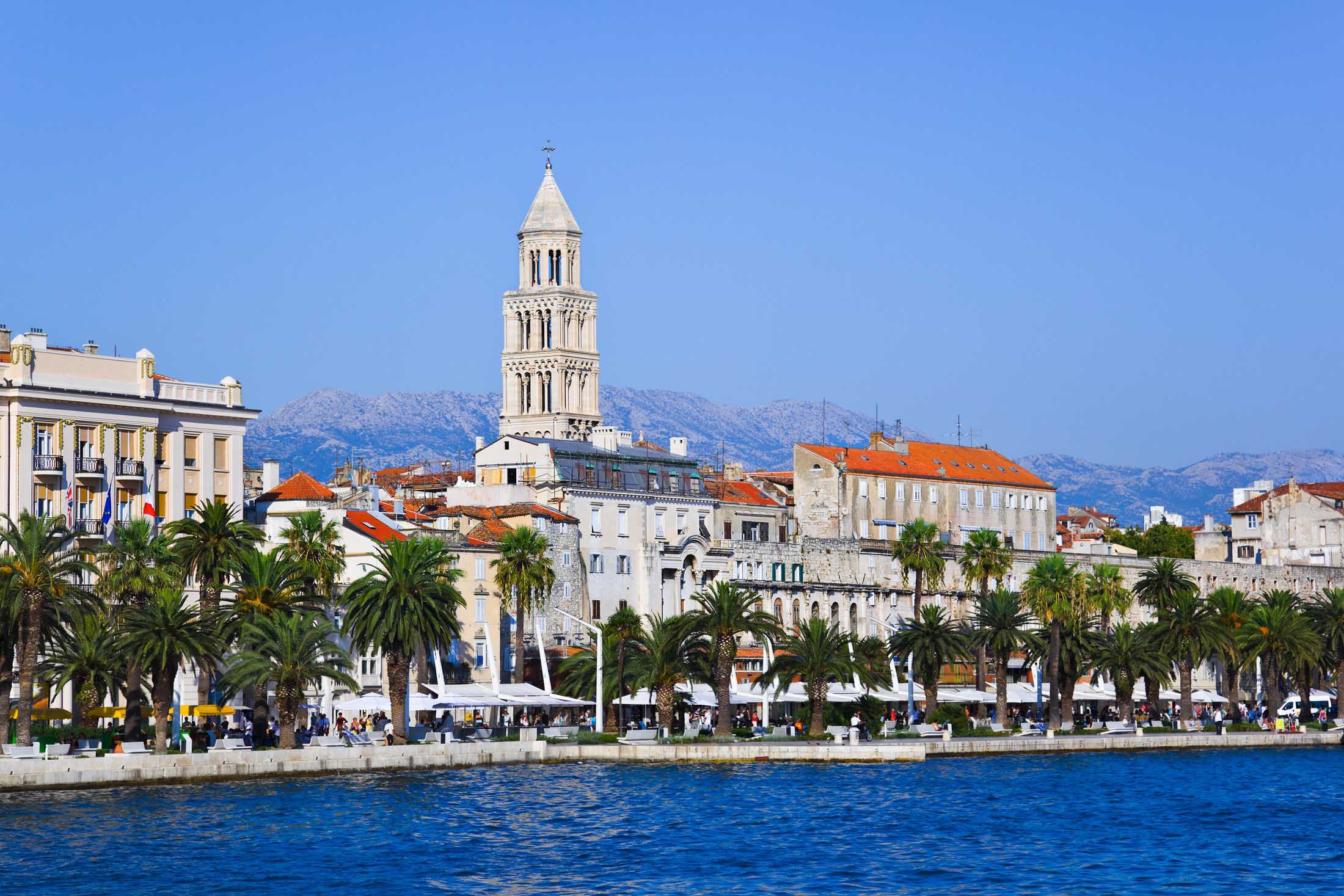 City of Split: Split is Croatia's second largest city and as such has plenty to entertain you. Located on the Adriatic coast, the city enjoys warm sunny weather most of the year. Its promenade contains numerous quaint coffee houses, restaurants and boutique stores. A city brimming with amazing nightlife, Split is a labyrinth of narrow alleyways and hidden wonders - from historical monuments to museums and tourist attractions.


Plitvice Lakes National Park: Along the A1 motorway you'll eventually come to a magical place where nature rules. A UNESCO World Heritage site, the Plitvice Lakes National Park was established in 1949 to protect its fairy-tale surroundings. Visitors will be in awe at the sheer abundance of turquoise lakes surrounded by lush greenery, and all interconnected by ninety marvellous waterfalls.


City of Pula: Pula is the largest city in Istria and a very popular tourist destination. It's iconic and legendary Roman amphitheatre dates back to the 1st Century BC, and is a masterpiece of Roman engineering. Explore where the gladiators faced each other in battle and take in this breathtaking venue. Adjacent to the arena is a large car park which makes reaching Pula by car a viable option.


Town of Rovinj: Dating back to the 7th Century BC, the town of Rovinj has through its rich history, become a melting pot of various cultures, influences and architectural wonders. From its Byzantine buildings to its Venetian architecture, the town boasts plenty of exquisite facades. Wander through its narrow alleyways and discover one of the best views over the Adriatic from the square in front of the St. Euphemia Church.


Dubrovnik Old Town: A UNESCO World Heritage site since 1979, Dubrovnik's old town and its iconic walls is one of the most visited places in Croatia. The old town is home to some spectacular buildings, temples and historical attractions. A city that has stood the test of time and never been conquered, in part due to its defensive walls, Dubrovnik old town has been beautifully restored and well worth a visit.
---
A bit of history
The land which Croatia currently occupies were ruled by the Greek and Roman Empires. With their demise, the Duchy of Croatia was formerly established in the middle ages. During 1102 the Croat people formed a union with Hungary to establish the Kingdom of Croatia – which lasted the next four centuries. During this period however, numerous battles erupted with the Ottoman invasions and the Republic of Venice – all of which wanted control over the coastal regions.
In response, the Croatian government appointed Ferdinand I of the House of Habsburg in 1527 to rule over the kingdom. This in part was for the purpose of providing an alliance against the ever imposing Ottoman Empire. During this period, Croat and Serb migrations changed the face of the region as a consequence of the Ottoman wars.
The Napoleonic wars saw the coastal regions of Croatia revert from the occupying French to the Austrian Empire. In 1815, Congress of Vienna established the Kingdom of Croatia and Dalmatia, under Austrian rule until 1918 – when independence was declared by the Croats. The newly established country united with its neighbour Serbia forming the Kingdom of Serbs, Croats and Slovenes. However, with the proclamation in 1921 of the one unitary state, Croat autonomy deteriorated.
King Alexander in 1931 changed the country's name to Yugoslavia introducing a Unitarian constitution – which further sparked civil unrest. With the occupation by the Axis forces during World War II, a Nazi-backed Croatian state immerged in 1941, encompassing parts of Croatia, Bosnia & Herzegovina and Syrmia. A resistance movement, led by Josip Broz Tito, eventually lead to the creation of the Republic of Yugoslavia in 1945 – after the end of the war.
This socialist dictatorship ended in 1992 with the commencement of the Yugoslav Wars due to unresolved ethnic issues. With the separation of Croatia from Yugoslavia in 1991, a war erupted until 1995. During this period Croatia cemented itself as an independent country, joining NATO in 2009 and becoming a member of the European Union in 2013. Nowadays, Croatia is a stable country welcoming millions of visitors from across the globe to its luxurious resorts and beautiful landscapes.
---
Frequently Asked Questions about travelling in Croatia
Following is a summary of the most common travel questions that we get asked by our clients whilst visiting Croatia. We cover things such as time zones, visa requirements, currency type, things to keep in mind and much more. If you fail to have your question answered here, please contact one of our trained reservation agents. Our agents will provide you with up-to-date information about visiting Croatia. Otherwise, please view our travel tips section for more information on such things as minimum driving age, car category types and more.
---
Through our trusted partners we are able to provide a large fleet of vehicles to choose from. We offer numerous car category types, all of which come with their own advantages and disadvantages. Determining what vehicle type is best for you, depends on the type of holiday you will be having in Croatia. For example, if you are staying in Rijeka or Zadar, then a Mini, Compact or Economy car might be best. These vehicles are great for getting through traffic and manoeuvring along narrow city roads.
If you plan to visit more rural areas, consider an SUV, these cars are sturdy, stable and come with powerful engines. If you aim to drive between Croatian cities, then one of our Large car category vehicles will make motorway journeys comfortable. If you wish to find out more about all available categories, their individual characteristics, capacities, etc, then have a read of our car hire categories.
The Kuna (HRK) currency is used in Croatia - that of which can be obtained before arriving via your bank, or withdrawn locally at a cash machine. Make sure you note any fee charges and exchange rates before withdrawing from a local ATM. Alternatively, bank cards are accepted, especially in resorts and shopping centres. More rural areas may not accept bank cards, it is therefore worth carrying some cash on your person.
Croatia comes under the Central European Time Zone (CET), this makes the country GMT+1. During the summer time when Daylight Saving Time is observed, Croatia is two hours ahead of the UK, whilst during winter periods it is only an hour ahead.
The electricity supply in Croatia runs on 230 volts, 50Hz. A European two pin plug is used throughout the country. This means that if you are planning to use any UK appliances whilst in Croatia, you will need the relevant adapter. Adapters can be purchased at travel shops or within major transport hubs, such as airports.
Croatia is part of the European Union, having joined in 2013. It is however, not part of the Schengen Area, meaning that passport checks in and out of the country still exists. If you hold EU Citizenship, then a visa is not required, but you must have a valid passport or identification card during your stay. Please note that depending on the outcome of Brexit, UK citizens may require visas to enter Croatia. If you require consular assistance, then a British Embassy can be found in Zagreb.
British Embassy Zagreb
Ivana Lucica 4
10000 Zagreb, Croatia
Telephone: +385 (1) 6009 100
Email: british.embassyzagreb@fco.gov.uk
Croatian and Serbian are spoken in Croatia, and German is also widely used and understood in the northern region of the country. It is not uncommon for travellers to hear Italian along the Adriatic Coast. Here are some key Croatian phrases to brush up on before embarking on your trip:
Hello - Bok or Bog
How are you? - Kako ste
Fine, thank you - Dobro sam, hvala
Please - Molim
Thank you - Hvala
Yes - Da
No - Ne
What is your name? - Kako se zovete?
My name is - Zovern se
I'm lost - Izgubio / izgubila sam se
Police - Policija
Can I use your phone? - Mogu li se posluziti telefonom
---
Useful Links
Travel inspo - The Gorgeous National Parks of Croatia
Official Tourism Website of Croatia