Travel Guide Germany - inspiration for your travels
A country of immense geographic diversity, Germany is a great place for a long, leisurely drive through thickly-wooded forests interspersed with soaring castles perched on towering rocks. It's the place of the autobahns and magnificent road systems enhanced by an ultra-modern infrastructure. A road-trip in Germany is a roller-coaster adventure with heart-in-your-mouth hairpin turns and full-throttle thrusts down seemingly endless motorways.
Indeed, Germany is one of Europe's top destinations for an enchanting, surprise-filled driving holiday with Auto Europe. There are many interesting routes to explore, including the famous Romantic Road (one of the world's oldest tourist itineraries) and the fascinating Fairy-tale Route through the homeland of the Brothers Grimm. And travelling on the motorways between Cologne and Berlin promises to be the ultimate autobahn adventure for you and your friends. All this and more awaits you at any time of the year in the Auto Europe car hire of your choice.
For more than 65 years, Auto Europe has grown from a small family business in North America to a thriving international car hire company offering quality and affordable car rental services in over 24,000 locations worldwide. Through our partnerships with leading international and local suppliers, we can provide our clients with a vast and modern fleet at numerous airports, railway stations and convenient downtown locations all over Germany, including Bonn, Dusseldorf and Leipzig, meaning that you'll always be able to choose the best pick-up or drop-off point to suit your needs.
With Auto Europe's Travel Guide Germany you'll find all the information you need regarding the many different options available when visiting this magnificent country, such as being able to pick up your car in one destination and dropping it off in another, plus all our regular promotions offering free upgrades, additional drivers, winter tyres and much more to further improve your driving holiday in Germany.
Look over the Germany travel guide topics listed below and take a look at each page for information on a specific aspect of travelling in Germany.
Road trips with my car hire in Germany
As you'd expect from the land of fairy-tale palaces and castles, bustling beer-halls and enchanting forests, Germany promises some of the best road-trip adventures in the whole of Europe. Besides the thrill of high-speed journeys on the country's autobahns, the real magic of the country is to be found in the many pretty villages and small towns hidden away in the hinterland, most notably Bavaria and the Rhone Valley. We've compiled a mouth-watering selection of driving routes that are well signposted and ideal for people looking to discover parts of the country that often get overlooked. Auto Europe has all the solutions you need to get the most out of your four-wheel escapade, including the chance to pick up your vehicle in one place and drop it off in another.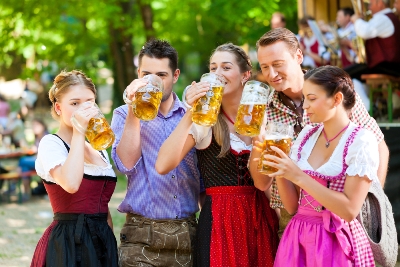 There are endless road trips options to choose from in Germany and below we have compiled a special section with our most interesting itineraries for you to discover.
For a thirst-quenching introduction to the art of beer drinking in Germany, why not start in the place where it all began - Freising. Our popular Beer Garden Tour begins in this ancient Bavarian city, one of the oldest settlements in the country, where Monks first started producing beer at the Weihenstephan Brewery in 1040. Today, almost 1,000 years later, its award-winning beers are being exported to all four corners of the world and visitors are welcome to tour the premises and taste the famous beers.
For those who prefer wine to beer, rest assured that Germany is also a land of vineyards producing many fine wines such as Riesling, Spätburgunder and Liebfraumilch. Established in 1935, the enthralling German Wine Route (Deutsche Weinstraße) offers visitors a delightful journey through some of the country's most scenic landscapes, passing through the Palatinate wine region and following long stretches of the Rhine. Starting in Bockenheim near Frankfurt, our itinerary incorporates the largest forest in Germany (the Pfälzerwald) and many picture-postcard towns and villages en route.
A drive along the 370-mile-long Fairy-tale Route in central Germany follows the footsteps of two of the world's most imaginative storytellers, Wilhelm and Jacob Grimm, who created a succession of notable children's storybook characters, including Cinderella, Snow White, Hansel and Gretel and the Sleeping Beauty. On this route you'll go in search of a gingerbread house in sleepy Hessian villages and drive amidst Disneyesque forests, palaces and castles all the way between Bremen and Frankfurt.
Stretching for over 250 miles, Germany's much-lauded Romantic Road (Romantische Straße) is a very well-established way of exploring the heart of the southern German countryside. The route charms travellers with its old Gothic cathedrals, picturesque villages and snow-capped mountain peaks interspersed with translucent lakes and fast-flowing rivers embroidered by fertile farmland. High on the agenda for a lengthy stopover is Rothenburg ob der Tauber, a small town notable for its quaint half-timbered terraced houses and medieval cobbled streets, and Hohenschwangau, famous for the dream-like Neuschwanstein Castle.
For a breath of fresh mountain air, head for the hills with our action-packed German Alpine Road (Deutsche Alpenstraße) itinerary between Lindau and Berchtesgaden in the extreme south of the country. Running for more than 280 miles along the Austrian border, this exhilarating route encompasses many must-see sights and attractions, including Lake Constance. You'll be stopping every few minutes to photograph the lush Alpine meadows, gently rolling hills and verdant forests set to a resplendent backdrop of craggy peaks, romantic valleys and sparkling lakes.
With Auto Europe you can enjoy the ultimate driving experience on some of the fastest and best-preserved motorways in the world – the famous Autobahns. With our thrilling 600-mile Motorway Road-trip itinerary across Germany, you'll be able to test your driving skills and visit some of Germany's most interesting cities at the same time, including Cologne, Dusseldorf, Muenster, Bremen, Hamburg and finally Berlin.
---
What to do in Germany
From the thickly wooded delights of the Black Forest to the sprawling vineyards of the Rhine Valley region, Germany has driving holiday potential in abundance. The most appealing of all the cities is Berlin, a thriving metropolis still in transition as a world-class tourist destination since the fall of its famous wall in 1989. The former East Germany, likewise, is another favourable prospect for anyone travelling around with a car hire in Germany, particularly Dresden, now one of Europe's most celebrated arts cities.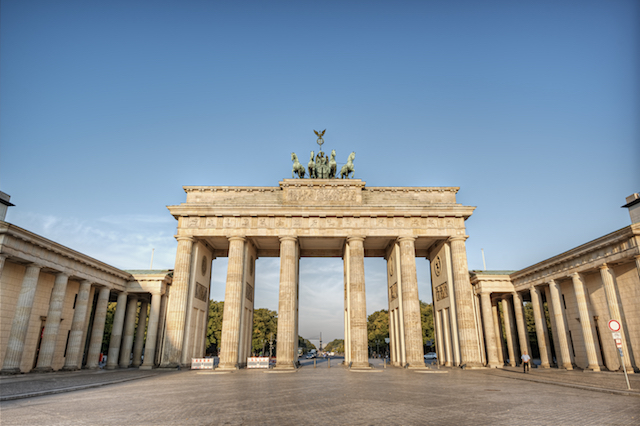 Brandenburg Gate (Berlin): Located in the heart of the capital's Mitte district, Germany's iconic Brandenburg Gate was built in 1791 for King Frederick William II. Originally inspired by the Acropolis in Athens, it is 26 metres high with the central arch originally being reserved for royalty, while the four adjacent passages - two on either side – were designed for traffic. During the Cold War, this world-famous gate also formed part of the Berlin Wall which was demolished during the country's unification process.


Black Forest: If it's stunning vistas and breathtaking landscapes you're looking for, then a road-trip through the beautiful Black Forest region will tick all the boxes. Packed with firs and spruces as far as the eye can see, the Schwarzwald (as it is known in Germany) is an exceedingly pretty part of the country some 100 miles long and 30 miles wide, with plenty of therapeutic mineral spas and health resorts and many other wellness-related attractions to side-track you during your journey.


Zugspitze: At almost 3,000 metres above sea level, the Zugspitze Massif forms an integral part of the Wetterstein mountain range. A cable car takes you effortlessly up its side as you gaze down on some amazingly steep valley scenery. It's the loftiest peak in the country, so expect plenty of thrills during your visit, such as two mammoth toboggan runs, the country's highest church, an igloo village and some fine alpine restaurants serving the heartiest of mountain fare.


Neuschwanstein Castle: Shy King Ludwig II built this fabulous fairy-tale castle in the second half of the 19th century as a way of recreating the authentic style of the old German knights' castles. Besides its setting, which certainly couldn't be more striking or idyllic, the building attracts thousands of tourists each year who flock there to admire its lavish interior crammed with paintings depicting the king's dreamy, poetic notion of the Middle Ages.


The Berlin Wall: Despite the fact that very little of it actually exists, Berlin's famous but somewhat notorious Wall still has a magnetic effect on most of the city's visitors today. Built in August 1961, it came to symbolise the so-called Iron Curtain that separated Western Europe and the Eastern Bloc, until the historic decision was made to dismantle it when the Brandenburg Gate was officially opened just in time for Christmas 1989.
---
A bit of history
Much of today's Germany was occupied by Celtic peoples in the last few centuries BC, but they had left the area by the time of the Roman Empire, the demise of which gave rise to Germanic tribes (most notably the Franks) in the 4th and 5th centuries AD. Charles the Great (aka Charlemagne, or Karl der Grosse) rose to prominence during the Early Middle Ages and managed to unite the majority of western and central Europe by becoming king of the Franks from 768, king of the Lombards from 774 and emperor of the Romans from 800. The Protestant movement during the Middle Ages triggered a thirty-year war with the Catholics. It wasn't until 1871 that the first unification of Germany succeeded and by the 1900s it had grown into one of the most industrialised European countries. From 1914 to 1918 Germany waged war against the Allies in World War I with the country eventually being defeated, losing its overseas colonies in the process. As a flimsy republic, and suffering from the impact of the great 1930 global depression, Germany saw the rise of the Nazi Party, and in 1933 Adolf Hitler was appointed Chancellor. During this period (in 1939), Germany once again waged war against the Allied forces and it wasn't until 1945 that World War II finally came to an end. With its defeat, Germany was split and divided up into West and East Germany and in 1989 the world saw the fall of the Berlin Wall, a symbol of those divisions. In 1990 Germany was once again reunited and eight years later became a founder-member of the Eurozone, remaining an economic powerhouse of the European Union to this day.
---
Frequently Asked Questions about travelling in Germany
Now that we've given you some inspiration and ideas for a fascinating road-trip in Germany, you might still have a couple of questions about travelling around this incredible country. In the section below, you will find a selection of our most frequently asked questions regarding car rental in Germany, as well as a few phrases that might prove useful during your travels. You'll find plenty of advice on which vehicles will be best suited to your forthcoming journey, whether or not you will require a visa and what power supply is most common in Germany, plus a whole lot more. Should you require personal assistance from one of our staff, please do not hesitate to contact us by calling +44 123 3225 114 or by sending us an e-mail to reservations@autoeurope.co.uk. You'll also find plenty of advice and other car hire-related information in our popular travel tips section where we cover a wide variety of topics ranging from full protection to all the rules and regulations regarding minimum and maximum age requirements and any driving restrictions that might apply in Germany, etc.
---
Auto Europe has all sorts of options available to travellers looking to make the best choice when they rent a car in Germany. For a few days' sightseeing in Berlin or Munich, why not select one of our Mini, Compact or Economy category vehicles which are smaller, easier to park and offer greatly-reduced running costs. Our tempting selection of Mid- and Large-category cars provides plenty of scope for people planning a road-trip through Bavaria or the Rhone Valley wine region. Auto Europe can also provide you with something more prestigious for your forthcoming driving holiday in Germany, ranging from sumptuous SUVs to classy convertibles, which are ideal for visiting the more mountainous parts of the south.
To find a rental suitable for your travels, we recommend that you consult our detailed car hire category section where you'll get advice on all the features and benefits of each respective category.
As Germany is part of the euro-zone its currency is the euro, which is divided into 100 cents with €2, €1, 50c, 20c, 10c, 5c, 2c and tiny 1c denominations for coins and €500, €200, €100, €50, €20, €10 and €5 for notes. It's a little-known fact that the euro's symbol (€) was created by a German graphic designer called Herr Arthur Eisenmenger who also designed the European flag.
Berlin is on GMT+1, making it one hour ahead of London. Germany changes to Daylight Saving time on the last Sunday of March and back to Standard Time on the last Sunday of October.
The voltage in Germany, as is the case in most of Europe, is between 220-240 Volts. The types of plug and sockets used in Germany are the Type C Europlug or the Types E and F Schuko. If you want to use your British appliances in Germany, you will need a power adapter.
British citizens do not need a visa to visit Germany, only a passport valid for the duration of their stay. Please note that German police officers can ask for identification at any time, so you should always carry your passport with you. Please note that the rules for travelling in Germany and the rest of the European Union will change if a no-deal Brexit comes into effect. In any case, the rules for travelling in Europe after Brexit will not change much for shorter trips of up to 90 days as the European Commission has proposed that UK citizen will be able to travel to countries in the Schengen area or elsewhere in the EU for up to 90 days in any 180-day period without requiring a visa. Visit the UK government's travel website for up-to-date information and advice on visiting European countries after Brexit.
Should you require consular assistance during your stay in Germany, the UK Embassy is located in Berlin, plus there are consulates in Munich, Hamburg and Düsseldorf;
British Embassy Berlin
Wilhelmstraße 70/71
10117 Berlin, Germany
Website: www.gov.uk
Telephone: +49 (0) 30 204 570
German is quite a difficult language to learn, but remembering a few phrase will help you get around and certainly endear you to the local people, so here are a few words and phrases that might come in handy on your travels;
I want to hire a car - Ich möchte ein Auto mieten
Stop (at a sign) - Halt! / Stop!
One-way street - Einbahnstrasse
No parking - Parkverbot
Speed limit - Geschwindigkeitslimite / Höchstgeschwindigkeit
Petrol station - Tankstelle
Petrol - Benzin
Motorway - Autobahn
Driving licence - Führerschein
Under construction - Baustellen
Warning triangle - Warndreieck
Where can I exchange money? - Wo kann ich Geld wechseln, bitte?
Exit - Ausfahrt
---
Useful Links
Discover Germany - The Castle Route in Southern Germany
Visiting Germany in Winter? Christmas markets not to miss
Official Tourism Website of Germany