Travel Guide Portugal – helping you maximise your stay
As one of the world's top tourist destinations, Portugal is a place of contrast. From quaint cobbled stoned streets and walled medieval towns perched on cliff tops, to golden sandy beaches and crystal clear waters. If in Lisbon, then consider spending some time exploring the full abundance of museums on offer. The Maritime Museum, Museum of Coaches, The Orient Museum and the Tile Museum, are just some of the magnificent places on offer. Porto, the powerhouse of the north, equally contains a large amount of museums, monuments and exciting venues. We would especially recommend visiting the various wine districts on offer, one of which is in Porto itself.
Along the silver coast you'll find Caldas da Rainha, a beautiful spa city which was founded by the queen. During the 1800s the city saw many rich and noble guests, leading to its magical baroque and art nouveau architecture. The Alentejo area of Portugal is known for its hot humid weather, vast open plains and large private estates. Evora a city in Alentejo, is well sought after for its calm traditional white washed houses, Roman Diana Temple and its megalithic rock monuments – all of which make for a wonderful setting.
The majority of tourists head to Portugal not for the sheer quantity of culture, history and culinary delights, but for the sunshine and beaches. Albufeira, a popular destination, has grown from its small fishing village days to a bustling town full of vibrant bars, clubs and tourist attractions. Surrounded by multiple water parks, the region is perfect for beach lovers practically all year-round. Like the Algarve, here you can find some of the best beaches in Portugal.
All you need to make the most of your holiday in Portugal is contained in our travel guide to Portugal, regardless if you want to spend some time in a medieval town, explore the wild western Atlantic coastline, play a few rounds of golf at some of the top courses in the country or dip into the warmer southern waters of the Algarve.
Look over the Portugal travel guide topics listed below and take a look at each page for information on a specific aspect of traveling in Portugal.
Road trips with my car hire in Portugal
Although one of the smallest countries in Europe, Portugal still has plenty of road trips to undertake. Just collect your car rental in Portugal from numerous locations and discover one of the oldest countries in Europe. Due to Portugal's geographical shape, an ideal place would be to start in the south and head towards the north, stopping at key locations along the way. Portugal is easily drivable, approximately 2.5 hours from west to east and 7 hours from south to north. With our one-way option, you are able to collect in one location and drop the car hire at another location.
We would recommend taking a road trip along the Dao region in northern Portugal. Here you will discover plenty of culture, history, agriculture and wine. Alternatively, as you are never too far from a beach, why not consider taking a road trip and savouring what each beach has to offer. From the north to south, Portugal has some of the best beaches in the world. Try Praia do Guincho, Figueirinha, Troia Peninsula, Praia da Rocha, São João da Foz and Ericeira World Surf Reserve.
If you prefer a shorter road trip, but with plenty of things to see and do along the way, then why not fly into Lisbon and drive to Sintra. Discover all that Lisbon has to offer, from museums, monuments and plenty of history. Then explore the microclimate of Sintra, with its abundance of palaces, gardens and fairy tale surroundings. If flying into Porto, drive along the Douro River and explore everything that Portugal's famous Port wine district has to offer. An area of tremendous beauty and a must see. For further travel inspiration, visit our Portugal road trip page.
---
What to do in Portugal
Although there is always much to do and see in Portugal, here are a few suggestions to help you maximise your stay and Portuguese experience. From splendid national parks to mystical palaces, Portugal has it all within easy reach.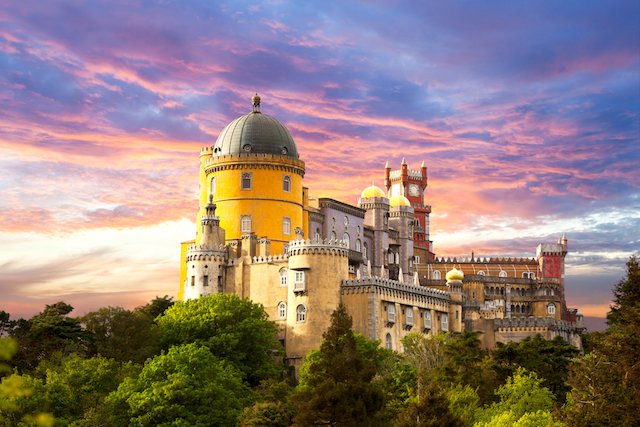 Train ride of Douro Region: Considered as one of the most picturesque railway journeys in Europe. The Douro railway line follows the river valley eastwards before heading into the terraced vineyards of the Port wine producing district. The "Linha do Douro" rail service leaves from central Porto and stops at numerous traditional towns along the way. For added authenticity, why not opt to travel this line on the historical steam train.


Gerês National Park, Minho Region: The Gerês national park in the north of Portugal is appoximately 62 miles (100 km) from the city of Porto. A beautiful majestic place, Gerês has numerous granite style villages dating back to the creation of Portugal in the 12th century. The park also has its fair share of local wildlife, from wolves, deer's, badgers to wild ponies and boars - an ideal location for those seeking nature and plenty of history.


25 de Abril Bridge Miradouro, Lisbon: Lisbon has numerous miradouros (view points) scattered around the city. From these strategically situated viewing platforms you are able to view the whole city of Lisbon, its palaces, districts and monuments. The latest viewing platform to be added is that of the glass floored 25th April Bridge. Set high up on one of the suspension bridges pillars. The lift takes you all the way to the top and provides you with an amazing view of the river and city.


Arrábida, Setúbal: The Arrábida natural park is located next to the city of Setúbal, approximately 33 miles (53.8 km) south of the capital Lisbon. With amazing views of the deep blue Sado River, the historical castles of Palmela, Forte São Filipe, and stunning monastery, this park has a lot to offer. Towards the coast, you will also find plenty of beaches including Galapinhos Beach, which was voted Best European Beach in 2017.


Pena Palace, Sintra: Located at the very top of the historical town of Sintra, Palacio da Pena, is a 19th century romanticism palace. This fairy tale palace set within lush gardens was built by King Ferdinand II and is only 18 miles (29 km) west of Lisbon. Wandering through its rooms will transport you back in time and give you a wonderful insight into life during that era. The garden grounds have trees from all corners of the world, and the surrounding landscape dotted with untold amounts of private palaces and manor houses.
---
A bit of history
Portugal has had many influences throughout its history. Numerous civilisations have passed through its lands and influenced its culture - bringing with them farming, bronze and iron working. Civilisations such as Lusitania rose and flourished until being defeated by the Romans. Human inhabitants have lived in Portugal since the ice age. Around 700 BC Celtic tribes arrived from the north, Phoenicians and Greeks arrived around 800 BC, the Romans in 210 BC, Suevi 409 AD and the Moors in 711 AD. Wars and rebellions led to numerous individual kingdoms being created, which eventually led to one of them being the Kingdom of Portugal.
It was not until 1140 that Portugal became an independent kingdom, with its borders hardly changing until modern times. In the 15th century Portugal became a major maritime power, venturing far from its shores and opening up trade routes to countries that had not been known by Europe. In 1415 Ceuta was captured, Madeira discovered in 1419 and the Azores in 1427. From here on, the golden age of discovery emerged. The Portuguese sailed down the coast of Africa, establishing trading posts along the way and in 1488, Bartolomeu Dias became the first European to round the Cape of Good Hope in South Africa. In 1498 Vasco da Gama opened the first sea route to India and over time Portugal's empire reached from Brazil (South America) in the west to Timor (Asia) in the east. The Portuguese explorer Magellan conducted the first circumnavigation of Earth in 1519 and naval aviators Gago Coutinho and Sacadura Cabral made the first aerial crossing of the South Atlantic Ocean in 1922 by plane.
With the Napoleonic wars, the 1755 earthquake and subsequent assassination of the King in 1910, Portugal's global influence and empire began to diminish. In 1910 the first republic was formed but it didn't last long and in 1926 a coup brought the country into a dictatorship which lasted until 1974. On the 25th April 1974 the army overthrew the dictatorship and democracy was re-established. Independence to all Portugal's overseas territories was granted quickly afterwards. Nowadays Portugal is a member of NATO, the EU, UN and UNESCO, amongst others.
---
Frequently Asked Questions about travelling in Portugal
Below we have compiled a list of the most commonly asked questions in regards to travelling in Portugal. From what time zone Portugal is in, to its currency and visa requirements – you'll hopefully find your questions answered. We also explain what you need to take into consideration for when choosing your car, along with what Portuguese phrases are most commonly used when travelling around.
If after viewing these questions you do not find your answer, or have additional questions, then don't hesitate to call one of our reservation agents. Our dedicated team of car hire professionals is able to answer any questions or settle any concerns you may have about driving and hiring a car in Portugal. Alternatively, please consult our general information page on driving abroad for tips regarding car hire coverage, age restrictions, pick-up procedure and more, all available on our travel tips.
---
Numerous municipalities in Portugal impose a tourist tax. This will apply to you if you stay in one of these municipalities. The tourist fee is charged per night spent in a hotel or other tourist establishment. The fee varies between municipality, but you can expect to pay from 1€ to 2€ per night. If you are staying in Lisbon or Porto, then expect the tourist tax to be added to your invoice. Here it will be 2€ per night up to a maximum of seven (7) nights. Tourist tax doesn't apply to anyone under 13 years of age, or seeking out medical treatment.
Vila Nova de Gaia charges 2€ per night, per person during high season (1st April until 30th September), whilst charging 1€ per night during low season (1st October until 31st March). This fee is applied up to a maximum of seven (7) nights and to persons 16 years of age and older. Other municipalities charge a tourist tax such as Óbidos, Cascais and Mafra. Whist Braga, Fátima and Guimarães are contemplating doing so in the near future.
Funds raised through the tourist tax goes directly into funding tourist related projects, equipment, infrastructure and studies – whether or not they impact tourism directly. Some municipalities see this tourist tax as having a negative effect on tourism, for example, Aveiro, which implemented the tourist tax from 2012 until 2014. It was then removed due to having a negative effect on local tourist numbers.
We provide an array of different vehicles for you to hire during your trip in Portugal. The type of car you decide upon would be generally down to you requirements and holiday plans. If you plan to stay in a city, such as Porto, where the city centre is extremely narrow and steep, then a smaller car category, such as a mini or compact would be better suited. Many towns and cities in Portugal, especially in the city centres have very narrow streets.
If you're planning a more rural escape whilst in Portugal, then consider a SUV vehicle. These cars are very sturdy and powerful, allowing you to get through any on-road rural challenge. For large families or a group of friends, then either opt for a large vehicle category, offering plenty of legroom and internal space, or a van category, which provide room for everyone, their luggage and equipment, such as surfboards.
For further details on hiring a car in Portugal and what vehicle would better suit your needs, consult our car hire category page, here you'll find a summary of all the categories on offer and their respective characteristics.
Portugal is part of the Eurozone and, as such, the euro is the national currency. Pound Sterling is not accepted. Portugal has one of the most advanced ATM networks in Europe and you can easily find ATM machines in towns and cities. Restaurants, supermarkets and convenience stores also normally allow payment with credit or debit card; however, some impose a minimum purchase amount for anyone wishing to pay with a credit or debit card.
Portugal (Lisbon and Porto), including the Island of Madeira are in the same time zone as London (GMT). In the Azores, the time zone is GMT-1, making it one hour behind the UK. Daylight Saving Times apply on the Continent, in Madeira and the Azores, and run yearly from the last weekend of March to the last weekend of October.
The voltage in Portugal is 220-240 Volts and the socket type is, as is common in Europe, the Europlug Type C or Schuko Types E and F. If your appliances utilise a three pin English type plug, you will need a power adapter plug to use them in Portugal.
No, Portugal is part of the Schengen Area, so British Citizens do not need a Visa to travel there. You will need only a passport, valid for the duration of your stay. However, keep in mind that the rules for travel within the EU might be affected by Brexit so make sure you are up do date on what restrictions apply by visiting the following page.
If you need consular assistance during your stay in the country, the UK keeps an embassy in Lisbon and a Vice Consulate in Portimão (Algarve). For assistance in the North of Portugal please contact the Lisbon Consulate.
British Embassy in Lisbon
Rua de São Bernardo 33
1249-082 Lisboa, Portugal
Website: www.gov.uk
Telephone: +351 213 924 000
Fax: +351 213 924 184
Hello - Olá
Good morning - Bom dia
Good afternoon - Boa tarde
Good evening - Boa noite
Where is the closest police station? - Onde fica a esquadra de polícia mais próxima?
Where is the closest hospital? - Onde fica o hospital mais próximo?
Where is the closest ATM machine? - Onde fica o multibanco mais próximo?
Where is [location]? - Onde fica [location]?
Can I pay by credit card? - Posso pagar com cartão de crédito?
Can I pay by debit card? - Posso pagar com multibanco?
How much does this cost? - Quanto custa?
Thank you - Obrigado
Keep the change - Pode ficar com o troco.
---
Useful Links
Discover Portugal all year round
Portugal - Holiday destination of the month
Official Tourism Website of Portugal