Travel Guide UK – plan your trip with us
The United Kingdom of Great Britain and Northern Ireland is one of the finest global travel destinations. The UK, as it is most commonly known, is formed from a union between England, Scotland, Wales and Northern Ireland. Few countries successfully combine history with a modern society and a rich culture as well as the the capital city of London. From Shakespeare's Globe Theatre to Pall Mall and the iconic Houses of Parliament, a journey round London will take you through an abundance of monuments, museums and tourist attractions.
As you head out of London, the UK opens up into a world of different regions, many of which have their own local dialects, customs and traditions. Lose yourself in Cornwall, a place ideal for surfing and hiking. Experience the thrill of the English Premiership in Manchester, or discover everything that Glasgow, Scotland's second city has to offer.
Swansea in Wales has an abundance of beautiful golden sandy beaches, ideal for a picnic or kite flying. Swansea's festival of music and arts is also one not to be missed during your visit. Edinburgh is Scotland's capital and one of the UK's most stunning places. High above the city is Edinburgh Castle, an imposing site steeped in history and legend. With a hire car from Auto Europe, you're sure to not miss out on any sightseeing whilst in the UK. In conjunction with our trusted partners we'll provide the perfect car for your holiday, within your budget and from the most suitable pick-up locations, such as central Bristol. A city which flourished in the industrial revolution era - step aboard Brunel's SS Great Britain, a magical steamship, now museum, that served the transatlantic Bristol to New York route.
Everything you require for a great UK holiday experience is set out in our travel guide to the UK. Whether or not you'll be exploring historically rich Edinburgh, lively London or taking surfing lessons in Cornwall – our travel guide is here to help.
Look over the UK travel guide topics listed below and take a look at each page for information on a specific aspect of traveling in thr UK.
UK Car Hire Guide - This guide offers you a full overview of everything you need to know when hiring a car in the UK.
UK Driving Information - Learn helpful information about driving in the UK. From tips and driving laws, to speed limits, parking, and more.
UK Fleet Guide Options - Information about our car hire options for your trip to in the UK.
Road trips with my car hire in the UK
The UK is a great place to set out on a road trip. However, the UK climate should always be taken into consideration when planning a long car journey. Choosing the right time of the year is crucial, as is paying particular attention to up-to-date weather forecasts. Winter temperatures can go as low as -2 ºC in Scotland and only reach 9 ºC during summer. South England on the other hand, can see temperatures as high as 32 ºC with the average being 18 ºC.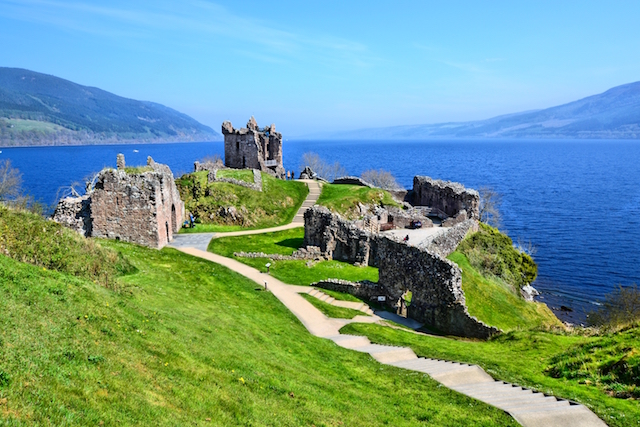 Nevertheless, with good planning, the UK with its moderate climate, miles of roads, flat plains and rugged countryside has all the ingredients for a great road trip. With so many road trip opportunities, here are our best UK road trip ideas and suggestions.
For those heading to Scotland, then a drive down the Scottish northern coast is perfect for escaping the stresses of city life. With little congestion until you reach the cities, this drive will take you through Inverness, Caithness, Sutherland and Wester Ross. Try our road trip from Glasgow to Inverness which will take you to all the best Scottish sights like Loch Ness or our trip around the beautiful highlands.
Northern Ireland also provides plenty of beautiful coastal roads to drive along. Driving from its capital Belfast to Londonderry along the coastal route will take you just over 3 hours. You'll view the beautiful seaside town of Castlerock, the small coastal village of Waterfoot, and the vibrant seaport of Larne. Larne is also home to Gleno Waterfall, if you're looking for a great stop-off to relax.
If you're in Wales then its numerous national parks, great beaches and rolling green hills won't disappoint you. Consider a drive through some of the UK's best national parks, from Abergavenny towards the Brecon Beacons and back up. In Abergavenny take a hike up Sugar Loaf Mountain before heading with your car to Talybont Reservoir. Once done drive towards Usk Reservoir and then onto Black Mountain Pass. The Pass is legendary and will provide a great driving experience.
Many visitors start of in the UK's capital London, which can also be a good starting point for a road trip. From London you can head north, towards iconic cities such as Birmingham, Liverpool, and Manchester. Or why not explore the stunning Norfolk coastal path. The beautiful lush green hills of Yorkshire are another must see. The locals are known for their friendliness and down to earth nature. Yorkshire Moors and Dales are stunning, making for the perfect road trip.The legendary Lake District is also a great destination to visit whilst in northern England. If you plan on driving south from London, then a great option would be to head towards lively Brighton, then along coastal roads to Southampton, Bournemouth, Plymouth, and onto Cornwall's Lands' End – the furthest place from London on the island.
Along with popular culture, the UK is a Kingdom renowned for its performing arts, with many films and TV series being created within its shores. Game of Thrones, Harry Potter, Downton Abbey and Thor - to name but small handful - have all been filmed here. With so many filming locations we'd always recommend a road trip to visit them all. For all those sport lovers out there we also have a wonderful golf road trip covering some of the best and most prestigious and challenging golf courses around the world with stops in St.Andrews and Woodhall Spa.
---
What to do in the UK
The United Kingdom is distinguished by iconic landmarks, spectacular sceneries and some of the most magnificent buildings in the world. Buckingham Palace, Big Ben, London Eye, Edinburgh Castle, Stonehenge and a plethora of medieval towers and churches with intricate stonework are just a few of its main attractions. Not to mention all the locations where critically acclaimed movies and TV series were shot.
There are so many places of great beauty and historic importance, so many opportunities to discover the richest veins of British heritage and the impressive examples of various architectural styles, that it is hard to select just a few recommended must dos. Nevertheless, we tried our best to suggest some of the most iconic experiences every traveller must try:
England:
Cross the Abbey Road zebra crossing, from the Beatles' Abbey Road album cover.
Visit the Big Ben, the clock tower of the Houses of Parliament.
Watch the Change of Guard Ceremony at Buckingham Palace, London residence of the British monarchy.
Visit the Globe Theatre, a modern reconstruction of the 1599 theatre built by Shakespeare's playing company.
Take a picture at Stonehenge, a fascinating prehistoric ring of stones.
Take another picture with an old-timey red telephone box.
Scotland:
Breath in fresh countryside air and go for an invigorating hike at the Trossachs National Park.
Enjoy the best city view at the impressive Edinburgh Castle, built in the 11th century and transformed into the War Museum.
Try to spot the Loch Ness Monster, or Nessie, which is believed to inhabit Loch Ness in the Scottish Highlands.
Visit a whisky distillery for a full authentic Scottish experience and learn everything about the national drink.
Take a picture near Glenfinnan Viaduct, the 1901 railway featured in Harry Potter Movies.
Try out the traditional Scottish knee-length garment called Kilt.
Wales:
Have a picnic at the vibrant park surrounding Cardiff Castle with its Victorian Gothic walls and lavish interior.
Explore the fantastic Snowdonia National Park and all its trails, mountains, lakes and waterfalls.
Admire the unspoilt beaches and countryside at the charming Pembrokeshire Coast National Park.
Watch an exciting match at the Principality Stadium, the contemporary arena home of the Welsh Rugby.
Have a bite of a mouth-watering Welsh cake, filled with raisins or sultanas and served hot or cold, dusted with sugar.
Enter the smallest house in Great Britain, with 5.9 feet wide and 2 rooms!
Northern Ireland:
Fall in love with the Giant's Causeway splendorous scenery and its basalt columns rising above the blue ocean.
Venture across the Carrick-a-Rede Rope Bridge, a swaying connection over the North Atlantic between the mainland and a small island.
Learn all about the Titanic and enter the recreated cabins and decks at the Titanic Belfast museum.
Smell the vast array of flowers and plants at the Botanic Gardens, just ten minutes from downtown Belfast.
Have some fun at the 1889 Royal County Down Golf Club, with 36 holes and an internationally acclaimed course.
If possible, visit Northern Ireland during St. Patrick's Day on the 17th of March and attend the parades.
---
A bit of history
Throughout the millennium, the British Isles were ruled, occupied or invaded by the Celts, the Romans, Germanic tribes (Angles, Saxons and Jutes), the Vikings and the Normans, in 1066. Almost two hundred years later, the Magna Carta was signed between English nobles and King John, limiting royal authority. The fourteenth and fifteenth centuries were distinguished by the Hundred Years War between England and France, which greatly debilitated England. As a result of lost territories, several internal conflicts arose, leading to the War of the Two Roses, a power struggle between the houses of York and Lancaster. Peace was restored by a Tudor king with, years later, King Henry VIII breaking with the Catholic Church, and founding the Anglican Church.
The following century was marked by religious disputes, culminated in a brief period without a monarchy. Nevertheless, it was soon restored in 1660. The United Kingdom was established in 1707 and comprised of England, Scotland and Wales, with Ireland joining almost a hundred years later. However, in 1922, South Ireland separated and became known as Eire (Republic of Ireland). Relations between these constituent states have often been marked by controversy and, at times, open rebellion.
Currently, the United Kingdom constitutes an area of 93,628 mi² with the capital in London, England. Buckingham Palace is the official residence of the royal family, headed by Queen Elizabeth II, who has ruled over since 1952. The English language is the second most spoken in the world, partially due to the British Empire extension and its colonies. According to the Office for National Statistics, there are over 66.44 million inhabitants in the United Kingdom. It's relevance on a global scale is reflected by their leading role as innovators and by the global popularity of British novels, movies, songs, icons, businesses and cuisine.
---
Frequently Asked Questions about travelling in the UK
This section provides an easy reference of the most commonly asked questions when travelling in the UK. We go into some detail as to what vehicle type you should reserve for your holiday, what categories are on offer and their advantages or drawbacks.
We also provide general information when hiring a car with further details on regulations, age restrictions, coverage options and more - this can be reached on our travel tips page. If after reading these pages you still have a question, then please do not hesitate to contact one of our trained reservation agents. Our team is here to provide any car hire related answers and assistance, to maximise your car hire experience in the UK.
---
By providing you with the option to reserve various styles of vehicles across the UK, means that you'll be sure to find the right car hire category for your trip. It is important to choose the right type of vehicle for your needs, based on what you plan to do, where you plan to go and how many passengers will accompany you. The amount of luggage you'll bring is also a defining factor. For holidaying in the UK you should take into consideration these following categories.
Many town and city centres in the UK have narrow streets. Originally designed for horses and carts, these roads aren't easy to drive on with a larger vehicle. For city centre driving, we would recommend a Mini vehicle. These are small sized cars, but they'll give you plenty of manoeuvrability and find parking much easier. If you're looking for something small but with a little more engine power, then consider one of our compact vehicles.
In and around major cities such of London, Luton and Newcastle for example, you'll be comfortable driving with a large vehicle. These are ideal cars if you also wish to head out of town and explore surrounding areas. If you're on a budget, but would still like plenty of legroom, then our economy cars provide space without compromising on fuel-efficiency.
Lastly, if you're planning on driving in a rural setting, then consider an SUV vehicle. These cars are robust, sturdy and packed with enough engine power to get you out of any difficult situation. When visiting the UK with a large group of people, then extra legroom, luggage room and added on-road comfort is vital. In this scenario opt for a van hire in the UK. Our vans are great for longer motorway trips and getting large groups around efficiently.
With 229 embassies, consulates or representative offices across the world, the United Kingdom is well represented abroad. Inside its territory, a total of 282 foreign embassies and consulates are located mainly in the capital city of London. In light of the referendum vote for the United Kingdom to leave the European Union, it's important to stay informed about the changes that will eventually occur in the mobility status of UK and EU citizens. However, currently, the previous policies are still in place. We advise you to always check the official UK government website and take note of the address and contact number of your country's embassy in case you need assistance during your visit.
---
Useful Links
Travel Inspiration - Romantic City Breaks in the UK
Official Tourism Website of the UK