Car hire in Northern Ireland at the best price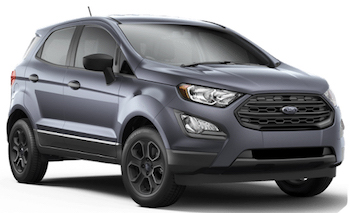 Nothern Ireland is vibrant and interesting place to visit known for its delicious foodscene, breathtaking causeway coast and cities. Northern Ireland also has significant historical, geographical and cultural sites including Norman castles, Glacial Valleys and rivers that are well worth a visit. A car hire in Northern Ireland allows you to visit all the country has to offer including the spectacular countryside.
Auto Europe can provide you with a suitable car rental from one of the many pick up locations throughout Northern Ireland including Derry, Belfast and Coleraine. With 60 year's experience, we can bring you the most competitive prices on the market and the best possible service when you rent through our website. If you want to know more about our service in Northern Ireland please feel free to have a look to our car hire reviews in Northern Ireland section which provides comments left by previous customers, or if you have questions or need help with making a reservation, please contact our dedicated reservations team on +44 123 3225 114 .
For more information on renting a vehicle in Northern Ireland, click on the car hire related topics listed below:
---
Where to Pick up a Car Hire in Northern Ireland
Compare Car Hire Rates at the Most Popular Airport and Rail Stations in Northern Ireland
By working with all the world's top car hire providers, Auto Europe can offer you a wide choice of locations in Northern Ireland. Besides the many car hire companies operating at Belfast Airport, Belfast George Best City Airport and the City of Derry Airport, there are several conveniently-located suppliers' offices in some of Northern Ireland's other towns and cities, including Londonderry and Portadown.
To help you make the right choice, our state-of-the-art booking engine allows you to do an extensive search in 3 easy steps to help you find the best vehicle and the most suitable pick-up point for your trip.
---
Book with the Best Car Hire Suppliers in Northern Ireland
As one of the worlds leading ar hire brokers Auto Europe has long-standing partnerships with global car hire brands such as Alamo, Enterprise, Hertz and Europcar, as well as offer budget options such as Firefly and Keddy. This means that we can offer a wide range of vehicles at the best prices on the market with the added bonus of having one of our reservations agent tailor your perfect car hire offer to your needs, including on-way car hire options, promotional deals like addiotional drivers for free and more.
Should you require additional information about the car hire companies we work with or their policies, for example questions regarding out of office pick up/drop off or questions regarding age restrictions, our car rental specialists are just a phone call or e-mail away and happy to assist you.
---
Frequently Asked Questions about Renting a Car in Northern Ireland
This section features the most frequent questions asked by people booking a car hire in Northern Ireland. Scroll down for important tips relating to a wide range of essential car hire topics, such as tolls, age requirements, travel restrictions and much more. If you need any more information, please call our reservations team on +44 123 3225 114 and they will be happy to help you with your reservation and assist you with your travel itinerary.
---
In Northern Ireland, drivers keep to the left-hand side of the road. It is strictly forbidden to drink and drive. The BAC limit is 0.08 (80mg of alcohol per 100ml of blood). It is also forbidden for drivers to be speaking on the phone while driving unless they are equipped with a hands-free kit. Seat belts must be fastened at all times, this rule applies to the driver and all passengers. Visit our Driving information page for a safe car hire in Northern Ireland and to find out more about traffic and road regulations. There are self-service petrol stations in Northern Ireland where you first fill the car and then pay at the shop. There is a choice between diesel and petrol, so make sure you know which kind of fuel your hire car requires, because otherwise it may cause extensive damage to the engine. Petrol stations are usually open from 7am till 7pm, however, in major cities you may also find some of them open 24 hours.
In order to rent a car in Northern Ireland you must be at least 21 years old (however, depending on the car category, the age requirements may differ), and you must have held your driving licence for at least one year to rent a vehicle.
There are no tolls in Northern Ireland, in contrast to the Republic of Ireland, where you pay for using the motorway. There are no customs controls and you can easily travel between the two countries, however, you are advised to carry a photo-identity document with you. Some suppliers require additional insurance for travelling to the Republic of Ireland, therefore, you should verify this before heading there.
Yes, the majority of car rental suppliers in the Northern Ireland allow travellers to drive into the Republic of Ireland and back subject to a cross-border fee. As in all such situations, please make sure that you acquire our authorisation prior to embarking on your journey and pay the fee locally at the point of pick-up.
Yes, of course it is possible to rent a campervan in Northern Ireland. We offer a varied and modern fleet of motorhome options throughout the United Kingdom, including Northern Ireland. In fact a campervan is an excellent choice to discover all that Ireland and Northern Ireland has on offer.
---
Northern Ireland Travel Guide
Northern Ireland´s history is unfortunately quite violent. Throughout the centuries, there has always been strong tension between Ireland and England. Northern Ireland officially became part of the United Kingdom in 1801. After the famine in the late 1800s, the Irish had strong hatred towards the English because of lack of help during the crisis. From then, the idea was introduced that Ireland would have a home rule. This means that Ireland would be ruled by an Irish parliament. The Ulster Protestants did not agree with this, so then the UK came up with a compromise. Home rule with partition was introduced. Northern Ireland and The Republic of Ireland officially became separated in 1948. The Northern Ireland government was dominated by a Unionist party, which meant there was anti-catholic law in force because it was part of the United Kingdom. This for years caused serious tension between Catholics and Protestants. For decades to follow there was constant violence over the issues between Northern Ireland and The Republic of Ireland. In 1998, the Belfast (Good Friday) Agreement set out the rules that apply today including that Ireland shall not be united country unless there is consent from the majority of Northern Ireland.
Road trips with my car hire in Northern Ireland
Take a look at below travel ideas for inspiration to plan the perfect Northern Ireland adventure. Get a glimpse of interesting travel itineraries and hit the road!
Dublin: This is the capital of the Republic of Ireland. There are many things to do and places to see in the centre of Dublin. These include Trinity College Dublin, Irish House of Parliament, Grafton Street and Dublin Castle.


Cliffs of Moher: The Cliffs are located in the South of the republic of Ireland in County Clare. The Cliffs of Moher are a spectacular natural site. Many people enjoy going for a walk along the Cliffs and visiting the visitor centre


Galway: This is a popular harbour city in the west of Ireland. Filled with Irish tradition. A great place to visit and spend time in the city centre.


Isle of Man: This is an island on the Irish sea between Ireland and Great Britan. The Isle of Man is very interesting with many things to see and do. You can visit the many beautiful beaches, glens and countryside.


Croagh Patrick: Croagh Patrick is a mountain in County Mayo which is known for being a pilgrimage site. Many people participate in the pilgrimage in July every year. Some people even do it barefoot. The mountain is 2460 feet high in the sky.
What to do in Northern Ireland
We would like to help you plan the perfect car rental in Northern Ireland. We have therefore hand-picked some of the most alluring places and things to see and do during your visit. Take a look at the below list and feel inspired!
Giants Causeway: This is located in County Antrim. It is created from the remains of a volcano eruption. It consists of 40,000 interlocking basalt columns. For many it is considered a site of world heritage.


Carrick-a-rede rope bridge: The rope bridge was built with the purpose of connecting the mainland and the island of Carrickarede. It is 65 feet long and is suspended 98 feet above ground.


Titanic Belfast: This is the location of the Harland & Wolff shipyard where the famous ship Titanic was built. At the shipyard, there is a museum with nine interactive galleries with many different dimensions to the exhibition. You have the chance to explore the shipyard and hear the story of the legendary Titanic.


HM Prison Crumlin Road: This is also known as Crumlin road Gaol. This is a former prison in Belfast. It is the only Victorian era prison in Nothern Ireland and a very interesting place to go and visit.


Game of Thrones tour: Worldwide, Game of Thrones is one of the most popular TV series. Some of the scenes are shot throughout Northern Ireland. There are many tours available which are worth taking if you are a fan of the show.There is several locations throughout Northern Ireland that is connected to the show so here is a reccommended three day Game of Thrones road trip.
---
Useful links