Car hire in Las Vegas – Entertainment Capital of the World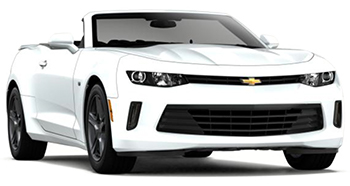 In less than a hundred years, Las Vegas has grown from being a small desert town of just 8,000 inhabitants to one of the world's glitziest and most appealing tourist destinations. An oasis of glittering neon lights in the heart of the desert, the city today is a frenzy of futuristic attractions and first-rate facilities with more things to see and do than most other places in the USA. Blessed with a fast-growing portfolio of modern amenities and monumental landmarks, Las Vegas is a magnet for fun-seekers from all over the world on account of its amazing architecture (including replicas of the Eiffel Tower, an Egyptian pyramid, Venice's Grand Canal, etc.), fine-dining options, lavish casinos, championship golf courses and some of the grandest hotels you're ever likely to see.
Las Vegas is also a dazzling oasis of theme parks, top night-clubs, world-renowned stage shows and a wide choice of road-trip options within easy reach of the city. Considered the most entertaining thoroughfare on the planet, the Strip glitters and glows with massive resorts, huge hotels, Broadway-style theatres, gourmet restaurants and lush, fountain-filled parks and gardens. One of the brightest spots on earth when seen from space, the stretch running from the Mandalay Bay Hotel to the Treasure Island Hotel is a visual feast of themed establishments and the part of Las Vegas that most visitors have come to experience.
There's much more to see and do in this fantastic city besides the Strip, such as the area around Fremont Street in the old part of town where several traditional tourist attractions can be found. Chief among these is the National Museum of Organized Crime and Law Enforcement (aka the Mob Museum) which tells the story of organised crime in Las Vegas and elsewhere in the USA with a fascinating assortment of exhibits, interactive displays and rare video clips. The city's surroundings offer a mouth-watering selection of excellent road-trips with some of the world's most exciting motoring experiences accessible with a cheap car hire in Las Vegas, most notably Red Rock Canyon, Death Valley, the Grand Canyon and Zion National Park. Another popular option is the four-hour drive along Route 15 to Los Angeles, home to Hollywood and the heart of America's film-making industry.
Founded in 1954, Auto Europe is a prominent leader of the international car rental industry with more than 24,000 pick-up points in over 180 destinations all over the world. We work with all the top global and local suppliers to offer you the best selection of vehicles at the lowest prices. If you want to book a car hire in Las Vegas, please don't hesitate to call our rental specialists on +44 123 3225 114 and they will be very happy to assist you. For additional peace of mind, take a look at the Las Vegas car hire reviews and USA car hire reviews to see what other customers thought of the quality of Auto Europe's wide-ranging car hire services in Las Vegas and elsewhere.
For more information on renting a vehicle in Las Vegas, click on the car hire related topics listed below:
---
Where to pick up a car hire in Las Vegas
By working with all the world's top car hire providers, Auto Europe can offer you a wide choice of locations in and around Las Vegas, meaning that you can pick up your vehicle in the city centre and be on your way in a few minutes. Besides the many car hire companies operating at Las Vegas Airport, there are several conveniently-located suppliers' offices in other parts of the city, most of which are in close proximity to the Strip from which you'll have direct access to many of the city's top tourist attractions.
It's easy to make the right choice when you next rent a car in Las Vegas by making a quick search in our state-of-the-art booking engine. In a few sconds you can find the best vehicle and the most suitable pick-up point for your visit to the state of Nevada by keying in your travel dates and making a selection from our interactive map.
Las Vegas Airport
Ranked amongst the USA's ten busiest airports, Las Vegas Airport (more commonly known as McCarran International Airport) was first established in 1942 and currently has two terminals and 92 gates. Located just 5 miles from the city centre, it handles more than 50 million annual passenger movements from all over the world, including London and Manchester. The airport boasts an extensive range of on-site facilities, including several large dining areas, a gaming section, children's play areas, numerous shops and fashion boutiques, an art gallery and aviation museum. LAS attracts many of the world's top airlines, including British Airways, American Airlines, Condor, Delta, Virgin Atlantic and United. Being one of the USA's busiest and best-organised airports, LAS has a dedicated car rental centre in Gilespie Street not far from the Arrivals terminal. The adjacent car park has around 5,000 parking spaces on multiple levels and a courtesy shuttle is available right through the year.
Las Vegas Airport (LAS)
Website: www.mccarran.com
Address: 5757 Wayne Newton Blvd, Las Vegas, NV 89119, United States
Telephone: +1 702 261 5211
---
Book with the best car hire suppliers in Las Vegas
As a leading international car hire company, Auto Europe offers a wide choice of convenient locations in more than 180 popular destinations around the world. With many years' experience dealing with all the top global and local car rental suppliers, we are able to offer you the highest standard of service and the cheapest prices for your next low-cost car rental in Las Vegas.
Should you require additional information about the car hire companies we work with or their policies, for example out of office pick up or questions regarding age restrictions, our car rental specialists are just a phone call or e-mail away and happy to assist you.
---
Frequently asked questions about renting a car in Las Vegas
This section features the most frequent questions asked by people booking a car hire in Las Vegas. Scroll down for important tips relating to a wide range of essential car hire topics, such as credit cards, coverage, tolls, traffic and much more. If you need any more information, please call our reservations team on +44 123 3225 114 and they will be happy to help you with your reservation and assist you with your travel itinerary.
---
Yes. To rent a car in Las Vegas you will be asked to present a valid credit card in the driver's name. The reason for this is that the local car hire supplier will place a hold on the value of the deductible for the car for the entire duration of the rental period which will be returned once the vehicle has been dropped off in exactly the same condition it was in when it left the pick-up point. Please note that for vehicles in the premium or luxury car hire categories (ie high performance vehicles), a second credit might also be required, also in the main driver's name. Please take a look at our dedicated blog post for more information on why credit cards are so important when hiring a car prior to arriving to collect your vehicle.
All the credit card details relating to your reservation can easily be found by clicking on the blue and white info icon (i) after making a quick search in our booking engine. There's more help and advice on our website if you require more information on credit card and deposit requirements for people planning to hire a car in Las Vegas and other popular parts of the USA.
There are a few things to consider when renting a car in Las Vegas with Auto Europe, including a few key points relating to car hire coverage. Chief amongst these is the fact that our Zero Excess product comes as standard with all rentals and includes value added tax (VAT), liability insurance, fire insurance, collision damage waiver (CDW) zero excess and theft protection (TP).
Auto Europe offers additional coverage for people looking for total peace of mind whilst travelling around the USA. With all the benefits of the aforementioned Zero Excess coverage, our special Zero Excess with Super Breakdown Cover also provides customers a refund on credit card fees up to a maximum of €150, administration fees up to a maximum of €150, immobilisation fee, unused rental days due to medical, accident or vehicle damage, damage caused to the vehicle's undercarriage, roof, wheels, glass and tyres, and damage caused to additional items such as the GPS system, child seats, etc. With most suppliers, the standard car hire rate comes with extended coverage for damage to the vehicle's wheels, glass, undercarriage and roof. Customers opting for the Avis or Budget basic Zero Excess rate through the Auto Europe website can take advantage of additional zero excess in the event of theft or any damage to the bodywork, plus refundable excess for glass and wheels. It's important to read the full terms and conditions for whichever deal you select as they might change according to each respective supplier and car category.
If the worst happens on the road and the car gets damaged, you'll need to pay the local car rental company first before claiming the money back from us. It is important when making a claim with Auto Europe that you provide all the required documents to receive your refund as quickly as possible.
All the necessary coverage-related info is very easy to find on the Auto Europe website. After making a quick search in our state-of-the-art booking engine, you just need to click on the blue and white info icon (i) to find out about our excellent Excess Guarantee with Premium Coverage and Zero Excess products, which include damage to the vehicle's wheels, glass, undercarriage and roof or our Excess Guarantee with Premium Coverage, full details of which you can access in the the Terms and Conditions section when making an enquiry or confirming your booking.
It's common practice for local car rental employees to try selling you their own products and features on top of the ones you have already purchased through the Auto Europe website. One such product is insurance coverage which is often mentioned when customers arrive to pick up their vehicle. Generally speaking, these additional coverage policies are completely optional and anything being offered by the local supplier's staff members will very possibly be surplus to your requirements. Why not check out our related blog post for a general overview of the types of car hire coverage available before making a final decision.
Las Vegas receives a lot of traffic and drivers need to take care whilst navigating the city's roads. The busiest periods are on weekends and during holidays, so be sure to plan your travel with this in mind and leave yourself plenty of time to get to your chosen destinations. If travelling to locations outside of the city, you'll find that the roads are very wide and long. It is advised to carry snacks and water for long journeys and make sure your tank is full as petrol stations may be scarce on longer desert drives. One of the most popular options for a car rental in Las Vegas is a convertible, such as a Ford Mustang. This category is offered through most of our suppliers and a perfect way to get your kicks on Route 66!
Some of the top hotels located on the Strip including parking in their daily rates so make sure you confirm this prior to arrival. Las Vegas is home to a large number of car parks at hotels, attractions, shopping centres and elsewhere around the city. Nevertheless, it's increasingly common to pay for parking on the Strip and in downtown but the rates are often subsidised by the establishment to which they are connected. Be aware that sometimes you will be asked to show your ID and open your car boot or wind down your window when entering the car park for security reasons.
Currently there are no toll roads existing in in the state of Nevada, but it's worth noting that you may have to pay some tolls if you drive into some of the neighbouring states, such as California.
Despite an International Driving Licence (IDL) being highly recommended when you book a car hire in Las Vegas, it is not obligatory if the main driver's licence is not in English. However, you will definitely need one if the driver's licence is not in the Roman alphabet (which is the case with Japanese, Greek, Russian and Bulgarian licences, for example), in which case it must an IDL must be accompanied with the driver's national licence.
Besides car hire, one of the best ways to visit Las Vegas and explore the surrounding state of Nevada is with a modern motorhome, or RV as they are known in the US. There's no better way to tour the region than with a motorhome hire in Las Vegas, and Auto Europe can provide you with the right vehicle for your trip, whether it's a small, economical campervan for two or three people or a more spacious motorhome for a large group of friends.
---
Las Vegas Travel Guide
Popular for its non-stop entertainment programme, Las Vegas is a great place to visit at any time of the year. The city's top tourist centres are the 2.5-mile-long Strip which crosses the inner city from one side to the other and Fremont Street, a pedestrian-only precinct in the heart of downtown Las Vegas. Why not take advantage of our exciting one-way car hire offers which give you the chance to pick up your car hire in one place (Los Angeles, for instance) and drop it off in Las Vegas.
Best day trips with my car rental in Las Vegas
When you rent a car in Las Vegas you'll find that there's so much to see and do beyond the city's limits, with imposing mountain ranges and a vast swathe of desert scenery to be enjoyed just a short drive away. Neveda is a large state and there's always the temptation of driving to Los Angeles, in which case we suggest you consider one of our popular Free Additional Driver offers which means you'll be able to share the driving with a friend of family member.
Grand Canyon
One of the world's great road-trips is a drive out from Las Vegas to the see the amazing Grand Canyon, especially for those who have never seen this breathtaking natural wonder. The famous Grand Canyon Skywalk at Eagle Point is reachable from Las Vegas in a couple of hours, with the remarkable South Rim also easily accessible for those who have a bit more time on their hands, which is where you'll find the main national park visitor centre, multiple lookouts and several key attractions.
Hoover Dam
When the mighty Hoover Dam was constructed during the Great Depression of the 1930s it created Lake Mead, the biggest reservoir in the USA. This great feat of modern engineering consists of a 726-foot-high dam which continues to provide hydroelectric power to large parts of the states of Nevada, California and Arizona. Visitors can walk onto the dam and look over the edge for a head-spinning view, just a 45-minute drive away in your low-cost car rental in Las Vegas.
Red Rock Canyon
One of the closest natural attractions to the centre of Las Vegas is the Red Rock Canyon National Conservation Area where visitors can enjoy an exhilarating drive through the park's massive red rock formations, high mountain ranges and deep canyons. Other attractions include Spring Mountain Ranch State Park, Bonnie Springs Ranch and the former mining town of Blue Diamond in the heart of the desert.
Valley of Fire
One of Nevada's most spectacular sights is the dramatic rock formations of Valley of Fire State Park just an hour's drive from Las Vegas. Besides a wide variety of wildlife, a fun-filled day-trip to this spectacular landscape gives visitors the chance to marvel at the many slot canyons, rock walls covered in petroglyphs and famous filming locations from days gone by.
Los Angeles
Home to Hollywood, Beverly Hills and Sunset Boulevard, Los Angeles is a city that needs no introduction having been at the heart of the international film-making industry for over a hundred years. Barely a four-hour drive away, LA today is a very popular destination and a major attraction for many people who choose to rent a car in Las Vegas. The city's highlights include the Walk of Fame, the Getty Center, Santa Monica Beach and a fascinating tour of Universal Studios.
What to do in Las Vegas
Dubbed the 'entertainment capital of the world', Las Vegas sparkles like a large, glittering diamond in the heart of the Nevada desert with a rich abundance of high-calibre tourist attractions, casinos, sprawling hotel complexes and first-rate music venues. Most of the action takes place in and around the city's famous Strip, which is normally the first port of call for most first-time visitors.
The Strip: This famous resort-lined thoroughfare epitomizes the glitz and glamour of this exciting desert city. Very much the main artery of Las Vegas, it is considered by many to be the epicentre of the global entertainment industry, playing host to many of the world's largest hotels and casinos, not to mention some of the most popular tourist attractions in the USA.


Fountains of Bellagio: The grace of these futuristic fountains is one of the must-see features in a city overflowing with firt-rate attractions. Set in a large lake, they burst into life every thirty minutes during the afternoon and every fifteen minutes after dark to the delight of the large crowds normally gathered on the adjacent sidewalks.


Grand Canal: Not quite the real thing, but certainly a half-decent imitation! A gondola ride down the Venetian Hotel's Grand Canal beside the famous Strip is an excellent way of getting a feel of what Las Vegas is all about - a place where you can overdose on world-class entertainment!


Mob Museum: Housed in a former courthouse, the Mob Museum (aka the National Museum of Organized Crime and Law Enforcement) is a standout attraction in the state of Nevada. Offering a fascinating portrayal of the city's history of organised crime, it reveals many of the ugly truths about mob rule in Vegas and other key areas of the USA with interactive displays, exhibits and videos.


High Roller Ferris Wheel: Located at the bottom end of Linq Lane, the High Roller Ferris wheel is the largest observation wheel in the world and a must for anyone looking to get a good panoramic view of the city, especially at night. Standing more than 500 feet tall, the wheel takes around thirty minutes to complete a single rotation and each cabin holds up to forty people.


Stratosphere Tower: Rising to over 1,000 feet, the iconic Stratosphere Tower is the tallest free-standing observation tower in the USA. There's much to do on-site besides admiring the city views, including the SkyJump, Big Shot, X Scream and Insanity rides and the chance to dine at the Top of the World Restaurant, one of the best eateries in Las Vegas.
---
Useful links