Car hire in Los Angeles – Gateway to California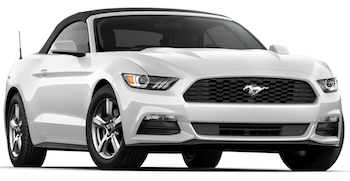 The second-most populous city in the USA after New York, Los Angeles is set in an immense coastal basin surrounded by soaring mountains in the heart of southern California. Extending across 500 square-miles, it boasts dozens of iconic tourist sights, chief amongst them Hollywood, the golden beaches of Malibu, the famous bars and music clubs of Sunset Strip and some of the world's most exceptional museums.
Southern California is your oyster with a car hire in Los Angeles; from there you can make the short trip south to San Diego or head inland to the vast deserts of south-west America. Alternatively, you can explore the region's sprawling national parks, most notably Joshua Tree and Death Valley, where the landscapes are unparalleled for their natural beauty.
From Los Angeles you can also put your hire car to very good use by embarking on a memorable road-trip along California's long stretch of Pacific shoreline. Indeed, nothing epitimises LA more than a leisurely drive down the Pacific Coast Highway, one of the world's great motoring adventures where journey's end could quite easily be San Francisco, another of America's great ocean cities.
Birthplace of the international movie industry, Los Angeles has grown (in little more than 200 years) from being a small Spanish outpost into one of the world's largest and most sophisticated tourist destinations. With over 300 days of sunshine each year, the city presents itself as a modern mosaic of vibrant neighbourhoods where more than ninety different languages are spoken, making it a warm and welcoming melting pot of world cultures.
LA is also home to many renowned museums (the Getty Center and Natural History Museum spring to mind), truly unique hotels (such as the legendary Beverly Hills Hotel) and more than seventy-five miles of fine sandy beaches stretching all the way from Long Beach to Malibu. But most of all, it's a city with an enduring cinematic presence, so don't be surprised if the traffic suddenly gets halted for the shooting of a movie scene right before your very eyes!
Auto Europe has, for well over 65 years, been providing travellers with high quality car hire at the most competitive prices. There are numerous places to collect your cheap car rental in Los Angeles, including Los Angeles International Airport and Los Angeles Union Station, so book online today or call us on +441233225114 to get the cheapest rates for your next exciting driving holiday in the USA.
Please be informed that for your next trip to California and the rest of North America, you can take advantage of Auto Europe's special Gold Rate deals, which are available exclusively in the USA and Canada. When making a search in our booking engine, you can choose to add the Gold Rate package to your reservation allowing you to save even more money on your low-cost car hire in Los Angeles and elsewhere in the States.
Furthermore, if you're considering a low-cost car hire in Los Angeles or elsewhere in the United States of America, then please read what some of our previous customers had to say about Auto Europe's comprehensive vehicle rental service through the many comments they kindly posted on our Los Angeles and USA car hire reviews pages.
For more information on renting a vehicle in Los Angeles, click on the car hire related topics listed below:
---
Where to pick up a car hire in Los Angeles
By working with all the world's top car hire providers, Auto Europe can offer you a wide choice of locations in and around Los Angeles, meaning that you can pick up your vehicle in the city centre and be on your way in a few minutes. Besides the many car hire companies operating at Los Angeles Airport, there are several conveniently-located suppliers' offices in other parts of the city, most of which are in close proximity to Los Angeles's top tourist attractions, such as the Natural History Museum and the Petersen Automotive Museum, the latter of which is home to many of the world's most unusual cars.
To help you make the right choice for your next good-value car hire in Los Angeles, our state-of-the-art booking engine facilitates an extensive search to find the best vehicle and the most suitable pick-up point for your trip. Once you've keyed in your dates, an interactive map will come up with all the available car hire locations in Los Angeles.
Los Angeles Airport
Often referred to by its official IATA code, which is LAX, Los Angeles International Airport is the city's main gateway and serves large swathes of the surrounding state of California. Located 18 miles south-west of Downtown LA, it is one of the world's busiest airports with around 90 million passenger movements every year. It first opened in 1929 and was renamed Los Angeles International Airport twenty years later.
Picking up your car rental in Los Angeles is a quick and seamless process, just as you would expect at of the world's best-organised airports. All the leading car hire companies are present at the airport and their offices are located in close proximity to the Arrivals Hall, a short distance away from the main terminals. These suppliers are authorised to pick-up and drop-off their customers at the airline terminals using courtesy shuttles which operate at the purple Rental Car Shuttles sign on the Lower/Arrivals Level islands outside the baggage-claim areas.
Los Angeles Airport (LAX)
Website: www.flylax.com
Address: 1 World Way, Los Angeles, CA 90045, USA
Telephone: +1 855 463 5252
Los Angeles Union Station
Los Angeles Union Train Station is the city's main railway station and the largest railroad passenger terminal serving California and other south-western parts of the United States of America. Catering for over 100,000 passengers a day, it first opened in May 1939 as the Los Angeles Union Passenger Terminal, replacing La Grande Station and Central Station. Several major car hire suppliers such as Budget and Hertz have offices at the station, giving Auto Europe customers the chance to pick up their vehicle and be on their way in just a few minutes. Don't forget to have your documents with you when you arrive to pick up your car, including your passport, driving licence, coverage details and car rental voucher.
Los Angeles Union Station
Website: www.unionstationla.com
Address: 800 N Alameda St, Los Angeles, CA 90012, USA
Telephone: +1 800 872 7245
---
Book with the best car hire suppliers in Los Angeles
Auto Europe is a leading international car hire company currently offering a vast selection of convenient pick-up and drop-off locations in 180 different destinations around the world. Thanks to our many years of experience dealing with all the global and local car rental companies, we can offer you the best standard of service and cheapest prices on the market.
Should you require additional information about the car hire companies we work with or their policies, for example out of office pick up or questions regarding age restrictions, our car rental specialists are just a phone call or e-mail away and happy to assist you.
---
Frequently asked questions about renting a car in Los Angeles
This section features the most frequent questions asked by people booking a car hire in Los Angeles. Scroll down for important tips relating to a wide range of essential car hire topics, such as credit cards, coverage, tolls, traffic and much more. If you need any more information, please call our reservations team on +44 123 3225 114 and they will be happy to help you with your reservation and assist you with your travel itinerary.
---
Yes. In order to rent a car in Los Angeles and elsewhere in the USA, a valid credit card is required in the name of the main driver. The reason for this is because your chosen car hire company will want to place a hold on the value of the deductible for the vehicle they rent you, the amount of which will be promptly returned once the vehicle has been dropped off undamaged. There's nothing worse than having your credit card refused, so please make sure there's enough credit on your card when you arrive to pick up your low-cost car rental in Los Angeles. For tips on credit cards, please consult our blog post to learn why credit cards are so important for hiring a car. When booking a luxury-category car, please keep in mind that the local car rental company might request a second credit card, also in the name of the main driver. When making a search, it's easy to check which cards (and card types) are valid. Just key in your dates and preferred vehicle category in the Auto Europe booking engine and click on the blue and white info icon (i) where all the necessary credit card details can be found. Please also see our related blog post for more information on credit card and deposit requirements when picking up a car hire in Los Angeles and other parts of the USA.
There are several important points to remember about car hire coverage when hiring a car in Los Angeles with Auto Europe. You'll find that our Zero Excess product comes as standard with all rentals and includes value added tax (VAT), liability insurance, fire insurance, collision damage waiver (CDW) zero excess and theft protection (TP). Nevertheless, the vast majority of our clients opt for our excellent Full Protection policy when driving their hire car in Los Angeles and elsewhere in America, which offers total peace of mind if the vehicle is damaged at all during the rental period, meaning that you will not have to pay for anything should the worst happen on your travels. Please note that without this coverage some parts of the vehicle might not be included, most notably the wheels, glass, tyres, roof and undercarriage.
All this information is clearly stated in the Auto Europe booking engine search results. Just click on the blue and white info icon (i) after selecting your preferred car category and supplier to find full details regarding the amount of coverage that's included in the price. The same details are also clearly stated in the Terms and Conditions when making an enquiry or confirming your booking.
In the event of having to make a claim, you must pay the local car rental supplier first then claim back the amount from Auto Europe. It is important when making a claim with Auto Europe that you provide all the required documents in order to receive your refund as quickly as possible.
Please be aware that it's common practice for local car rental employees to try selling their company's products in addition to the ones you have already purchased through us. One such product is coverage, which is often pushed upon customers when they arrive to pick up their vehicle. Generally speaking, these additional coverage policies are completely optional and anything being offered by the local supplier's staff members will often prove to be surplus to your requirements, but please note that Auto Europe will not be able to refund you the money for any such products that are charged locally by the supplier.
Check out our related blog post for a general overview of the types of car hire coverage available in Los Angeles and other parts of the United States of America.
Los Angeles and the surrounding metropolitan areas of southern California are served by an extensive network of freeways and highways. Several major roads connect LA to the rest of the United States, including Interstate 5 which runs south through San Diego to Tijuana, Mexico and north through Seattle, Washington and up to the Canadian border. Interstate 10 is another major roadway and the southernmost coast-to-coast Interstate Highway in the country. Via I 10E you can reach downtown LA from the airport in about 30-40 minutes, depending on the traffic. The US Route 101 is another important artery, heading from the California Central Coast to the shorelines of Oregon and Washington. If you are interested in more detailed information about driving your car hire in Los Angeles and other parts of the United States, please take a look at our handy guide.
Los Angeles and its inner city areas is known to become quite congested at times, especially on the 405. However, you'll generally find that it's quite easy to drive around the streets of Downtown LA, especially if you avoid the peak weekday rush-hours, as the traffic tends to flow quite well outside these times. Keep an eye out for designated carpool lanes or High Occupancy Vehicle (HOV) lanes which require 2 or 3 passengers in the car, at least. These lanes are well signposted and have a white diamond painted on a black top.
Los Angeles is a large, well spread-out city and one in which most people commute by car. Fortunately, the city has invested heavily in providing plenty of parking options for its drivers over the last few years, particularly in and around the city centre. With over 100 large public multi-storey car parks and more than 50,000 metered parking spaces located throughout the inner city, you will not have too many problems finding a place to park your low-cost car rental in Los Angeles.
Street parking is widely available and although you might sometimes be able to find a free parking space, most often you'll need to buy a ticket from a nearby meter (check the signs indicating the time period). Areas near some of the beaches are sometimes free of charge and many local establishments such as hotels, shopping centres (known as malls in the USA) and supermarkets offer free parking or reduced rates for their paying customers. Note that many of LA's tourist attractions such as museums, art galleries and theme parks mostly charge a fee for parking, while upscale restaurants and major event venues offer valet parking for an additional charge.
Yes. An increasing number of major routes in and out of the city, such as Interstate 10 and Interstate 110, are toll roads operating 24/7. Nowadays the amount is generally paid electronically, so please ask your car rental supplier for a transponder before leaving the pick-up point. You'll find that FasTrak is generally the accepted method of electronic payment throughout the state of California and with a FasTrak transponder placed on the vehicle's windscreen you can pay tolls electronically on every tolled bridge, lane and road in California. Please note that the I-10 Express Lanes is one of the busiest roads in California and should be avoided during the morning and evening weekday rush-hours.
In Los Angeles, an International Driver's License is recommended but not obligatory if the main driver's licence is not in English. In other words, it is mandatory if the primary driver's licence is not in the Roman alphabet (ie in other languages such as Japanese, Greek, Russian, Bulgarian, etc.) and must be presented along with the driver's national driving licence.
Los Angeles and the state of California in general has so much to offer the growing number of adventurous travellers currently taking to the road for weeks, or sometimes months at a time. With such an interesting variety landscapes to enjoy, such as the nearby Mojave Desert, why not consider an extended road-trip in your very own hotel room with wheels by checking out Auto Europe's numerous offers on motorhomes and campervans? This is a great way to travel in comfort whilst saving money on hotels and restaurants. We offer a large selection of motorhomes and campervans in Los Angeles, so you can easily choose the one that best fits your travel needs.
---
Los Angeles Travel Guide
A cultural mecca with more than a hundred museums and a year-round temperate climate, Los Angeles has the kind of magnetic appeal a city requires to attract millions of annual visitors from all over the world. They come to take a leisurely stroll down Hollywood Boulevard in the hope of catching a glimpse of an A-lister, before treading the Walk of Fame which now immortalises more than 2,500 stars from 1960 onwards. There's much, much more to see and do in Tinseltown and this section highlights a few of the things you shouldn't miss when mixing with the stars in LA.
Best day trips with my car rental in Los Angeles
With a car hire in Los Angeles you can go well beyond the Hollywood movie-making experience and visit some of the city's many coastal attractions, such as the trendy boutiques of Venice, Malibu's striking seaside scenery and San Pedro's vibrant marketplace, for example.
For clients wishing to go further than the inner city of Los Angeles, it is also possible to undertake a road-trip and return the car rental to another city like San Diego or San Francisco with a one-way car hire, which will allow for more freedom and flexibility during your visit.
Please note that in order to make your California road-trip even more relaxing and enjoyable, Auto Europe offers its customers regular Free Additional Driver promotions so that travellers can share the driving and enjoy the views even more at no extra cost.
Disneyland
Iconic in the world of theme parks, Disneyland has as much appeal for adults as it does for kids. Inspired by the great visionary, Mr Walter Elias Disney, this vast entertainment complex is a maze of restaurants, bars, clubs and some of the most exhilarating rides and visitor experiences imaginable. There's everything from sailing across the high seas in the company of some menacing pirates to exploring wild, exotic jungles and getting up close to a beautiful fairy-tale princess. Don't forget to dress comfortably and buy your tickets well in advance to avoid disappointment.
Santa Barbara
A little less than a two-hour drive north of LA takes you to the amazing seaside resort of Santa Barbara. Sometimes referred to as the American Riviera, the area is as popular for its wines as it is for its golden sandy beaches, which rank among the best in the USA. An enchanting land of verdant parks and gardens, soaring mountains and deep valleys, Santa Barbara offers its visitors a rich mix of activities and attractions, including several upmarket restaurants, themed festivals, multiple galleries, museums, theatres and live performance venues open throughout the year.
San Diego
Heading south down the coast-road in your low-cost car hire in Los Angeles brings you to San Diego, one of Californa's most laid-back and fascinating cities. Located very close to the Mexican border and the city of Tijuana, it has an abundance of historic attractions, most notably La Jolla, the Old Town and the Bazaar Del Mundo. Try to spend some time in Little Italy, Hillcrest and Gaslamp Quarter to soak up San Diego's uniquely vibrant atmosphere, which is particularly pleasant on a warm summer's evening.
Joshua Tree National Park
Out in the sun-drenched Californian desert lies one of America's most impressive national parks - Joshua Tree. Located 130 miles from LA, it's a manageable day-trip but more worthy of a one- or two-night stopover. Key attractions include the Cottonwood Spring Oasis where the scenery and bird-life is outstanding, and the amazing Hidden Valley where visitors can enjoy a relaxing picnic in one of America's most picturesque settings.
What to do in Los Angeles
As one of the world's most popular tourist destinations, it's no surprise to find that Los Angeles has more attractions than most American cities, due largely to its very close associations with the movie and entertainment industries. There are several places most visitors won't want to miss, especially if they have kids, such as Universal Studios and the Griffith Observatory. Shopping is another key feature in Los Angeles, especially along the famous Rodeo Drive where you'll find many of the world's most popular high-end designer stores and boutique shops.
Hollywood: A suburb of Los Angeles, Hollywood is a tourist destination in its own right with a unique history and many iconic sites, such as the Walk of Fame where over 2,500 movie stars and celebrities have left their indelible mark over the years. A selfie in front of the Hollywood sign is an absolute must, as well as a stroll down Rodeo Drive for a bit of window shopping in LA's most exclusive shopping district.


Getty Center: A visit to this marbled, expansive complex is a great way to entertain the entire family in LA. Located on a hillside above Brentwood, this comprehensive museum designed by Richard Meier is beautifully illuminated by natural light, particularly the excellent galleries filled with Greek antiquities, pre-20th-century European paintings, impressionist canvases and many more unique exhibits. Walk around the gardens until you're ready for a memorable sunset dinner at one of the on-site eateries offering some of the best views of Los Angeles and the Pacific Ocean.


Santa Monica Pier: Another big hit with the kids, the city's iconic Santa Monica Pier is reachable in about 20 minutes with a cheap car hire in Los Angeles. Here you can enjoy head-spinning views of the Pacific Ocean from the top of the Ferris wheel, as well as having the chance to ride one of the world's most traditional carousels, watch first-class street performances and generally soak up the atmosphere of a typical Californian seaside resort.


Griffith Park: One of LA's most accessible tourist attractions, Griffith Park is a vast leisure area covering more than 4,000 acres within easy reach of Downtown. Here you'll find over 50 miles of trails, small roads and bridle paths set amidst canyons, caves, picnic areas, museums and an old zoo. Follow the Mount Hollywood route to enjoy spectacular views of Los Angeles, the Observatory and the famous Hollywood sign.


Rodeo Drive: One of the world's most exclusive shopping districts, Rodeo Drive offers an unparalleled glimpse into the lives of the super rich. At this hub of luxurious fashionwear, you'll find over a hundred renowned stores and hotels set within the so-called Golden Triangle, an area of upmarket retail opportunities and commercial opulence.
---
Useful links