Car hire in Brazil - The Ultimate South American Adventure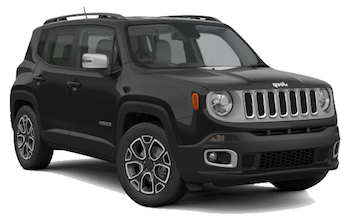 One of the world's most captivating countries, Brazil is the largest of the South American and the one with the greatest diversity, ranging from the planet's largest freshwater wetland (Amazonia) to the red-rock canyons of the south. With its mammoth metropolises and kaleidoscopic culture, not to mention some 7,000 kilometres of white sandy coastline, this vast, subtropical country never fails to enthrall its visitors, the number of which is growing every year.
The ultimate destination for wildlife-watching, Brazil is a land of rare cultural treasures and big adventures with jaw-dropping sand dunes, thundering waterfalls, verdant rainforests, spectacular natural scenery, exotic islands, soaring mountains and lavish meals served up in al fresco barbecue restaurants all over the country. With a car hire in Brazil you can take a tour of the country's magnificent colonial centres, some of which are UNESCO World Heritage Sites.
Encompassing more than 7 million square-kilometres of rainforest, the vast Amazon region is a magnet for the more intrepid visitor looking for the ultimate travelling experience. Brazil's idyllic north-east, likewise, is a must for people in search for the perfect beach, such as Jericoacoara Beach which is famous for its blue lagoons and considered by many to be one of the most beautiful beaches in the world.
But it's the big cities that many tourists are drawn to, most notably São Paulo and Rio de Janeiro which explode into life during the annual Carnival season in February or March. In Brazil, a full programme of local festivities and special cultural events runs throughout the year, meaning that you can drive from place to pace and soak up the atmosphere in one of the liveliest and most colourful nations on Earth.
Auto Europe has been one of the main driving forces of the international car hire industry for almost seventy years. No other company offers so many destinations and pick-up points at prime airport and downtown locations all over the world, with dozens of options available all over Brazil, from Recife in the north to Florianópolis in the south. Check out the comments on our Brazil car hire reviews for added peace of mind.
On the strength of our partnerships with all the world's leading suppliers, we pride ourselves on being able to offer our many customers around the world the best choice of vehicles, whether it's a small, low-cost runaround for seeing the sights of Rio to the most sumptuous SUV for a memorable road-trip through Amazonia. Book online or call our rental specialists on +44 123 3225 114 and they will be very happy to find you best deal on the market today.
For more information on renting a vehicle in Brazil, click on the car hire related topics listed below:
---
Where to Pick up a Car Hire in Brazil
You're spoilt for choice when it comes to affordable car rental in Brazil, there are dozens of pick-up and drop-off points in key locations all over the country, including Salvador, Recife, Porto Alegre and the capital, Brasilia. When you book your car hire with Auto Europe, you can choose from over 24,000 locations in more than 180 destinations all over the world, with Brazil very highly placed amongst them. You can pick up your vehicle at all the country's main airports and most convenient parts of the cities.
Planning a trip in a country as large and varied as Brazil takes lots of planning, especially if you are not too familiar with the destination. If you can't find the information you require here, Auto Europe's award-winning rental specialists are available should you have any further questions. We've also posted an article on our blog covering everything you need to know when picking up a car hire to give you a head start when you arrive at your destination to collect your vehicle.
Compare car hire rates at the most popular airports in Brazil
Rio de Janeiro Santos Dumont Airport
São Paulo Congonhas Airport
Florianopolis Airport

Brasilia Airport
Foz de Iguacu Airport
---
Book with the Best Car Hire Suppliers in Brazil
As one of the market-leading car hire brokers, Auto Europe works very closely with all the best locally-operated car rental companies, including Movida Rent a Car, Foco, Unidas and Localiza.
Auto Europe's price guarantee means that our clients will not find cheaper car hire deals anywhere else, with the added bonus of being able to cancel up to 48 hours prior to the time of pick-up, completely free of charge.
Besides offering the lowest rates for people searching for a cheap car rental in Brazil, we also take pride in the fact that our suppliers' car hire fleets are the most modern and extensive with the right car always available for the right person at the right price.
When choosing our partners, the top priority has always been to make sure that their company standards for service and quality are as high as our own, meaning that the customer's experience of renting a car in Brazil is as pleasant and convenient as driving their own car back home.
---
Frequently Asked Questions about Renting a Car in Brazil
The idea of this section is to provide a list of the most popular questions that arise when hiring a car in Brazil. Keep scrolling and you'll find information on a wide range of subjects, from age limits, cross-border travel suggestions and local driving rules to paying motorway tolls, choosing the best coverage and adding another driver to help out on a long trip. Just click on the link and you'll find all the info you need, or if you prefer you can speak to one of our rental specialists in person who are on duty 7 days a week and can help resolve any issues you might have prior to finalising your car rental reservation.
---
In order to be eligible to hire a car in Brazil, you must be at least 21 years old, although the minimum age might vary according to the car category and supplier you have chosen (some rental companies allow for drivers aged 19 and over). It's best to call us if you are 18 years old so we can check whether or not you might be eligible. You must also have held your driving licence for at least a year. Please note that drivers under the age of 26 may incur what is known in the trade as a Young Driver Surcharge, which is paid locally to the supplier at the time of pick-up.
All the info relating to any locally-charged fees you might incur when renting a car in Brazil are clearly accessible in the search engine results. Just click on the blue and white 'i' sign to check the Info Icon for the specific destination/car category/supplier you have chosen for your trip. The same information can be found in Terms and Conditions on the booking voucher sent to you by e-mail once your reservation has been confirmed. A word of caution: It is very important that you state your correct age when booking with Auto Europe, which means that we'll always be able to inform the primary driver of any restrictions that may apply to their rental.
If you are booking your first car hire, whether in Brazil or anywhere else, we can provide you with lots of useful tips and other essential advice for the less experienced driver setting out on a trip. More relevant info can be found in the dedicated Car Hire Age Requirements section on our website.
Yes, you can. It is possible to rent a car in Brazil in one place (ie Rio de Janeiro) and drop it off at another, such as São Paulo, subject to an additional charge known as a One Way Fee. In order to do this, the minimum car rental duration is usually one full day, at least. Please note that international one-way rentals to other South American countries are NOT permitted. When you make a search in the Auto Europe booking engine (don't forget to click the 'Drop-off at a different location?' box first), you will find the fee (without VAT) indicated in the results below the car rental rate. The same info is also sent out to the customer once the reservation has been confirmed. Please visit our dedicated page for more information if you are planning to book a one-way car hire.
One-way fees are incurred and collected by whichever one of Auto Europe's trusted car rental companies you choose to book with. To find out the amount, you just need to click on the blue and white 'i' sign after making a search. It's also important to state that we do not collect or profit from these fees in any way, but at the same time we feel that our customers need to be informed of all the fees relating to their car rental in Brazil in order to help them make the best choice. Each supplier determines their own fees independently, so for the same given pick-up and drop-off location, you might find that one particular car hire company might charge a lower fee than another, while some may not allow the trip at all. Every supplier has its own offices and rental locations, thus enabling them to offer different options from the rest.
Yes. In order to rent a car in Brazil you will be required to present a valid credit card (Visa, Mastercard, Diners or American Express) along with your passport, driving licence, etc. when you arrive to pick it up. This is because the local rental car supplier will need to place a hold on the value of the deductible for the vehicle they rent you whilst driving in Brazil. However, this amount will promptly be refunded once the vehicle has been returned in the same condition it was collected. It comes as a surprise to some driver when they try to pick up their vehicle with a debit card instead of a credit card, which will not be accepted. When booking a premium- or luxury-category car, the supplier may request a second credit card (also in the name of the primary driver) due to the high value of such vehicles. Please consult our dedicated page explaining the six most important things to know about credit cards and deposits before your trip.
You can find all the info you need regarding credit cards and deposits quickly and easily when making a search in the Auto Europe site. After selecting your preferred car hire category and supplier, you'll be able to check what card (and type of credit card) will be accepted for your cheap car hire in Brazil by clicking on the blue and white 'i' button in the results. Please note that when booking a car hire online, Auto Europe accepts credit cards only as a payment method for the pre-paid reservation rate. Click here for more useful information on credit cards.
Like many countries in South America, there are certain things that need to be taken into account when hiring a cheap car in Brazil. It is not 100% safe due to the unpredictable nature of some drivers, an there are high rates of accidents and theft (note that Brazil has one of the highest fatality rates in the world). Please check out our driving guide to Brazil for tips and suggestions for getting around the country safely by car.
Fire extinguishers and first-aid kits are advisable in cars rented in Brazil, plus you should always keep your doors locked at night to prevent car jackings. Be alert at traffic lights so as not to get boxed in and robbed. Although most of the main state roads are in relatively good condition, elsewhere in the country potholes and animals are a major cause of road accidents, so it's best to avoid driving at night whenever possible. Driving during or after the rainy season can also be hazardous.
In Brazil drivers warn cars behind them not to pass with a flashing left-hand signal, indicating that it might be risky to overtake. Cars that come towards you flashing their headlights are warning you of impending obstacles such as animals or the presence of the police. Trucks should always be viewed with caution as there is no law which requires truck drivers to stop regularly and rest, meaning that they could have been behind the wheel for many hours and therefore tired.
Children under the age of 10 cannot travel in the front seat of a car and infants less than a year old must travel in a rear-facing safety seat (between one and four they must use a forward-facing seat). Between four and seven they must use an appropriate booster cushion. Note that driving under the influence of alcohol is considered a very serious offence and Brazil introduced the so-called 'Dry Law' in 2008 (known locally as the Lei Seca) with the aim of combating the country's drink-driving culture. Please consult our safety tips section in case of an accident or breakdown.
Here are a few other aspects to consider while driving your car hire in Brazil;
Cars in Brazil must drive on the right side of the road and overtake on the left side.
When there are no signs stating otherwise, cars from the right have priority at crossings.
When you are driving your car on motorways, note that you are not allowed to pass on the right. You can only pass on the right if the traffic is very congested.
Mobile phones can only be used with a hands-free device.
If you have an accident, contact the emergency number 193, 190 for the police or 192 for the ambulance.
Everyone must wear a seat belt (cinto de seguaranca) in the front and back, this also includes children.
If children are too small for a seat belt they must be in a child seat.
Park in the direction of the traffic not opposite it.
You can turn right at a red light, if permitted.
Do not drive with flip flops.
Entering a roundabout, give way to the traffic on it first.
Petrol stations are easy to find in major cities and along the main motorways.
There are many toll roads in Brazil, mainly the interstate highways and several major roads in and around São Paulo. Toll booths (Pedagio) also operate in the following areas: Bahia, Parana, Rio de Janiero, Rio Grande do Sul, Minas Gerais, and Santa Catarina. Fees vary and depend on the size of vehicle you are driving. Please ensure you have plenty of cash and small change with you for these. The usual system has been to queue up and pay at the toll booths but more of the motorways are now using an electronic payment system which you can access by buying the vignette at a service station. If renting a car in Brasil, the local desk will be able to go through all the possible options.
All our car rental rates in Brazil include the minimum legally-required amount of liability insurance, TP (Theft Protection) with or without excess depending on the car rental company and Collision Damage Waiver (CDW), also with or without excess depending on the car rental company you have chosen. Note that CDW doesn't cover damage to every part of the vehicle (such as tyres, glass, etc.) which is why we recommend Auto Europe's popular Refundable Excess product for an additional fee which covers damage to glass, wheels, roof, under-carriage, towing costs, key loss, misfuelling, admin fees, etc. The price of this coverage may vary depending on your chosen location, rental duration, car category and supplier.
You can find all the relevant information concerning car hire coverage in our website by clicking the blue and white 'i' sign after making a quick search through the Auto Europe booking engine. There you will be able to see the amount of the CDW Deductible, Theft Insurance Deductible and Liability Insurance for your car rental in Brazil. The same info is also clearly stated in the Terms and Conditions when making an enquiry or after having confirmed your booking.
Please note that at time of pick-up, the local car rental company might try to offer you additional coverage including (but not restricted to) PAI (Personal Accident Insurance), PEC (Personal Effects Coverage), Super CDW, Seguro Relax Insurance, Road Assistance etc. Auto Europe does not refund any locally-purchased insurance charges/fees even if the policy is deemed unnecessary once the rental car has been returned undamaged. You can find more tips and handy advice in our complete car hire coverage blog post.
Yes. When visiting Brazil, you'll be able to use your UK licence to tour the country by car. Most suppliers will accept a licence written in the Roman alphabet, however an International Driving Permit (IDP) is strongly recommended in case of any discrepancy. Some drivers have been stopped and fined by the police without one. Please consult DVLA update section to keep up with any changes to the rules prior to your trip.
Yes. It's very easy to include additional drivers on the contract when you rent a car in Brazil. With some car rental companies, the fees for additional drivers are already included in the price (please see our Free Additional Driver page), while others charge a daily fee which is paid at the time of pick-up, the amount of which is established by the supplier and not Auto Europe. In any case, additional drivers need to be registered on the rental agreement and they must present exactly the same documents as the primary driver at time of collecting the vehicle (ie driving licence, International Driving Permit where required, passport, etc.). It's just a case of adding the name of another driver to the reservation at the time of making the booking through the Auto Europe search engine.
Any fees and all other aspects relating to additional drivers are clearly stated on the Auto Europes website. After selecting your dates/destinations and choosing your preferred supplier and car category, just click on the blue and white 'i' icon to find the necessary information, which is also included in the T&Cs sent out by e-mail once the reservation has been confirmed.
Please note that if a travelling passenger such as a friend or family member not officially down on the contract decides to drive the vehicle at any time during the rental period, they will be automatically excluded from the insurance coverage, thus making them liable for the total amount of any damage caused in the event of a collision or theft. Therefore, it is extremely iportant to make sure that all drivers are properly authorised before leaving the collection point.
---
Additional Vehicle Rental Options in Brazil
You'll find all the best car hire deals in Brazil on the Auto Europe website. Just select your travel dates and destination in our state-of-the-art search engine and we'll do the rest. You can choose from an extensive range of vehicles, large or small, compact or sumptuous, practical or something a little bit more glitzy. We have Mini and Economy categories for those on a tighter budget and/or staying in and around the cities, and we have Large and SUV categories for people planning an extended road-trip and requiring a bit more durability and luggage space. You can also opt for Midsize-category cars to maximise on engine power and space or you might want to book a vehicle from our Van category to cater for a large group of friends or the entire family!
To help you make the right choice for your next trip, please consult our Brazil Fleet Guide which provides full details of all the features and specifications to expect in each respective car hire category.
Luxury Car Hire Brazil - Auto Europe offers an exciting range of performance cars for hire, and there's no better place to enjoy them than Brazil's vast interior, which includes the famous rainforests of Amazonia. The long stretch of sandy shoreline between Rio and São Paulo is another great place to drive one of our top-end vehicles!
Van Hire Brazil - There's nothing better than a road-trip in Brazil with a group of your closest friends or family members travelling together in the same vehicle. With Auto Europe's comprehensive Van category, you can enjoy Salvador, the Iguazu Falls and the Rio Carnival in comfort and at your own pace.
---
Useful links