Car hire in Miami – Visiting the Sunshine State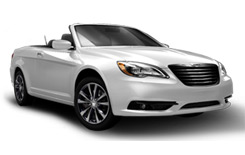 Nestling idyllically on the Atlantic coast of Florida's southernmost tip, Miami has grown to rival Los Angeles and New York City as one of the USA's most popular holiday hotspots in recent years. Often dubbed the American Riviera, it is a city of endless diversity and one of the world's great year-round travel destinations. Once a humble citrus-farming settlement, this trendy seaside metropolis is mostly famous for its pleasant subtropical climate, vibrant Hispanic culture and long white sandy beaches resplendant with their glorious Art Deco seafront architecture.
Its unique position at the crossroads of the Caribbean and Latin America provides Miami with creative energies that continue to channel themselves into the vibrant Downtown district and its environs, making the city a major player on the global arts circuit. The city (as with the rest of southern Florida) is tailored to the needs and desires of the modern tourist, so getting around with your car hire in Miami will be a seamless and enjoyable experience. With your own four wheels you'll have quick and easy access to as many of Miami's art galleries, celebrity hotels and white sandy beaches as you'll have time for.
Besids its fabulous beaches, Miami has enough top-level attractions to satisfy the most discerning of culture vultures. Once the winter home of the 20th-century industrialist James Deering, the excellent Vizcaya Museum and Gardens is a designated National Historic Landmark and features an impressive collection of European furniture and decorative arts from the 15th to 19th centuries. After that, we recommend a visit to the Bayside Marketplace where you'll find an outdoor shopping centre with more than 150 shops and boutiques, several bars, cafés and restaurants and a lively entertainment programme right through the year.
There's so much to see and do within a short drive of the city, such as the Everglades National Park, a 1.5 million-acre expanse of glorious low-lying, subtropical wilderness where you can enjoy a leisurely stroll along an elevated boardwalk through vaste swathes of sawgrass marsh full of alligators. Up the coast lies Fort Lauderdale, another popular seaside town famous for its fantastic beaches, while to the south is the enchanting Florida Keys, one of the most scenic places in the whole of the USA.
Since being established in 1954, Auto Europe has grown into one of the world's largest car hire companies with more than 24,000 pick-up and drop-off locations in over 180 destinations. By working with the most trusted suppliers, we are able to offer the widest range of vehicles at the lowest prices on the market. With Auto Europe you can rent a car in Miami very cheaply in just a few clicks by doing a quick search in our state-of-the-art booking engine, after which a list of options will appear in a couple of seconds.
For more useful advice and help with your travel itinerary if required, please feel free to get in touch with our rental specialists on +44 123 3225 114 and they will be more than happy to find you the best deal and give you all the information you need. For added peace of mind, please take a look at the comments posted by previous Auto Europe customers in the city on our Miami car hire reviews page.
For more information on renting a vehicle in Miami, click on the car hire related topics listed below:
---
Where to pick up a car hire in Miami
By working with all the world's top car hire providers, Auto Europe can offer you a wide choice of locations in Miami and the rest of the Sunshine State, meaning that you can pick up your vehicle in Downtown and be on your way to Florida Keys in just a few minutes.
To help you make the right choice, our state-of-the-art booking engine allows you to do an extensive search to find the best vehicle and the most suitable pick-up point for your trip. Once you've keyed in your dates, an interactive map will come up with all the available car hire locations in Miami.
Miami Airport
Miami International Airport (MIA) lies 13 km (8 mi) west of downtown Miami. Founded in 1928, it is one of the busiest airports in Florida and amongst the ten largest of all the airports in the USA being annually served by more than 100 airlines. It also ranks as one of the major airports of the world with over 45 million passenger movements each year. The airport has three main terminals, North, Central, and South, each one with concourses branching out. If you booked a car hire in Miami and want to pick it up at the airport, you can easily do so once you have embarked from your flight and collected your luggage, after which you'll only need to take the MIA Mover shuttle that leads directly to the MIA Rental Car Center.
Miami International Airport (MIA)
Website: www.miami-airport.com/
Address: 2100 NW 42nd Ave, Miami, FL 33126, United States
Telephone: +1 305-876-7000
---
Book with the best car hire suppliers in Miami
Auto Europe is a leading international car hire company currently offering a vast selection of convenient pick-up and drop-off locations in 180 different destinations around the world, including Miami. Thanks to our many years' experience dealing with all the global and local car rental companies, we've been offering you the best standard of service and cheapest prices on the market since 1954.
Should you require additional information about the car hire companies we work with or their policies, for example out of office pick up or questions regarding age restrictions, our car rental specialists are just a phone call or e-mail away and happy to assist you.
---
Frequently asked questions about renting a car in Miami
This section features the most frequent questions asked by people booking a low-cost car rental in Miami with Auto Europe. Keep scrolling down for important tips relating to a wide range of essential car hire topics, such as credit cards, coverage, tolls, traffic and much more. If you need any more information, please call our reservations team on +44 123 3225 114 and they will be happy to help you with your reservation and assist you with your travel itinerary.
---
Yes, you do. Travellers planning to rent a car in Miami are required to have a valid credit card in the main driver's name because car hire suppliers usually place a hold on the value of the deductible for the vehicle they rent you, the amount of which is promptly returned when the vehicle is dropped off undamaged. You are therefore advised to carry a high-limit credit card in order to be sure of getting your car on arrival at your destination. For more information, please see our dedicated blog post on credit cards and why they are so important when hiring a car. Please note that customers booking a luxury car are often asked for two credit cards due to the high value of the vehicle.
It's easy to discover which cards and types of card will be accepted by your car hire supplier. Just make a search in the Auto Europe booking engine and click on the blue Rate Details button which will give you access to the Supplier Payment Policy Information section. Here you will find all the necessary credit card information relevant to your chosen vehicle. For further information, please consult our related blog post on credit card and deposit requirements prior to travelling to Miami.
There are several key points to remember about car hire coverage when you rent a car in Miami with Auto Europe. Firstly, our Zero Excess product always comes as standard with all car rentals in the city and includes value added tax (VAT), liability insurance, fire insurance, collision damage waiver (CDW) zero excess and theft protection (TP) zero excess. For additional peace of mind, it's always a good idea to take advantage of Auto Europe's very popular Full Protection product when booking a cheap car rental in Miami. This high level of coverage means that if the vehicle is damaged in any way during the rental period, you will not be liable to pay for anything.
If something does happen on the road, the standard procedure is to pay the car rental supplier first then claim back the amount from us. It is important when making a claim with Auto Europe that you provide all the required documents in order to receive your refund as quickly as possible.
All the information you need regarding coverage is clearly stated on the Auto Europe website. After making a search in our state-of-the-art booking engine, you only need to click on the blue Rate Details button to find all the details relating to the Zero Excess policy, as well as our Excess Guarantee with Premium Coverage. You'll also find the same information in the Terms and Conditions when making an enquiry, as well as on your booking voucher once the reservation has been confirmed.
Please bear in mind that sometimes the staff of the local car rental company will try selling you their own products on top of the ones you have already purchased through us, most notably insurance. In general, these additional coverage policies are completely optional and anything being offered by the local supplier's staff members will very possibly be surplus to your requirements. It's also important to remember that Auto Europe will not be able to refund you any of the cost of this insurance.
For more information about Auto Europe's fully-inclusive Zero Excess coverage, please don't hesitate to give our reservations team a call on +44 123 3225 114 or send them an e-mail to reservations@autoeurope.co.uk and they will get back to you forthwith. Please also check out our related blog post for a general overview of the types of car hire coverage available.
Connected by four Interstate Highways (I-75, I-95, I-195 and I-395), Miami is a large, well-planned city that's easily navigated by car. Its road system is based on the numerical 'Miami Grid' where Flagler Street forms the east-west axis and Miami Avenue forms the north-south meridian. The streets are wide with plenty of space for driving and admiring the views, except during the morning and evening weekday rush-hours when the traffic can get a bit heavy and the local drivers tend to become a bit stressed at the wheel. The secret is to drive against the commuter flow, in other words South to North in the morning and vice versa in the evening. For additional information about driving your low-cost car hire in Miami, please visit our USA driving information page where you'll find plenty of useful tips and suggestions about getting around the city quickly and safely by car.
The Miami Parking Authority (MPA) manages almost all of the public and private on-street parking and public car parks across the city. If you do find an available on-street parking space in Downtown, then always make sure you buy a ticket and place it visibly on the dashboard in order to avoid a hefty fine (parking meters accept both coins and credit cards). The easiest and fastest way to park is by using the PayByPhone app for which you will need to have registered in advance. Parking in Downtown is quite straightforward: the local regulations are well sign-posted and parking meters are plentiful and always in close proximity to your car. Parking spaces near the Bayside Marketplace (a great place to stock up on fresh local produce) are cheap, while in the vicinity of Miami Beach there's lots of metered street parking on Washington and Collins Avenues and Ocean Drive, along with several other of the main city centre streets. Several large municipal car parks cater for locals and tourists alike in the most popular parts of Miami's bustling inner city; just look for the blue 'P' signs and drive in (it's normally possible to pay on-site when you arrive to pick up your car). At Miami Beach, the parking facilities are run by the municipality and you'll need to watch out for the spaces allocated for residents only (check the ParkMobile app for details). During the rush-hour, there is generally a parking shortage, so the popular ParkMe app is another useful resource you can use to save time, with available spaces indicated in real-time.
Yes. The famous Florida Turnpike is a toll road that runs through Miami, Fort Lauderdale and West Palm Beach where it runs parallel with the I-95. The main section of Florida's Turnpike begins at the northern end of the Golden Glades Interchange in Miami Gardens as a six-lane highway, and passes through the Golden Glades Toll Barrier, a cashless toll point, similar to the ones on the HEFT. About 2 miles (3 km) north of the toll gantry, it passes by Hard Rock Stadium, home to the Miami Dolphins of the National Football League, to the west before intersecting with the northern end of the HEFT at the Miami-Dade/Broward County line 4 miles (6 km) from Golden Glades. Furthermore, when embarking on a road-trip from Miami, be prepared to pay tolls on the Sawgrass Expressway, Alligator Alley (or Everglades Parkway) and the Homestead Extension of the Florida Turnpike, the latter being one of the busiest roads in Florida (which was one of the first states to introduce cashless tolling). You can pay tolls with your car rental in Miami by using a valid toll tag (or transponder) such as SunPass, E-ZPass, E-Pass etc. You can expect to find some toll booths that still accept cash, so for added convenience you might want to keep some coins in the car as an option.
An International Driver's Licence is recommended but not obligatory if the driver's licence is not in the English language. However, it is mandatory to carry an International Driving Licence if the driver's licence is not in the Roman alphabet (such as Japanese, Greek, Russian, Bulgarian, etc.), in which case it must be accompanied by the driver's national licence.
Auto Europe offers excellent opportunities for travellers looking to take full advantage of the fantastic Florida scenery by opting for a campervan hire in Miami. With your very own hotel room on wheels you'll be able to explore the Sunshine State with total freedom and flexibility whilst saving a lot of money on meals and accommodation. We offer several types of campervans to best meet your needs, such as a C9 designed for a small family and the popular FS31 which caters for larger groups of up to 6 or 7 people. A motorhome takes away the stress of looking for somewhere to stay with the added benefit of being able to park beside the sea or in the heart of the Florida countryside.
---
Miami Travel Guide
Miami is one of the major tourist destinations of the United States with a great deal to offer besides its famous beaches and palm-fringed boulevards. Blessed with an abundance of culture, entertainment and leisure activities right through the year, Miami offers visitors the chance to explore its many districts before driving to some of Florida's most popular attractions, including Key West and the Everglades National Park. Please note that you can share the driving and save cash on longer day-trips by taking advantage of our Free Additional Driver Deals when travelling with family or friends.
Best day trips with my car rental in Miami
Miami is the perfect gateway to exploring the rest of Florida, as well as the East Coast and the Southern States. Here follows a few of our best day-trip suggestions in and around the city which are suitable for kids and adults alike. If you are interested in travelling even further afield, we recommend a one-way car rental which will give you the opportunity to pick up your low-cost car hire in Miami and drop it off in another US city such as Orlando.
Key West
Located right at the southern tip of Florida lies the idyllic Key Island Archipelago, one of the jewels in the USA's tourism crown. Despite being an island, it is connected to the mainland by the US State Road 1 and drivers can head down there with their cheap car rental in Miami in about three hours and relax for a day or two in Key West, the westernmost city in the region. It's a bustling place with an international airport, a major port for cruise ships and the Miami Naval Air Station, so visitors will find plenty of things to see and do and be able to take part in dozens of leisure activities, such as snorkelling along the coral reef.
Everglades National Park
Occupying most of the southern tip of Florida, the Everglades National Park represents the perfect escape from the hustle and bustle of downtown Miami. This unique area of marshland lies 30 miles west of South Beach and once there you can take an airboat tour to see the alligators and other creatures living in their natural habitat. The best time to visit the swamps is from November to April, the dry season.
Walt Disney World Orlando
For families with young kids visiting Florida, it's difficult to resist the drive up the east coast to Orlando to visit Walt Disney World, one of the world's best theme parks. It'll take 3 or 4 hours to get there with a car rental in Miami so it'll probably require an overnight stay, but you'll see from the look on the kids' faces that the journey was more than worth it! This world-famous theme park opened in 1971 and boasts 4 different areas: the original Magic Kingdom based on the Disney characters, the Disney Hollywood Studios featuring a series of spectacular shows, the Animal Kingdom that is a mix between a zoo and a theme park and Epcot, a modern theme park dedicated to technology and environmental sustainability.
Seminole Reservation at Big Cypress
When in Florida you have to visit the famous alligators, and the Seminole Reservation at Big Cypress is one of the best places to see them. Situated in the heart of the Everglades, just a 90-minute drive from Miami, the adventure begins with a visit to Billie Swamp Safari, an outdoor attraction where you can take part in several alligator-themed activities. Don't miss the Ah-Tah-Thi-Ki Museum which provides a well-presented history of the Seminoles, a Native American people who developed in Florida in the 18th century.
What to do in Miami
One of the world's most popular tourist destinations, Miami is one of Florida's biggest draws and attracts people from all over the world on account of its fine beaches, glitzy lifestyle and long hot summers. There are several things you shouldn't miss, most notably the atmospheric Latino neighbourhood known as Little Havana and the Wynwood Art District, which is home to many first-class galleries.
South Beach and Ocean Drive: One of the first things to do to get a feel for the city is to head for the South Beach neighbourhood and walk down Ocean Drive. Here you can admire the Art Deco buildings, do some 'people watching' (plenty of celebrities hang out by the beach) and rise early to witness one of Miami's famously glorious sunrises.


Coral Gables: More of a large town than a district of Miami, Coral Gables is a fascinating part of the city which was built during the land boom in the 1920s. The buildings there are mainly of the enchanting Mediterranean Revival Style, the most remarkable of which being the Biltmore Hotel and the Venetian Pool. Coral Gables also boasts a renowned gastronomic scene with scores of fine-dining establishments and several gourmet delicatessens.


Little Havana: Only one American city can boast a thriving Cuban neighbourhood and that's Miami. Little Havana lies on the Calle Ocho (SW 8th Street) and the thousands of Cubans who fled from the Castro regime found a second home there. While walking around, you will feel like you are visiting a modern version of Cuba with numerous typically Cuban restaurants, cocktail bars, lively night-clubs and some very interesting Latino-style art galleries.


Wynwood Art District and Miami Designer District: North of Downtown you will find two of the most modern and creative neighbourhoods in the whole of Florida - Wynwood Art District and the Miami Designer District. In the latter, there are over 130 art galleries (mostly focused on contemporary art), flagship stores, boutiques and high-calibre restaurants. A few steps away lies the Wynwood district which has become an open-air street-art museum in recent years with many fine murals on its edifices.


Bayside Marketplace: This big outdoor shopping centre lies along Miami's waterfront. Here you can find a lot of shops offering all kinds of specialities and souvenirs, along with a great many bars, cafés and fairground attractions, including some old-fashioned carousels. It's a place wehere the locals happily mix the tourists, especially during the summer months.


Vizcaya Museum and Gardens: A pleasant half-day excursion is a tour of the Vizcaya Museum located in the heart of the Coconut Grove neighborhood. This Renaissance-style villa built in the early 1900s was the winter home of the rich industrialist, Mr James Deering. The compound includes a dozen historical buildings and over 11 acres of gardens dotted with French and Italian sculptures and fountains.


Jungle Island: This animal park is the perfect destination for families with young children. Here you will find a lot of tropical birds such as parrots and many larger animals like tigers and monkeys. Besides a botanical garden with thousands of exotic plants, there is also an exhilarating tree-walk experience, a playground area and a series of daily shows where kids can interact with the animals.
---
Useful links