Car hire in Innsbruck – Gateway to the Alps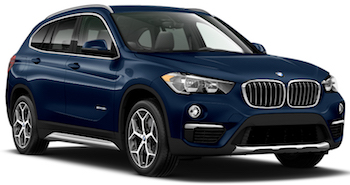 The picturesque alpine city of Innsbruck is a place worth visiting as much in winter as in summer. With its relaxing riverside setting, it is almost completely surrounded by snow-capped mountains for most of the year, and its proximity to the Alps makes it a very popular destination for tourists and skiiers alike. Its beautiful historic centre is a major draw for visitors who enjoy dining in its gourmet restaurants, admiring its imressive churches and sautering through its bustling markets.
This self-styled capital of the Austrian Alps combines an impressive mountain setting with a rich and very historic past. It is the fifth-largest city in the country but maintains a largely provincial feel, especially in the warm summer months. The fact that it has twice hosted the Winter Olympic Games (in 1964 and 1976) means that nowadays it ranks as one of Europe's top destinations for skiing, snow-boarding and many other winter sports.
There many iconic attractions to see, many of which are closely connected to the city's imperial past. It became the capital of all Tyrol in 1429 and later emerged as a centre of European politics and culture when Emperor Maximilian I first started residing there in the 1490s. Today's visitors can tour the Hofkirche, an old church located in the city centre that houses the lavish tomb built specifically for him but was never actually used.
With a car hire in Innsbruck you'll be able to see the city's many important sights before heading off into the Alps for some fresh mountain air. The city seamlessly combines all the fun of a multi-faceted tourist destination with the many thrills to be found at some of Europe's top ski resorts a few kilometres away. Christmas is another good time to be visiting Innsbruck when the city bursts into life when festive shoppers converge on its Christmas markets in search of locally-made gifts and products.
Auto Europe is a well-established international car hire company now operating at more than 24,000 locations in over 180 different destinations around the world. Thanks to our many years' experience dealing with all the top local, national and global vehicle suppliers, we are able to offer the widest range of car and the cheapest prices on the market.
You can book your cheap car rental in Innsbruck in a few clicks of the mouse through our state-of-the-art booking engine or call our award-winning rental specialists +441233225114 and they will be delighted to find you the best deal. For added peace of mind, why not check out the user ratings and comments posted by some of our previous customers in the city on our Innsbruck car hire reviews page.
For more information on renting a vehicle in Innsbruck, click on the car hire related topics listed below:
---
Where to pick up a car hire in Innsbruck
By working with all the world's top car rental suppliers, Auto Europe offers a vast selection of locations for cheap car rental in Innsbruck. You'll be able to pick up your vehicle in the heart of the city centre and be on your way quickly and easily in just a few minutes. Besides the many car hire companies operating at Innsbruck Airport and the city's well-located train station, there are several conveniently-located suppliers' offices in other parts of the city, most of which are in close proximity to Innsbruck's top tourist attractions, such as the Old Town and the Hofburg.
Innsbruck Airport
Innsbruck Airport is a modern international airport located in heart of western Austria's enchanting Tyrol region. Its close proximity to Innsbruck's ancient city centre makes it a popular destination for tourists and winter sports enthusiasts at any time of the year. Well connected by local bus routes and with direct motorway links in and out of the city, the airport (which is more commonly known as Kranebitten Airport) provides travellers with good access to dozens of first-rate ski resorts situated in the surrounding mountains. Many of the world's top car hire suppliers are located at the airport, right next to the multi-storey car park adjacent to the main terminal. To return your vehicle, just follow the signs back to the parking facilities and leave it in the designated car hire area.
Innsbruck Airport (INN)
Website: innsbruck-airport.com
Address: Fürstenweg 180, 6020 Innsbruck, Austria
Telephone: +43 512 22 52 50
Innsbruck Train Station
Innsbruck Train Station is the main railway station in Innsbruck and one of the busiest in the country. Opened in 1853, it handles around 40,000 passenger movements every day, many of whom are heading for the many top ski resorts in Austria's popular Tyrol region. The station has plenty of on-site facilities, including several food outlets such as McDonald's and an Impreis supermarket. There's another Impreis across the road from the station, along with a good selection of hotels and restaurants close by. As the station is so centrally located, there's a good choice of car rental suppliers in close proximity to the main entrance, including Dollar whose offices are situated at Südtiroler Pl. 1 a short walk away.
Innsbruck Train Station
Website: obbtrains.com
Address: Südtiroler Platz 7, A-6020 Innsbruck, Austria
Telephone: +43 517 17
---
Book with the best car hire suppliers in Innsbruck
We are a leading international car hire company currently offering a vast selection of convenient pick-up and drop-off locations online in 180-plus different destinations around the world. Due to our many years' experience dealing with the many top global, national and local car rental companies, we are able to offer you the best standard of service and cheapest prices on the market.
Should you require additional information about the car hire companies we work with or their policies, for example out of office pick up or questions regarding age restrictions, our car rental specialists are just a phone call or e-mail away and happy to assist you.
---
Frequently asked questions about renting a car in Innsbruck
This section features the most frequent questions asked by people booking a car hire in Innsbruck. Scroll down for important tips relating to a wide range of essential car hire topics, such as credit cards, coverage, tolls, traffic and much more. If you need any more information, please call our reservations team on +44 123 3225 114 and they will be happy to help you with your reservation and assist you with your travel itinerary.
---
Yes. Whenever you rent a car in Innsbruck and all other parts of Austria, you will be required to have a valid credit card in the name of the main driver when you arrive to collect your vehicle. This is because the local supplier will require it as a security deposit to hold an amount that will be fully refunded once the car has been returned undamaged. Please take a look at our blog post which explains the six most important things to know about credit cards and deposits. You can easily check which card (and type of card) will be accepted; just make a quick search in the Auto Europe booking engine and all the relevent credit card info can be accessed simply by clicking on the blue and white info icon (i). More information can be found on another of our blog posts which covers everything you need to know about credit cards and deposits when hiring a car in Innsbruck with Auto Europe.
The first thing to remember is that our rates always include the minimum amount of legally-required liability insurance, Theft Protection (TP) and Collision Damage Waiver (CDW), with or without excess (depending on the supplier). However, CDW doesn't cover everything so it's always best to pay a little more for Auto Europe's very popular Full Protection policy which you can add to your purchase with a single click of the mouse when confirming your reservation. You'll find all the car hire coverage info you need on our website by clicking on the blue and white info icon (i) after making a quick search. The same details are also included in the terms and conditions provided when making an enquiry or confirming your booking. If the worst happens during your trip and you need to make a claim, please note that you must pay the car rental supplier first then claim the amount back from Auto Europe. When making a claim, it's essential that you provide all the required documents in order to receive your refund as quickly as possible.
Some local car hire companies might try to sell you additional coverage when you arrive to collect your vehicle, including (but not restricted) to personal accident insurance (PAI), personal effects coverage (PEC), super CDW, Seguro Relax Insurance and road assistance, etc. You are not obliged to buy this coverage but if you do you'll need to be aware that Auto Europe will not be able to refund the cost of this insurance, even if it is deemed to be an unnecessary purchase after the vehicle has been returned. To find out more, please read our Complete Guide to Car Hire Coverage blog-post specially written to prepare you for your trip to Austria and elsewhere around the world.
Western Austria and all its wonderful scenery offers all the ingredients you'll need for a nice scenic drive in and around the foothills of the Alps with your car hire in Innsbruck. Austrian drivers are generally well-mannered and your motoring experience will most likely be a very pleasant experience. Innsbruck is also perfectly positioned for drivers looking to visit Munich, Salzburg or Bolzano. Please take a look at our Austria Driving Guide for more driving and traffic-related tips in Austria before beginning your journey.
When looking for a parking space for your car hire, please note that the historic centre of Innsbruck is a car-free zone. Nevertheless, you can park your car rental in Innsbruck without any hassle in one of the many car parks located around the edge of the city centre. On-street parking is also possible, but it's important to pay attention to the blue and white lines that mark available parking spaces. For instance, blue zone parking is chargeable and time-limited, while the slots marked with white lines are exclusively intended for the use of local residents.
Yes. All vehicles including rental cars are subject to road taxes called a Vignette on Austrian motorways. These toll stickers are available at most of the filling stations and border crossings (over 6,000 outlets in total) in and around the Tyrol region and are valid for a period of 10 days, 2 months or even a whole year. Please note that the toll sticker is included in the rate with Europcar, Buchbinder, Mega Drive and Avis. There are more than 2,200 kilometres of toll roads in Austria (including some in the Innsbruck area), which are mostly motorways for which the maintenance is paid for by these toll fees and aleways in the form of the vignette. The vignette must be clearly displayed in the vehicle's windscreen and fines are payable for drivers failing to do this. Digital vignettes are also available and can be downloaded from the Austrian motorways website.
Yes. Innsbruck is a very popular winter sports destination and many tourists use the local roads during the winter season t the reach the many ski resorts localited in the area. Due to the icy weather in this part of Austria, it is essential that you drive with extreme caution when travelling around the Tyrol region. Winter tyres are obligatory in Austria from the 1st of November until the 15th of April. Take a look at our winter tyres information page for more information. Other types of winter driving equipment such as snow chains are also required in Innsbruck and other parts of the country when the roads are covered in snow. Auto Europe has regular free winter tyres promotions, so make sure you look out for this excellent opportunity when booking your next car rental in Innsbruck.
---
Innsbruck Travel Guide
Photogenic by nature, Innsbruck is a top central European travel destination and one of the most popular cities to visit in the whole of Austria. A centre for winter sports and tasty Tyrolean cuisine, it offers a rich mix of medieval culture and modern 21st-century comforts. There are several important museums to visit (don't miss the Flemish masterpieces at the Tyrolean State Museum) plus an abundance of road-trip potential in the surrounding mountain regions.
Best day trips with my car rental in Innsbruck
With its closeness to the Alps, Innsbruck is a prime city for day-trips with numerous options for an exhilarating drive in and around the slopes and mountain forests. The Tyrol region is dotted with charming little towns and villages, many of them medieval, with several top-notch attractions to enjoy along the way, most notably Ambras Castle and Swarovski's Crystal Worlds. For visitors looking to rent a car in Innsbruck and travel beyond the city, it is also possible to undertake a more extensive road-trip and drop the vehicle off somewhere else with a one-way car hire which will allow for extra flexibility. You can also share the driving on an epic road-trip around the Alps with one of our popular Free Additional Driver offers.
Ambras Castle
A short drive from the city centre lies the palatial Schloss Ambras which was the residence of Archduke Ferdinand from 1563-95. Constructed in the early 16th century, its delightful Spanish Hall situated between the Lower and Upper Castles is one of the finest (and earliest) examples of a German Renaissance interior. Don't miss the bathroom of Ferdinand's wife, Philippine Welser, which is one of the few surviving 16th-century bathrooms and features a deep copper bathtub.
Swarovski Kristallwelten
Crystal Worlds (officially known as the Swarovski Kristallwelten) is the perfect day-trip option for families visiting the Innsbruck area. Located just 20 kilometres from the city centre, it illustrates the work of the Swarovski company, all the way back to its conception in 1895. The collection includes impressive crystal artworks, such as the Crystal Dome, Crystal Theatre and the striking Crystal Forest installations. Another highlight is the huge landscaped waterfall in the shape of a human head with water gushing from its mouth. There's also a shop for buying Swarovski products and a children's play area with a vintage carousel.
Kufstein Fortress
Well worth a visit, this enchanting fairy-tale castle looms high above the town of the same name and is visible from miles around. Located about an hour's drive from Innsbruck, the castle was built almost a thousand years ago and is particularly notable for its 90-metre-high Emperor's Tower. Don't miss the Heroes' Organ (Heldenorgel), one of the largest in Austria with 4,307 pipes and plays daily at noon in memory of all those who died in World Wars I and II. The town of Kufstein itself is a medieval maze of old walls, ancient towers, peaceful squares and dozens of historic buildings.
Nordkette
Nordkette is a range of mountains just north of the city and part of Austria's largest nature reserve - the Karwendel Nature Park. A modern funicular railway (the Hungerburgbahn) and the Nordkette Cable Car transport visitors to and from its highest peak. This must-do day-trip takes you farther up to Seegrube and on to 2,300-meter-high Hafelekar for the most wonderful 360-degree views to provide the most thrilling and scenic experience, whatever the weather. Restaurants and viewing platforms are situated at each stopping point, while several hiking trails give visitors the chance to take off into the mountains.
What to do in Innsbruck
One of the world's most popular tourist cities, it's no surprise to find that Innsbruck has as many cultural attractions as Salzburg and Linz. There are several must-see sights in the city centre, most notably the Golden Roof and the Hofkirche which houses Emperor Maximilian I's empty but very sumptuous tomb.
Golden Roof: Innsbruck's star attraction is without doubt the famous Golden Roof which stops all visitors in their tracks as they walk by. Covered with an astonishing number of gilded copper tiles - (2,657 of them in total) - this impressive house located at Herzog-Friedrich-Strasse 15 (one of Innsbruck's most popular thoroughfares) was built in 1496 to commemorate Maximilian I's marriage to Bianca Maria Sforza.


Old Town: Innsbruck lovely historic quarter (known locally as the Altstadt) is the best place to begin exploring this charming alpine city. With its narrow streets and enchanting buildings, it offers the visitor many interesting things to see and do, including the chance to walk through a lovely pedestrianised area where you can stroll through more than 800 years of history whilst appreciating many fine examples of traditional Austrian architecture. Don't miss the 57-metre-high Stadtturm, an impressive medieval watchtower built in the 14th century.


Tyrolean Folk Art & State Museums: One of the top attractions in town, the popular Tyroler Volkskunstmuseum showcases art on a variety of local themes, complete with replicas of traditional houses from the Upper Inn Valley. The adjoining Tyrolean State Museum (Tyroler Landesmuseum Ferdinandeum) portrays the history and art of the culturally-rich Tyrol region with numerous works from the Gothic period plus a fine collection of works by several Dutch and Flemish masters.


Hofkirche: Completed in 1563, Innsbruck's spectacular Court Church (known locally as Hofkirche) is a magnificent three-aisled buidling built in the Late Gothic style. Its main feature is the spectacular Tomb and Museum of Emperor Maximilian I which was built in the 16th century and is generally considered to be the finest example of German Renaissance sculpture anywhere in the world.


Hofburg: Innsbruck's Old Imperial Palace (the Hofburg) was originally built in the 15th and 16th centuries and today operates as one of the most fascinating museums in Austria. Its centrepiece is the Giant Hall (Riesensaal), a spectacular section of the palace famously decorated in white and gold with a fine collection of Imperial family portraits adorning the walls and three impressive 18th-century frescos on the ceiling.
---
Useful links