Car Hire in Mykonos – Discovering the Greek Islands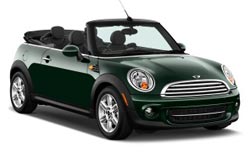 Idyllically situated in the Aegean Sea, the little island of Mykonos is one of the most enchanting in all of Greece. Only 10 km wide and stretching just 14 km from top to bottom, there's no better place for a relaxing holiday for couples and families with young children alike. With a car hire in Mykonos you'll have plenty of opportunity to explore the whole of the island's unique natural landscape featuring stunning beaches, translucent waters, picture-book scenery, typical Aegean architecture and some of the most picturesque villages in the Mediterranean region.
Mykonos has an amazing history; rising and falling as an economic powerhouse and trade centre and both dominated and defended by various rulers. Its capital, Mykonos (known locally as Chora), is a peaceful place with an ancient and very well preserved historic quarter where visitors can mingle and interact in perfect harmony with the island's residents. This old part of town is a maze of narrow cobblestone streets and atmospheric alleyways lined with pretty whitewashed houses and lovely old churches, most notably that of Panagia Paraportiani (the Church of Our Lady) which was founded in the early 15th century and today ranks one of the most photographed religious buildings in Europe.
Renting a car in Mykonos gives visitors the chance to enjoy the best beaches on the island, which is a must during the peak summer months. There are many good beaches on Mykonos, but one of the most scenic is Platys Gialos which has fine golden sands in a secluded and very sheltered cove. Another firm favourite is Elia Beach, one of the longest on the island and particularly popular for its calm, turquiose-coloured waters. After the beach, take a drive to the middle of the island to visit Ano Mera, a picturesque village with many traditional tavernas set around a peaceful square.
Auto Europe provides high-quality car hire at the most competitive prices in more than 24,000 locations worldwide. With almost 70 years of experience, we are able to meet all your car hire needs, whether it's a busy sightseeing itinerary in and around the town of Mykonos or an extended road-trip into the interior. With Auto Europe you can book a low-cost car rental in Mykonos either at the airport, in the town centre or from a choice of convenient pick-up points around the island.
You can book your car quickly and easily in just a few clicks by using Auto Europe's state-of-the-art booking engine. And if you need any help with your booking, please feel free to call our rental specialists on +441233225114 and they will be more than happy to find you the best deal. Please also take a look at our Mykonos car hire reviews page to see the ratings and comments posted by some of our previous customers on the island.
For more information on renting a vehicle in Mykonos, click on the car hire related topics listed below:
---
Where to pick up a car hire in Mykonos
We have joined forces with many local, national and internationally trusted car hire suppliers to provide all our customers with competitive quotations, regular special offers and an award-winning customer service for their next car rental in Mykonos. Through our partners, you'll be able to choose from a large vehicle fleet and a choice of convenient locations all over the island.
Our secure, state-of-the-art online booking engine allows you to see all the available locations for your chosen supplier and dates required. You can choose the best pick-up point simply by making a search, and then clicking on All Locations to view the most convenient car rental stations in Mykonos. You'll also find an interactive map which allows you to see just how far everything is from where you're staying. Additional filters are available that allow you to make a search based on the type of car, engine and supplier you require, for instance. Please note that there is a minimum age requirement for young people looking to hire a car in Mykonos.
Mykonos Airport
Located just 4 km south-east of Mykonos Town, the island's modern international airport lies a few minutes from the centre of town and many of the city's most popular hotels. It is served by a number of international airlines on account of the island's widespread appeal for the growing number of people drawn by its pleasant climate, fine beaches and relaxed atmosphere. Opened in 1971 before the tourism boom, Mykonos Airport has been greatly improved in recent years with a larger terminal and more check-in desks, etc. Besides regular flights to and from Athens and Thessaloniki, British Airways operates seasonal services to Mykonos Airport from London (City and Heathrow) and Southampton, while easyJet's UK routes include Bristol, Gatwick, Luton and Manchester. It's worth noting that during the off-peak tourist season, the airport has limited flight connections and reduced operating hours. Several major car hire companies are represented at Myknos Airport, such as Budget, Enterprise, Avis, Europcar, Alamo and National, along with a good selection of local suppliers, who have their offices either in the Arrivals Hall or close to the terminal building. Don't forget to have your credit card, passport, driving licence and rental documents with you when you arrive to pick up your vehicle.
Mykonos Airport (JMK)
Website: Mykonos Airport
Address: Mikonos 846 00, Greece
Telephone: +30 2289 079000
---
Book with the best car hire suppliers in Mykonos
Find the perfect car to match your travel budget through our easy-to-use and very secure online booking engine. Along with competitive quotations and a large fleet of vehicles, you'll find regular special offers and our an award-winning customer service. Auto Europe also provides fully-trained reservation agents to make your booking experience as stress-free as possible. Whenever you rent a car in Mykonos, you can rest assured that you've made the best-possible choice of all the international car rental companies.
Through our strong partnerships with all the top companies and many prestigious local suppliers (including Abbey Car Rentals, Volta, Green Motion and Auto Union Car Rental), we save you time and money when looking for the best car. When consdiering your car rental options, simply enter your desired travel dates and all the available suppliers will be displayed.
If you need more information about what car hire companies are available in Mykonos or about their policies, please contact one of our reservation agents via email or by phone.
---
Frequently asked questions about renting a car in Mykonos
For anyone considering hiring a car in Mykonos, we have put together the following answers to the most popular questions asked by customers who have previously benefitted from the best car rental deals in Mykonos. If you have a concern or question that is not covered here, please contact our trained reservation agents as soon as possible who will be able to provide you with all the local knowledge and advice you need.
---
Yes, the local car hire supplier will always require a credit card during the pick-up process. Major credit cards such as Visa, Diners, Mastercard and American Express are used to hold a deposit in case of any unforeseen circumstances happening during the rental period, the amount of which is released back to you once you have returned the vehicle undamaged. Please always remember that it is essential that you make sure the supplier checks the vehicle and signs it off as such before you leave the car hire premises. It is important also to make sure that you have enough credit on your card to cover the deposit.
The credit card used for picking up the vehicle must always be in the main driver's name, (ie the same name that's on the rental agreement). Please note that only one credit card is required for a standard car hire, but in the case of luxury or performance cars sometimes two credit cards are requested, so be prepared for that. All the credit card information relating to your booking is confirmed on the Auto Europe website by clicking on the blue and white info icon (i). Please consult our guide on credit cards and deposits for further information.
All of Auto Europe's standard quotations come with the minimum amount of legally required car hire coverage for Mykonos and other parts of Greece. This includes Liability Insurance, Theft Protection (TP) and Collision Damage Waiver (CDW) – which may or may not require an excess. Please note that in this case CDW does not cover damage incurred to glass, mirrors, the chassis, vehicle's interior, roof, engine, tyres and loss or damage to the car keys.
For a small additional fee, our customers have the option to take out our very popular full protection cover which protects you against any damage to the car's wheels, loss of keys, glass, roof, chassis, misfuelling, towing costs and any fees you might incur during the rental period. The amount is determined according to your chosen car category, location and duration. Please take a look at our dedicated blog post that offers a complete guide to car insurance if you require more information on this topic.
All the necessary coverage details such as fees, liability insurance and CDW and TP deductibles are clearly shown on the Auto Europe website by clicking on the blue and white info icon (i) once you have made a search. All this information is also contained within our terms and conditions.
Please be aware that some car rental suppliers on the island of Mykonos might offer you additional insurance when you arrive to pick up your vehicle. This is completely optional and probably surplus to your requirements. It's worth keeping in mind that any insurance you sign up to directly with the local supplier cannot be refunded by Auto Europe should it be deemed an unnecessary purchase.
Mykonos is one of those places that's crying out to be explored by car, particularly if you are looking to reach some of the more secluded beaches and sandy coves, for which the island is so famous. If you are travelling with members of your family or a group of friends, then a larger, more robust car rental in Mykonos such as an SUV will help you get along some of the island's minor roads, especially in the interior. Outside the peak months of July and August you won't encounter too much traffic, and it's always worth remembering that the centre of the capital, Mykonos (Chora), is a traffic-free zone. For more information on driving in Mykonos and other parts of the country, please consult our Driving in Greece information page
Parking on Mykonos is relatively stress-free, even in the beach resorts and the island's more built-up areas. Many of the larger hotels have their own car parks, so make sure you check that when booking your accommodation. There are seveal parking possibilities in the capital, Mykonos (Chora), such as Fabrika's (behind the National Bank of Greece, close to the bus station), Apollon (opposite Fabrikas), Pegasus (adjacent to Apollon), Anemos (near the Belvedere Hotel), Xenias (on the street of the same name), Delos (opposite the Mykonos Archeological Museum) and Old Port (free and very well located for visiting the town's top attractions).
Generally speaking, travel outside of Greece is not permitted. However, some local car rental providers such as Auto Union, Carwiz, Enterprise and National will allow you to travel by ferry to other Greek islands. In order to do this, besides purchasing additional insurance, you must get written authorisation and clearly state your intention to leave Mykonos at the time of booking your car hire in Mykonos.
---
Mykonos Travel Guide
Famous for its vibrant night-life, Mykonos might be one of the most visited islands in the Aegean but it still retains an upmarket and, in some parts, very exclusive atmosphere. There's much to see and do on the island, with the first stop for most visitors being the capital and only large place, Mykonos (Chora), a stunningly picturesque Cycladic town with a maze of tiny, whitewashed streets.
Best day trips with my car rental in Mykonos
With an abundance of excellent beaches, secluded sandy coves, lots of appealing backroads and many quiet corners to explore, Mykonos is tailor-made for long drives and exhilarating motoring holidays in general. Because the island is such an enjoyable place to discover by car, you might want to consider one of Auto Europe's money-saving free additional driver offers and share the driving with one of your fellow travellers. Furthermore, you might like to consider picking up your vehicle in one place and dropping it off in another with one of our popular one-way car hire rentals on Mykonos.
Delos Island
It's often a nice surprise for visitors to Mykonos to find one of Greece's most important archaeological sites (the country has many) on the nearby island of Delos! This sacred and extremely beautiful little island is the mythical birthplace of the Greek god Apollo, which means there's dozens of ruins to explore comprising ancient temples, villas and theatres. Despte being largely uninhabited, a visit to Delos stirs the imagination and allows visitors to consider how life might have been in a vibrant city of the Cyclades. Don't miss the on-site museum displaying some of the most impressive mosaics and artefacts discovered on the island, which is now protected by Unesco as a World Heritage Site.
Ano Mera
The second-largest town on the island, Ano Mera is a comfortable 30-minute drive from Mykonos Town in a prime central location. With plenty of attractions and lots of special cultural appeal, it is the perfect complement to the island's wonderful beach resorts. Top of the tourist list is the 13th-century Venetian castle - Gyzi - which stands proud on a hill overlooking the village. Panagia Tourliani, a remarkable 16th-century monastery, is another must-see site with many rare icons and paintings to appreciate, in addition to its striking bell-tower and magnificent marble fountain. The views from Ano Mera stretch for miles and are among the best on the island, so don't forget your camera!
Kalafatis
The beaches of Mykonos are world-famous and none more so than Kalafatis on the island's enchanting south-eastern shoreline. Ideal for families with young children, Kalafatis Beach is a bit off the beaten track and best reached with a car hire in Mykonos. There's no better place for those who enjoy water sports (especially snorkelling and windsurfing), plus its crystal-clear turquoise waters are perfect for swimming and generally splashing around!
Mykonos Town
One of the best-preserved towns in Greece, Mykonos is a place to wander around at leisure with camera at the ready because there'll surely be a photo opportunity around the next corner! Known as Chora by the locals (which simply means Main Town), its whitewashed buildings with brightly-painted wooden doors stand in perfect harmony with some lovely Greek churches, stylish boutiques and the many small family-run eateries that line the centre's old cobblestone streets and alleyways.
Armenistis Lighthouse
Amazing panoramic views of Mykonos don't get any better than those at Armenistis Lighthouse located on the island's north-western tip, about 6 km from Mykonos Town. Erected in 1891, this landmark building stands 19 metres tall and is still fully-functioning today. The views are extensive and incorporate the nearby island of Tinos, a 30-minute ferry journey away from Mykonos.
What to do in Mykonos
Mykonos Chora (the island's main town) will occupy much of your time away from those fantastic beaches. There's lots to see and do in and around the Old Town, including some first-class museums and many remarkable churches.
Little Venice: Little Venice is not just one of the most interesting places on the island but one of the most scenic parts of Mykonos Town. Besides marvelling at the many whitewashed homes hanging right over the Aegean Sea, visitors can sip on a cocktail and enjoy the best sunsets on the island. This old quarter was built in the 16th century when pirate attacks were commonplace and the local residents built large balconies above the water as a way of quickly loading their valuables and other possessions onto vessels when it was time to make a hasty getaway!


Windmills: Lined up along a hill overlooking the town, the windmills of Mykonos are an iconic sight on the island and photographed as often as Little Venice itself. Officially known as the Windmills of Kato Mili, these striking three-storey conical buildings capped with wood and straw were built by the Venetians in the 16th century, but their use as wheat mills died out four hundred years later. The views from this part of the town are tremendous and simply cannot be missed.


Paraportiani Church: One of the most photographed religious buildings in the whole of Greece, Paraportiani Church is located in the heart of Mykonos Town and is one of 365 whitewashed churches on the island - one for every day of the year, you might say. This one is very unusual as it comprises five churches in all, each built at a different time in history.


Archeological Museum: The best place to learn all about the fascinating history of Mykonos is by visiting this fantastic museum located in the town centre. The collection features a large number of vases, ranging from the prehistoric to the late Hellenistic period (25th-1st century BC), along with some rare statues, clay figurines, precious items of jewellery and old funerary urns.


Folklore Museum: Very close to Paraportiani Church, the Mykonos Folklore Museum first opened to the public in 1958 and since then has displayed many historical and traditional artefacts, including ceramics, ancient tools, photographs, embroideries, musical instruments, pieces of maritime equipment and vintage furniture. Visitors can enjoy guided tours of the premises in order to better understand how the people of Mykonos lived in days gone by.
---
Useful links