Car hire in Heraklion – For the Best of Crete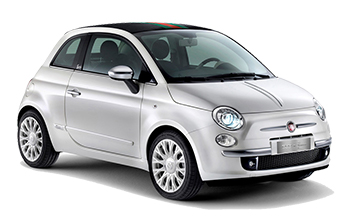 First-time visitors to Heraklion who expect a typically cobblestoned Mediterranean seaside resort town may be a bit surprised by Heraklion's appearance at first. Being the largest city on the island of Crete, it is a bustling urban centre that's still going through an important phase of redevelopment. In Heraklion, you will see modern facilities alongside places of immense historic interest. If you are a history buff, just like all the other places in Greece, you'll find lots to see and do both in the city centre and its environs. Heraklion is blessed with a beautiful waterfront area brimming with excellent restaurants, museums and lovely town squares where you can take a well-earned break from all the sightseeing in a quiet side-street café.
The history of the city is extensive and in ancient times Heraklion was the port of Knossos where the Minoans, one of the world's oldest-known civilisations, traded gold, saffron and ceramics. Visiting the Minoan Palace of Knossos is at at the top of most visitors' lists and with your car hire in Heraklion you can arrive there and park up in just a few minutes from the city centre. A typical feature of Heraklion is also its Venetian and Turkish fountains spread right across the city, the most famous one being the Venetian-style Morozini fountain, which is affectionately known as 'The Lions' by the locals. Behind the Historical Museum of Crete you'll find the Charity fountain built in the Turkish style and the Bembo fountain that was the first to provide the city with running water in ancient times. Today, you can stop for a coffee next door in a café housed in Heraklion's old pump house before enjoying a traditional Greek lunch on the waterfront close by.
If you are looking for an affordable car hire on the beautiful island of Crete, then make sure you book with Auto Europe today! With our exceptional customer service and long-established partnerships with some of the world's most renowned car rental companies, we can offer you the greatest cash savings and the highest quality of service when you are next hiring a car in Heraklion. Book your vehicle online today by using our secure, state-of-the-art booking engine in a few easy steps, or if you prefer you can also speak to our award-winning rental specialists on +44 123 3225 114 and they will help find you the best deal for your forthcoming trip.
Whether you are a history enthusiast or prefer sun-bathing on a pristine beach, Heraklion has something for everyone. Book a cheap car hire in Heraklion and set off on a fascinating journey through time. Trust Auto Europe to find you the perfect car rental for your next Crete adventure with the lowest car hire rates in Heraklion. For added peace of mind, read the comments left by previous customers on our Heraklion car hire reviews page for a better impression of the kind of car rental experience you can expect with Auto Europe on the beautiful island of Crete. Please also be aware that on Crete you can pick up your vehicle in one place and drop it off at another by taking advantage of our special one-way car hire scheme.
For more information on renting a vehicle in Heraklion, click on the car hire related topics listed below:
---
Where to pick up a car hire in Heraklion
By working with all the world's top car hire providers, Auto Europe can offer you a wide choice of locations in and around Heraklion, meaning that you can pick up your vehicle in the heart of the city centre and be on your way in just a few minutes. Besides the many car hire companies operating at Heraklion Airport, you'll find there are several conveniently-located suppliers' offices in other parts of the city as well, most of which are in close proximity to many of the city's top tourist attractions, such as 25th of August Street (named after the 1898 massacre) and the enchanting Palace of Knossos located just outside the city.
To help you make the right choice, our state-of-the-art booking engine allows you to do an extensive search to find the best vehicle and the most suitable pick-up point for your trip. Once you've keyed in your dates, an interactive map will come up with all the available car hire locations in Heraklion and its surroundings.
Heraklion Airport
Heraklion International Airport (also known as Nikos Kazantzakis Airport) is the principal airport in Crete and the second-busiest in Greece after Athens. Opened in 1939 and located just 3 miles from the city centre, it's named after the famuous Greek writer and philosopher who was born on the island in 1883. If you're looking for a direct flight from the United Kingdom to Heraklion, start by looking at flights from London Gatwick, Manchester and Birmingham. The best-known airlines serving this route are Thomas Cook Airlines, British Airways and easyJet. Auto Europe offers car hire at Heraklion Airport, a major gateway for holidaymakers arriving on the amazing island of Crete. The car hire desks are located in the arrivals area of the terminal, so it's easy and quick to collect your car rental at Heraklion Airport. After picking up your luggage you'll reach the main arrivals area, where you'll find Auto Europe's partner desks, such as Avis, Alamo, Budget, Enterprise, Europcar and Thrifty. So to ensure your car rental goes smoothly, make sure you choose one of our car rental suppliers at the airport and enjoy your holiday in the ancient city of Heraklion.
Heraklion Airport (HER)
Address: Heraklion 716 01, Greece
Phone: +30 281 039 7129
Website: Heraklion Airport
---
Book with the best car hire suppliers in Heraklion
Auto Europe is a leading international car hire company currently offering a vast selection of convenient pick-up and drop-off locations (more than 24,000 in total) in over 180 popular destinations around the world. Thanks to our many years' experience dealing with all the top global and local car rental companies, we can offer you the very best standard of service and by far the cheapest prices on the market today.
Should you require additional information about the car hire companies we work with or their policies, for example any age restrictions that might apply in Heraklion and elsewhere in Crete, then our car rental specialists are only a phone call or e-mail away and will be very happy to assist you.
---
Frequently asked questions about renting a car in Heraklion
This section features the most frequent questions asked by people booking a car hire in Heraklion. Scroll down for important tips relating to a wide range of essential car hire topics, such as credit cards, coverage, parking, traffic, road rules and much more. If you need any more information, please call our reservations team on +44 123 3225 114 and they will be happy to help you with your reservation and assist you with your travel itinerary.
---
Yes. During the car hire pick-up process in Heraklion, the supplier (such as Avis, Hertz, Europcar, Sixt, etc.) will always ask for your credit card which will be used to hold a deposit. It is important to confirm that you have enough funds on your credit card for the deposit amount to be held. This deposit will be released to you once you have returned the vehicle in exactly the same condition as you found it. Please note that it is absolutely essential that the supplier checks the vehicle thoroughly and signs it off as OK before you leave the premises.
The credit card used for the deposit must be in the main driver's name (ie the same name that appears on the rental agreement). For a standard hire only one credit card is required, but for a luxury or high performance vehicle hire please be aware that two credit cards are often requested. Car hire suppliers always accept the main credit card brands, including Visa, Mastercard, Diners and American Express. Card types and all other types of credit card information can easily be found on the Auto Europe website by clicking on the blue and white info icon (i) in the search details. Please consult our blog post on credit cards for further details.
All basic quotations come with the legal minimum car hire coverage for Heraklion and other parts of Crete. These are Liability Insurance, Theft Protection (TP) and Collision Damage Waiver (CDW) – which may or may not require an excess. CDW does not cover damage incurred to glass, mirrors, chassis, interior if vehicle, roof, engine and tyres. Neither does it cover loss of damage to the vehicle's keys, which can be expensive to replace.
Therefore, for an additional fee, Auto Europe's customers have the option to take out our full protection cover. With this, you will have extra coverage for damage to wheels, key loss, glass, roof and chassis, as well as misfuelling (ie when the tank is filled with diesel instead of unleaded, for example), refund on towing costs and any administration costs incurred. The fee is determined by car category, location and rental duration, so please consult our complete guide to car insurance for further information. All coverage fees, CDW and TP deductibles and Liability Insurance etc. can be consulted on the Auto Europe website just by clicking on the blue and white info icon (i). This information is also clearly stated in the voucher's terms and conditions.
Lastly, Heraklion car rental suppliers may also offer you additional insurance during the pick-up process. This is optional and in most cases, if you have already purchased Auto Europe's popular Full Protection cover, this won't be needed. Please note that for any insurance you sign up to directly with the supplier, Auto Europe cannot give you a refund regardless of the circumstances. Local suppliers may offer Personal Accident Insurance, Personal Effects Coverage, Super CDW, Seguro Relax, Roadside Assistance and more which are normally charged on a daily basis, but are always optional.
Driving your car rental in Heraklion can be a bit challenging, but if you prepare well and plan your trip properly, it will be safe and enjoyable. The long sections of motorway connecting Heraklion with other destinations on the north coast are modern and well maintained, but in the south of the island the roads are generally narrower, while some are quite curvy with many blind bends, so be careful on these roads, especially at night. Like other large cities in Greece, driving around the historic centre can be a real test, especially during the morning and evening rush-hours. It can sometimes take you 40 minutes to drive a distance that would take 15 minutes to walk. During the high season (July and August), we strongly advise you to explore Heraklion by foot, on public transport or even by bicycle after parking your car hire somewhere safe for the day. Advice on parking can be found in our dedicated parking section below.
Like most places in Europe, driving in Heraklion is on the right side of the road and drivers must give right of way to vehicles coming from the right unless a traffic sign indicates differently. Sometimes fast drivers expect slower cars to let them pass by pulling over onto the emergency lane or hard shoulder, but be careful because these can end abruptly. As a general rule, traffic signs are internationally recognised in Greek and English. Read more about the island's driving and traffic regulations in Greece in our Greece driving guide.
Parking your car hire in Heraklion is best done at hotels or in one of the municipal car parks because on-street parking can be hard to find. Fines are heavy if you park your rental car in Heraklion in an area not designed for parking or where parking is unpermitted by law. In certain areas you will need to pay and display a parking ticket, which you can obtain from a nearby kiosk known as a periptero.
Yes. Some of our key partners (including Avis, Carwiz, Auto Union and Enterprise) allow drivers to pick up their vehicle in the city of Heraklion and travel by ferry to one of the nearby Greek islands. Please note that in order to do this, you will need to get written authorisation prior to departure and will be required to purchase additional insurance.
---
Heraklion Travel Guide
Heraklion is a burgeoning tourist destination and one of Europe's best-loved cities. A centre for culture, history and great food, it offers travellers a fine mix of traditional Greek life with a modern 21st-century twist.
Best day trips with my car rental in Heraklion
Crete is the biggest Greek island and a road-trip from east to west can take you from five to six hours. When renting a car in Heraklion with Auto Europe, you won't miss any of the stunning drives along the coast or the beautiful hidden villages and archaeological sites dotted across the island. If you are planning to do a lot of driving on Crete, you might want to consider checking out our Free Additional Driver offers to save even more cash with Auto Europe.
Chania
As the second most important region, it should be mandatory to visit this city on your road-trip. From Heraklion, it will take you a couple of hours to reach Chania on the E75/VOAK, a coast-road that provides access to many wild and secluded beaches. If you want to take a closer look at the local traditions, the mountain areas of Therisso and Sfakia are the ideal places to visit. Take some time to discover the fantastic village of Loutro, a Cretian paradise that can only be reached by boat.
Rethymnon
Located between Chania and Heraklion, Rethymnon is a popular place to stay if you want to see more of Crete's idyllic north coast. In this part of the island you'll find more breathtaking beaches, as well as several monasteries in the highest mountain region of Crete - Mount Psiloritis - which peaks at 8,058 feet (2,456 metres) above sea level. Rethymnon also has many interesting attractions to explore, most notably the old town with its stunning fortress and the Venetian harbour area.
Lasithi
Some of the most beautiful views in Crete are to be found in the eastern part of Lasithi. Often missed by tourists, it nevertheless has plenty of things to do and see such as the Lasithi plateau, which is among the most iconic drives in Crete due to its long empty roads and inspiring scenery. Don't miss out on a boat-trip to Chrissi, one of the best places to stay in Ierapetra.
What to do in Heraklion
The first step towards embarking on your own Greek adventure is to rent a car in Heraklion, and for this Auto Europe has got you covered. Get ready for plenty of history, architectural wonders and amazing sights! Some of the must-see attractions are listed below, but this lovely city has many more to offer.
Palace of Knossos: Located four miles to the south of the city and built on the hill of Kefalas, it is the most important relic of the Minoan Civilisation. Knossos Palace is a place where myths, legends and historical facts meet and mingle. It's known as the home of King Minos, the first king of Crete and son of Zeus and Europa. There are several well-known Greek legends linked to the palace, such as the Minotaurs Labyrinth, the story of Daedalus and Icarus and the famous love story of Theseus and Ariadne. Visitors can also set their imaginations free with the Knossos Frescoes, some of the rarest and most exquisite in the western world.


Heraklion Archaeological Museum: This is one of Europe's most important museums and brings together many archaeological finds from all over Crete, representing over 5,500 years of history from the Neolithic period to Roman times. This excellent museum contains unique collections of Minoan art and the building itself is an important example of the Greek Modernist style of architecture. Divided by two floors, several rooms and a garden, it is a very worthy stop-off on your journey of discovery.


Liondaria: Also known as Morosini's Fountain, the Lions Square or simply The Lions, here tourists and locals alike share the small area around the fountain and occasionally exchange a few words of friendly conversation. The fountain is decorated with stone figures of Greek mythology (Nymphs, Tritons, dolphins and sea monsters) and a circular bowl supported by four sitting lions. This 1628 Venetian fountain was also a source of drinking water, the supply of which is sourced by Mount Juktas south of the city.


Heraklion Market: This is a great place to see the authentic side of Cretan life that will also show you why the local food tastes so good. Here you will find vegetable and fruit sellers, butchers and fishmongers, olive and cheese sellers. The Plateia Kornarou lies at the top of the market with the lovely Brembo Fountain decorated with columns, the Venetian coat-of-arms and a headless male statue believed to have supernatural powers where a religious ritual is held every year in May.


25th of August Street: Named after the massacre of martyrs which occurred in 1898, this street is opposite the old harbour and extends to Lion Square. Walking up the hill, you see several shops and tourist offices and eventually reach St Titus Cathedral. The present building is the work of several renovations after the major earthquake in 1856. It's well worth going inside to admire the interior and maybe look at the skull of St Titus which was brought from Venice in 1956. Further along you'll come to Loggia and its Venetian architecture. Loggia functioned as a club for the nobility in the 16th century and is located in the Piazza Dei Signori. Nowadays it houses part of Heraklion Town Hall. Almost adjacent is St Mark's Basilica which is now the Municipal Art Gallery, hosting regular art and crafts exhibitions.
---
Useful links