Car hire in Thessaloniki – Gateway to northern Greece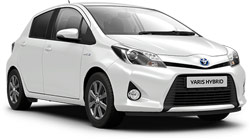 Located in the northern part of Greece – Thessaloniki is the country's second largest city and a wonderful place full of heart-warming hospitality and the perfect blend of old and new architecture. Typically Greek, but yet very international, Thessaloniki is the ideal starting point for exploring northern Greece and much of central Macedonia with a car hire in Thessaloniki, including the wonderful Chalkidiki peninsula – with its turquoise waters and great beaches.
With your low cost car rental in Thessaloniki, why not head to the Greek coastal city of Volos. The city has a vibrant waterfront, lined with coffee houses, restaurants and numerous stores. If you want to stay closer to Thessaloniki, then consider a visit to Kavala. Just under 100 miles east, Kavala is a bustling seaport full of Greek charm. Alternatively, why not head to Alexandroupolis, another important commercial city in northern Greece.
For over 60 years Auto Europe has gained international car hire experience and partnered with many suppliers. Through our long-lasting professional relationships, we are able to provide competitive quotations and regular promotions on everything car rental. From standard cars to luxury vehicles and motorhomes, we have an extensive fleet of vehicles ready to hire. We also provide a reliable transfer service for those looking for a little more convenience. Contact one of our reservation agents on +44 123 3225 114 to find out more. If you haven't used our service before, there's nothing more reassuring than reading the comments of our other customers, so take a look at our Greece car hire reviews and Thessaloniki car hire reviews pages for added peace of mind before booking.
For more information on renting a vehicle in Thessaloniki, click on the car hire related topics listed below:
---
Where to pick up a car hire in Thessaloniki
We have built strong working relationships with many local, national and international car hire suppliers across the globe. This means that not only do customers benefit from competitive quotations, but also regular promotions and great deals. Through our partners, we are able to provide a large fleet of vehicles in which to choose from, all at convenient locations worldwide. With such an extensive array of options, a car rental in Thessaloniki is one of the easiest ways to explore northern Greece. From Thessaloniki Airport, Thessaloniki Seaport, Thessaloniki Central Rail Station and central Thessaloniki – you'll no doubt find the perfect option.
Through our secure online booking engine you are able to conduct a search and select the best pick-up location. Simply enter the dates desired and all the available options will be displayed. For ease, an interactive map is shown when you select 'All Locations' so that customers can see exact distances between points of interest. Along with the results, prices and car categories, a filter is provided to allow customers to narrow down their search. This will allow customers to find the best rental deal in Thessaloniki for their budget. A minimum age requirement exists for hiring a car in Thessaloniki - so all results will be age appropriate once you enter in your age.
Thessaloniki Airport
Thessaloniki Airport Makedonia is approximately 10 miles southeast of Thessaloniki city – Greece's second largest city. Along with serving this city, the airport also serves the popular tourist destination of Chalkidiki and much of central Macedonia. As the third largest airport in Greece, annually it welcomes on average 1.8 million passengers. The airport currently consists of one terminal spread over three floors, and two runways. It operates flights across the European continent, with the most popular destination being to the UK, in particular; London Gatwick Airport, London Heathrow Airport, Leeds, Birmingham and Manchester. Car hire desks are located at the Arrivals, Ground floor level.
Thessaloniki Airport Makedonia (SKG)
Website: Thessaloniki Airport Makedonia
Address: EO Aerodromiou Thessalonikis, Thessaloniki 551 03, Greece
Telephone: +30 231 098 5000
Thessaloniki Train Station
Thessaloniki Train Station was opened in 1961 and provides regional and national rail links. Destinations include Athens, Alexandroupoli, Florina and Larissa. International rail links are also available to Serbia, Bulgaria and more. Passengers can board commuter trains that provide stops across all of western Macedonia. Car hire desks can be found in the terminal building and just outside, primarily on the Monastiriou Avenue.
Thessaloniki Train Station
Address: 28 Monastiriou Street, Thessaloniki, Greece
Telephone: +30 213 012 1121
---
Book with the best car hire suppliers in Thessaloniki
Don't hesitate to use our secure online booking engine to find the right deal and car rental offer. Along with regular promotions, complimentary offers and extremely competitive quotations – our award-winning customer service is on hand to help make your car rental as stress-free and seamless as possible. When you rent a car in Thessaloniki, you can rest assured that you're driving away with the very best deal for your budget. All our reservation agents are fully trained and have local knowledge. They are available to answer any questions you might have.
We have partnered with numerous car hire suppliers – from local firms like, Volta, Auto Union, Drive and Abbycar to large international companies like Europcar, Avis, National and Enterprise, all are represented via our comparison website. This means that you as our customer can benefit from great quotes, a top-class service and numerous convenient locations to pick-up a vehicle from. During your booking all available options are provided for the dates you have selected. With an abundance of locations across Greece, why not consider a one-way car hire to explore northern Greece easier. This allows customers can pick-up a rental vehicle at one location and drop it off at a totally different location. Please note that a fee may apply.
If you need more information about what car hire companies are available in Thessaloniki or about their policies, please contact one of our reservation agents via email or by phone.
---
Frequently asked questions about renting a car in Thessaloniki
For ease we have compiled the below answers to the most commonly asked questions by those who are looking into hiring a car in Thessaloniki. If after having viewed these, you still haven't found the answer to your question, please contact one of our customer service agents to discuss. Our trained staff are available to answer any car hire related questions and provide unbiased local knowledge.
---
Yes – it is common industry practice to request a valid credit when picking up a car rental. The credit card must be under the main drivers name and contain enough funds in order to hold a security deposit. For standard car rentals, one credit card is often required – for luxury car rentals, one or two credit cards may be requested. The security deposit amount is noted on our rental vouchers terms and conditions. The security deposit will be released back onto your credit card once the car is returned and confirmed to be in the same condition as when it left. It is important therefore, that upon collecting the vehicle you fully inspect its condition, noting anything of interest on the pick-up slip. When you return the car, make sure a member of the staff fully inspects the vehicle and signs it off as okay. All major credit cards are accepted – American Express, Visa, Mastercard and Diners. No debit cards, cash deposits or credit cards in anyone but the main drivers name are accepted for deposit purposes.
All vehicle base rate quotations include the legally required car coverage for the rental to circulate in Greece. This cover includes Collision Damage Waiver (CDW), Liability Insurance and Theft Protection (TP). Please be aware that CDW and TP may or may not come with an excess depending on suppliers and that certain elements of the vehicle are not covered in case of accident or theft. If you'd like to be better protected whilst out on the road, then we recommend taking out Auto Europe`s Full Protection Coverage Package. This cover makes sure that you are further covered for damage or loss to vehicle keys, for administration and towing charges, for damage to roof, mirrors, windows, glass and by misfueling.
It is important to remember that whilst at the supplier location, you may be offered other insurances. These are optional and for the most part, if you have already taken out the Full Protection Cover mentioned, additional insurance may not be needed. Consult our full car hire coverage options to find out more.
Driving in Thessaloniki can be a stressful experience and quite time-consuming at times. Along with the often Greek aggressive manner of driving – you will also have to contend with one-way streets, narrow old town alleys and lots of congestion during rush hour. Traffic hot spots are around major road intersections, near tourist attractions and in downtown Thessaloniki. During the summer months, traffic increases in large due to visiting tourists. Weekends especially can be problematic. We would recommend consulting our road rules and regulations before arriving.
Parking your car hire in Thessaloniki is similar to any other major Greek city. As the country's second largest city and the main northern commercial centre – Thessaloniki can be problematic to park in. The city centre is the hardest place to find available parking. If you're planning to park here, make sure you leave early as not to be disappointed. Many tourist attractions have their own car parks, including many of the hotels. On-street parking is permitted throughout the city, but it is often paid. Meters are available and care should be taken when reading their restrictions and operating times. Free car parks are present slightly further from the city centre, with local transport available to take you into the city.
Yes – with your car rental in Thessaloniki, travel between islands and the Greek mainland is permitted albeit only with prior authorisation from Auto Europe and the car hire supplier. Unless authorised, rental vehicles are not allowed onto ferries. Customers, who take their vehicles from the mainland onto an island, or vice versa, will make their insurance void. This will make the driver liable for any damage incurred to the vehicle. Both Auto Europe and the car hire suppliers must be informed of your intention to travel by ferry. Please note that a fee may apply.
---
Thessaloniki Travel Guide
Thessaloniki is located in northern Greece and is the second largest city in the country. A vibrant city and a northern commercial powerhouse, it is also a gateway to the region and central Macedonia. The area has an abundance of history, culture and points of interest. The sun-drenched local landscape is awash with olive groves and vineyards, whilst nearby peninsulas welcome you with turquoise warm waters and sandy beaches.
Best day trips with my car rental in Thessaloniki
With a car hire from Thessaloniki you'll be able to explore what the local region has on offer. From legendary mountains to sandy beaches and endless archaeological sites – a car will give you the freedom to explore everything that northern Greece has to offer. Consider taking a day trip to Central Macedonia, or to check out some world class wineries. We would recommend the following during your holiday.
Potamos Beach: If you're looking for some beach time during your stay in Thessaloniki, then unfortunately you won't find any beaches in the actual city. Luckily, the nearest beach isn't too far away, with around 45-minutes' drive, you'll arrive at the busy and popular beach of Potamos. As the closest to Thessaloniki, it can become very busy and noisy, so relaxing by its shore can be challenging. However, if you're looking for beautiful clear warm waters and plenty of sand – this is a great option. The beach itself has plenty of bars, and the water isn't too deep – ideal for families.
Vergina: Around 49 miles from Thessaloniki, you'll come across the quaint city of Vergina in Central Macedonia. Once a capital within its own right, this beautiful town contains many historical and cultural sites to visit, which include the royal tombs of Philip II – Alexander the Great's father. Other points of interest to visit are the necropolis, the ruins of a palace, theatre and an acropolis. Once you've taken in all the history this area has to offer, consider exploring the region further. With some of the best Greek wineries, you're sure to enjoy a great day.
Elatochori Ski Resort: 65 miles from Thessaloniki you'll come across the Elatochori Ski Resort. An ideal location for a skiing day trip, this resort is located in the Pieria Mountains. With magnificent views over the legendary Mount Olympus – Elatochori Ski Resort consists of five ski lifts, a snowboarding / sledding slope and an impressive eight ski slopes. In addition, Pieria forest will leave you mesmerised with its natural beauty and unique local wildlife.
Mount Olympus: The highest mountain in Greece is only 49 miles from Thessaloniki and well worth the drive. At its highest point, Mount Olympus stands at an impressive 2,917 meters. Perfect for getting away from the hustle and bustle of Thessaloniki - many visitors decide either on a hiking session or a climbing adventure. The small Greek town of Litohoro is located here and contains many restaurants and bars to relax in. Whilst another must see town in the area is that of Dion, once a place where games where played in honour of the god Zeus – this quaint town contains a sanctuary and an archaeological site.
What to do in Thessaloniki
As Greece's second largest city and the main powerhouse of northern Greece – Thessaloniki has plenty to entertain you within its metropolitan area. Along with plenty of museums, historical sites, cultural wonders and culinary delights – Thessaloniki also has plenty of Orthodox marvels. When you rent a car in Thessaloniki why not consider a free additional driver, and share the joy of driving around Greece with your family and friends. We would recommend the following experiences during your stay in this beautiful city.
Archaeological Museum of Thessaloniki: If you'd like to learn about the local history, then we would highly recommend a visit to the Archaeological Museum of Thessaloniki during your stay. With a rich array of historical and cultural artifacts, some pieces date back thousands of years. You'll easily spend much of the day enjoying some of its intricate golden items, all showcased beautifully. Each item came with its own very informative plaque, giving a great glimpse into the early history of Macedonia.


Ladadika District: If you'd like to experience the heart of Greek life and the city itself, then pay a visit to the wonderful Ladadika District. This area is not only full of wonderful shopping opportunities, quaint flower shops, independent stores, it also hosts modern coffee houses, traditional restaurants and endless amounts of bars, clubs and fast food establishments. A bustling and lively district, this area is a must visit to capture the heart of this wonderful city – and some great music too.


Museum of Byzantine Culture: This museum is ideal for learning about the Byzantine Empire, its culture and evolution, until its ultimate demise. Some of the museums pieces include burial structures, religious artifacts, mosaics, tombs and much more. An idea place for anyone looking to learn more about art during the Christian, Macedonian and Byzantine eras. Due to the sheer size of the museum we recommend arriving early, as it may take some time to wander through all the exhibits.


OTE Tower: Once the heart of Greek terrestrial television – the OTE Tower now contains a wonderful restaurant with views across the city. Located within the International Exhibition and Congress Centre, right in the heart of the city. The tower was finished in 1966 and rises up an impressive 76 metres. Now a very popular tourist attraction, the tower, which is spread over four floors, once broadcast the first ever black and white state television show in Greece. It has over time cemented itself as one of the greatest architectural structures in the city.


Bezesteni Market: If you want to feel the heart of the city, then pay a visit to its bustling market. Bezesteni Market is a great place to pick-up a bargain on everything from clothes, to shoes, foods and donkey milk soap! With hundreds of natural products for sale, locally sourced and presented beautifully – you're sure to spend a splendid day here with the whole family. Mornings are by far the busiest and most entertaining times to visit this market. With fresh fish, craft stalls and coffee houses with amazing pastries – this traditional and authentic market is a great place to explore.
---
Useful links