Car Hire in Greece – Rediscover the Ancient World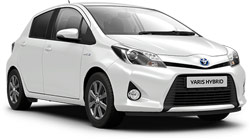 Located on the Mediterranean Sea, in southeast Europe, Greece is bordered by Albania, Macedonia, Turkey and Bulgaria. Long known as the birthplace of western civilisation, this ancient country sits at the tip of the Balkan Peninsula. With a car hire in Greece you can explore many of the country's beautiful islands and wonderful shorelines. Greece, also commonly known as Hellenic Republic or Hellas, has legendary Athens as its capital city.
Along with the mainland, Greece has literally hundreds of islands to explore and enjoy. Heraklion, on the Greek island of Crete, has archaeological wonders dating back centuries. With rugged mountains and beautiful shorelines, no wonder the Greek island of Corfu is one of the more popular Greek islands. It's Venetian, French and British influence is portrayed within its buildings, monuments and culture. Regardless of where you stay in Greece, one of our trusted car hire suppliers are present - with world renowned brands, such as Avis, Herts and Europcar, but also some local supplier, such as Payless and more.
By hiring a car through Auto Europe, you're guaranteed an enjoyable rental experience. Our highly skilled reservation team is available every step of the way, providing you up-to-date information, advise and helping you with any rental issues you might have. As well as competitive quotations, we also offer a transfer service, motorhome hire and luxury car hire. Feel free to contact one of our dedicated reservation agents on +44 123 3225 114 to discuss your upcoming holiday in Greece. Check out what other Auto Europe's had to say about the quality of our car rental services in the country by reading the comments they left on our Greece car hire reviews page.
For more information on renting a vehicle in Greece, click on the car hire related topics listed below:
Where to Pick-up a Car Hire in Greece
With our supplier pick-up locations throughout Greece and its islands, you're sure to find the perfect location in which to collect and drop-off your car. Offices are generally located in central areas, at key airports or ferry terminals. Through our trusted suppliers we are able to offer great quotes and a large fleet of vehicles to choose from. Therefore, regardless if you are in a main city like Thessaloniki or in a more remote location, you'll have virtually endless locations to collect your car.
Once you have arrived at your vehicle collection point, simply head to the supplier office to be processed. You must present a valid driving licence, your Auto Europe voucher and a credit card with your name on it. This credit card must also contain enough funds in order to hold a deposit on. The deposit will be reverted onto your card, once the car is returned in the same condition as when it left. Before driving off, make sure you check the vehicle for any damage, noting anything you see on the pick-up form. In addition, make sure you fully read the rental terms and conditions, paying attention to any restrictions and the fuel policy.
Compare Car Hire Rates at the Most Popular Airport and Ferry Terminals in Greece
Corfu Ferry Terminal
Heraklion Ferry Terminal
Chania Ferry Terminal
Thessaloniki Ferry Terminal
Kalmata Ferry Terminal
Zakynthos Ferry Terminal
Book with the Best Car Hire Suppliers in Greece
Auto Europe has partnered with several local suppliers, such as Abby Car, Payless and Drive. Together with global car rental suppliers such as, Hertz, National and Budget, we are able to offer clients the perfect quotation for a car rental in Greece. So regardless if you're booking in Chania or Preveza, placing a reservation through us provides the ability to cancel a booking without charge up to 48 hours beforehand. The whole process is simple and transparent, with your rental's full terms and conditions, fuel policy and local fees available to view during the whole process.
For information in regards to supplier opening times, out of hour drop box procedures, what to do if you are late or have to cancel your reservation, please contact a member of our reservation staff. Likewise, we'll price match any cheaper rate you find anywhere else on the same deal we offer.
---
Frequently Asked Questions about Renting a Car in Greece
With a wealth of international and local car rental industry experience, Auto Europe is here to make your holiday as stress-free as possible. This FAQ section has been compiled to easy answer the most common questions about renting a car in Greece. The road rules and regulations apply to all of Greece, so it doesn't matter if you're driving in Chios or Kefalonia, our advice still applies. Don't hesitate to contact us should you have any further questions or concerns.
---
Renters must be at least 21 years old and have held a driving licence for at least one year to be eligible. Your first car hire can sometimes feel a little scary, lots of information to enter and driving a different vehicle can seem odd at times. Auto Europe is here to help your first experience a successful one. First thing to note is if you are under 21 years of age, unfortunately you are below the minimum age to rent a car in Greece. In addition, individual suppliers may impose their own age requirements depending on the car category requested. For instance, a young driver's fee may be added to the quotation if a driver is under the age of 26, to be paid locally to the supplier. Likewise, for drivers over the age of 75, a senior driver's fee may be added.
To avoid any misinformation, make sure you enter your correct age during the online booking process on Auto Europe's website. This will allow us to display only suppliers that would be willing to rent to your age group, including any restrictions they may impose. To find out possible fees, consult the "Info Icon" section during the reservation. The rental voucher's terms and conditions will also note any additional fees.
Yes, you are able to pick-up your vehicle in one location and drop it off in another, this is known as a one-way car hire. National one-way rentals are allowed within Greece, relevant information is available at select locations. A fee may be imposed depending on car category, locations and rental duration. The supplier may also enforce certain restrictions upon your rental, such as, prohibiting you from taking the vehicle onto a ferry. International one-way car hire and travel between islands, including islands and the mainland, is not permitted in Greece.
You must always inform Auto Europe of all travel plans and have these pre-approved. Clients are entitled to cancel the booking should they not agree to the one-way fee as set out by the supplier. Fees can be consulted during the booking process on the Auto Europe website. These are displayed without VAT under "Car Rate" – it'll also be on the rental voucher after the reservation has been made.
One-way fees are added by the local car hire supplier. Auto Europe provides fee information for transparency and does not set or collect these. Furthermore, each supplier determines its own fees, depending on dates, vehicle and locations. All fees and travel restrictions can be consulted under "General Terms", contained under "Info Icon", within "Inclusive Package". The rental voucher will also contain this information once the booking is confirmed.
Yes, during your pick-up the supplier will always require a credit card. Credit cards are used by the car hire supplier to hold a deposit on. This deposit will be released to you once you have returned the vehicle in the same condition as when it left. It is essential that you make sure the supplier checks the vehicle and signs it off as OK before you leave.
The credit card must be under the main driver's name, with the name matching your rental agreement. For a standard hire, only one credit card is required, for a luxury car hire, two credit cards may be requested. Suppliers accept Visa, Mastercard, Diners and American Express credit cards. Card types can be confirmed on the website under "Supplier Payment Policy", by clicking "Info Icon". It is important to confirm that you have enough funds on your credit card for the deposit amount to be held. Consult our guide on credit cards for further information.
Often it can seem daunting to drive in another country, but this need not be. As long as you are aware of the road rules and regulations in Greece, then you should be fine. In general, many of the rules are the same as any other European country – even as far as driving on the right side of the road. Seatbelts must be worn by everyone in the car, in addition any children between the ages of 3 and 7, under the height of 1.35 cm, must use a child car seat. Babies under 3 years of age must also use a baby seat.
Overtaking is on the left-hand side on normal roads, whilst the middle lane of a three lane motorway is reserved for overtaking only. The vehicle must always contain its registration and insurance documents onboard, while the driver must also always carry their driving licence. Full beams headlights and the overuse of the car horn is prohibited, especially in built up areas. The use of mobile phones is prohibited whilst driving, unless an appropriate hands-free kit is used.
It is illegal to drink and drive, in Greece the legal limit is 0.5 mg/ml for drivers with over two years driving experience, and 0.2 mg/ml for drivers with licences less than two years. In all cases, hefty fines and sometimes even further charges can be imposed if breaking these important rules. However, there is no on the spot fines in Greece, instead fines are sent directly to the registered address. In the case of a hired car, the supplier will forward these fines onto you, plus any additional administration fees.
Lastly, it is important that you keep your vehicle fully topped up, to avoid any unnecessary breakdowns – if you do happen to breakdown, then don't panic, make sure all passengers have put on their hi-viz vests and then place out the warning triangle. Once done, call the car hire supplier and Auto Europe to inform us of the situation. Petrol stations are generally open from 07:00 until 19.00 weekdays and Saturday, whilst closed on Sunday. In major cities it is also common to find self-service petrol stations.
Yes, all Greek national roads are tolled and charged per distance travelled. Payment is done upon exiting the motorway. Only one national road in Greece isn't a toll road, and that is the one located on the island of Crete. Otherwise the chances are you'll encounter plenty of tolls during your holiday. Normally, it is cheaper to take a toll road then trying to avoid it. The most common toll roads are from Athens to Peloponnsus, Athens to Thessaloniki and Athens to Athens International Airport. Tolls cost just a few euros, so are relatively cheap in comparison with other countries.
All basic quotations come with the legal minimum car hire coverage for Greece. These are Liability Insurance, Theft Protection (TP) and Collision Damage Waiver (CDW) – which may or may not require an excess. CDW does not cover damage incurred to glass, mirrors, chassis, interior if vehicle, roof, engine and tyres. It also does not cover loss of damage to the vehicle keys.
At an additional fee, clients have the option to take out the Auto Europe full protection cover. This will add extra coverage for damage to wheels, key loss, glass, roof and chassis, as well as misfuelling, refund on towing costs and administration costs. Fee is determined by car category, location and rental duration. Consult our complete guide to car insurance for further information.
Coverage fees, CDW and TP deductibles and Liability Insurance, can all be consulted on the Auto Europe website under "Additional Information" contained in "Info Icon", this information will also be contained within the terms and conditions.
Lastly, Greece car rental suppliers may also offer you additional insurance during the pick-up process. This is optional and in most parts, if you have already taken the Auto Europe Full Protection cover, this won't be needed. Any insurance you sign up to directly with the supplier, Auto Europe does not refund, regardless of situation. Local supplier may offer Personal Accident Insurance, Personal Effects Coverage, Super CDW, Seguro Relax, Roadside Assistance and many more. These are normally charged on a daily basis, and are always optional.
The main driver and any additional authorised drivers must present during pick-up a valid full driving licence. Drivers must have held the licence for a minimum of two years. The driving licence must be in the Roman alphabet; otherwise an International Driving Permit is required. UK driving licence holders must in addition provide a DVLA code or recent print out of any endorsements on the licence. This must be downloaded from the DVLA portal at least 21 days before rental. For further information please consult DVLA changes.
Depending on the outcome of Brexit, a UK driving licence may cease to be accepted by itself, requiring you to obtain an International Driving Permit. Both the UK full licence and the International Driving Permit must be presented together when requested, for them to be valid.
Yes, you are able to add an additional driver to your car hire in Greece. Doing so may incur an extra fee for some suppliers, although Auto Europe occasionally provides free additional driver offers which you may take advantage of. Some car hire companies include the additional driver fee within the basic quotation, whilst others may charge this fee during collection. All additional drivers need to be registered in the rental agreement. Failure to do so may invalidate your car insurance coverage - making you fully liable for any damage or loss.
Additional drivers must provide during pick-up the same documents as the main driver. These are a valid driving licence, identification (Passport or ID card) and an International Driving Permit if applicable. Any applicable fees can be viewed on the Auto Europe website under "Driver Information" by clicking "Info Icon" and on the rental voucher.
Generally, when booking a car rental in Greece it is prohibited to take it onto a ferry; therefore, you are normally not allowed to travel between islands. If you do wish to do this, then we might be able to find a car hire supplier who may allow it. You need to inform Auto Europe beforehand if you desire to travel between islands, or the mainland. If permission is given by the supplier, they may impose an additional surcharge and some restrictions.
---
Additional Vehicle Rental Options in Greece
Not all cars are the same, and often a smaller car could be better than a larger vehicle – through us you'll have a large selection of cars to choose from in Greece. If you're planning to stay within the city, then a Mini category car is the best option for parking and maneuverability. Maximum passenger capacity is two however, with only one small carry-on bag, it therefore has some restrictions. If you're looking for the same benefits as above but with more capacity, then an Economy car category vehicle would be better suited. These cars can take more bags and up to four passengers.
If you're after a little more engine power but still within a manageable size, then a vehicle from our Compact car category could be perfect. These cars can seat up to five people, with enough storage to suite but with a more powerful engine. If however, you're looking to explore further out into the Greek countryside, then few cars can match the sturdiness, power and safety of a vehicle within our SUV car category. For a full indepth breakdown of all the car categories on offer, please read our Greece fleet guide.
Luxury Car Hire Greece - With plenty of glamour inside and out, our luxury vehicles are ideal for making a great impression. Whether you're attending a business meeting, or simply want to enjoy Greece in style, then we're sure these cars will not disappoint. With all the latest mod-cons, and plenty of power under the bonnet, it'll no doubt make your holiday extra special. In Greece you'll have the choice of a BMW X3, Mercedes CLA, Mercedes C and E Class, Audi Q5 and many more.
Van Hire Greece - Visiting Greece is a great experience, but visiting Greece with friends and family is even better. This is when our vans can make your trip extra special. Having everyone together instead of hiring individual cars to accommodate all, is a great benefit. You'll save time, money and headache with one of our vans. In Greece you can rent a van with capacity up to nine people – providing plenty of leg room and storage for luggage.
Campervan hire Greece - Greece is a great place for hiring a motorhome. The freedom these vehicles provide is second to none. Enjoy everything Greece has to offer from the comfort of your home on wheels. Stay in numerous campsites up and down the country – many with modern amenities and centrally located to tourist attractions. Campervans can be costly initially, but with capacities for up to six people, often it works out cheaper in the long run.
---
Useful links
Travel Inspiration and Information for Your Trip to Greece