Car hire in Glasgow – Visiting the heart of Scotland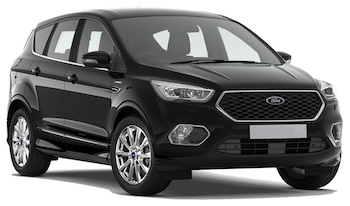 Celebrated for its legacy of art and design, the Scottish city of Glasgow is a burgeoning tourist destination with a plethora of renowned museums and architecture (old and new), as well as being one of only three dozen UNESCO Cities of Music worldwide. Recently revitalised and abuzz with cultural entertainment, it has grown in stature since being chosen as the European City of Culture in 1990.
Located less than five hours north of London by train, and just an hour's drive west of Edinburgh (the Scottish capital), this vibrant city on the River Clyde is the perefct place for an extended city break at any time of the year. Nowadays it offers energetic dining and night-life opportunities and a bustling arts scene that combines well with the city's historic beauty.
Known for its Art Nouveau flourishes, Glasgow boasts a blossoming modern side with daring new buildings, bars, restaurants and galleries opening with impressive regularity. The city also has over ninety parks and gardens, including the Botanic Gardens, Kelvingrove Park, Glasgow Green and Victoria Park, where visitors can relax and catch their breath whilst enjoying the city's highlights.
Most tourists start in George Square, a lovely old precinct decorated with a Who's Who of statues depicting the greatest Scots of all, from top literary figures Sir Walter Scott and Robert Burns to James Watt, the man who perfected the steam engine that helped power Europe into the Industrial Age. Equally inviting is a visit to the Kelvingrove Art Gallery and Museum, a stately building that's home to Salvador Dalí's famous 'Christ of St John of the Cross'.
With a car hire in Glasgow you'll find yourself just thirty minutes away from spectacular Loch Lomond and Trossachs National Park, one of the most scenic parts of Scotland. The long list of other must-see attractions within easy reach of the city includes Stirling Castle and Loch Ness, one of the world's most famous attractions. Please take a look at our best Scotland road-trips page for more inspiration.
Glasgow is now one of the most exciting cities in the United Kingdom and today you can book a vehicle with Auto Europe quickly and easily in our state-of-the-art search engine and choose from dozens of global vehicle rental provides in a few seconds, and always at the most competitive prices on the market. Take your pick from over 24,000 pick-up and drop-off locations in more than 180 countries around the world with the added convenicne of being able to select from the widest choice of vehicles.
For more information and personlised step-by-step help with your travel itinerary, please do not hesitate to get in touch with our rental specialists on +441233225114 and they will be more than happy to find you the best deal. And don't forget to check out the user ratings and comments posted by previous Auto Europe customers on our Glasgow car hire reviews page.
For more information on renting a vehicle in Glasgow, click on the car hire related topics listed below:
---
Where to pick up a car hire in Glasgow
For people who choose to rent a car in Glasgow, Auto Europe can offer a variety of good locations in and around the city centre, enabling you to pick up your vehicle quickly and be on your way in just a few minutes. Besides the many car hire companies operating at Glasgow International Airport and Glasgow Prestwick, there are several conveniently-located collection points in other parts of the city, such as Glasgow Central Train Station.
To help you make the right choice, our state-of-the-art booking engine allows you to do an extensive search to find the best vehicle and the most suitable pick-up and drop-off points for your trip. Once you've keyed in your dates, an interactive map will come up with all the available car hire locations when choosing the best place for your next cheap car hire in Glasgow.
Glasgow International Airport
Glasgow International Airport is a large airport located in Paisley less than 10 miles from the centre of Glasgow. Catering for around 10 million passenger movements every year, it is the second-busiest airport in Scotland after Edinburgh Airport and one of the best-connected in the United KIngdom. Originally opened in 1966, Glasgow International Airport initially handled domestic flights and some services within Europe before later catering for transatlantic traffic from companies that had previously flown from Glasgow Prestwick Airport located on Scotland's beautiful south-west coast. Several major international car hire suppliers operate on the airport premises with their desks located inside the terminal and their pick-up points close by. It's important to have all the necessary car rental documents ready when you arrive to collect your vehicle in order to make the process as speedy as possible.
Glasgow Airport (GLA)
Website: glasgowairport.com
Address: Paisley PA3 2SW, Scotland
Telephone: + 44 344 481 5555
Glasgow Prestwick Airport
Inaugurated in 1934, Glasgow Prestwick Airport serves many routes to and from top destinations across the UK and Europe, including Alicante, Barcelona, Faro, Ibiza, Malaga, Murcia, Palma, Pisa, Rome and Tenerife. It is located just a mile outside Prestwick, a lovely seaside town in South Ayrshire, an area of outstanding natural beauty in the heart of south-west Scotland. Situated 32 miles (51 km) from Glasgow, it mainly serves the city's urban area, including the many surrounding towns and villages.
Glasgow Prestwick Airport (PIK)
Website: glasgowprestwick.com
Address: 107 Glasgow Prestwick Intnl Airport, Prestwick KA9 2PL, Scotland
Telephone: +44 871 223 0700
Glasgow Train Station
The busiest railway station in Scotland, Glasgow Train Station (also known as Glasgow Central) operates numerous roads across Scotland and to key destinations in England, chief among them Manchester, Birmingham and London. Located right in the city centre, it has a very wide range of passenger facilities, including baby-changing facilities, showers, ATMs, a left-luggage office, photo booths and free Wi-fi throughout the entire station complex. The car hire desks can be found in adjacent streets to the station building.
Glasgow Train Station
Website: networkrail.co.uk
Address: Gordon Street, Glasgow, G1 3SL Scotland
Telephone: +44 (0)3457 11 41 41
---
Book with the best car hire suppliers in Glasgow
Auto Europe is a leading international car hire company currently offering a vast selection of convenient pick-up and drop-off locations in 180 different destinations around the world. Thanks to our many years' experience collaborating with all the global and local car rental companies, we can offer you the best standard of service and cheapest prices on the market, with a large number of top suppliers offering low-cost car rental in Glasgow and at the city's two international airports.
Should you require additional information about the many prestigious car hire companies we work with or their operational policies such as their out-of-office pick-up/drop-off procedures, or if you have any questions regarding age restrictions etc, then our car rental specialists are just a phone call or e-mail away and are always very happy to assist you.
---
Frequently asked questions about renting a car in Glasgow
This section features the most frequent questions asked by people booking a car hire in Glasgow. Scroll down for important tips relating to a wide range of essential car hire topics, such as credit cards, coverage, traffic, congestion zones, etc. If you need any more information, please call our reservations team on +44 123 3225 114 and they will be happy to help you with your booking and assist you with your travel itinerary.
---
Yes. Whenever you rent a car in Glasgow through the Auto Europe platform, you will always be asked to present a valid credit card (never a pre-paid card) in the name of the main driver at the time of collecting your vehicle. The reason for this is that the local car hire supplier will need to hold a security deposit against any damage caused to the vehicle, the amount of which is specified on the voucher. When you return the car at the end of your rental agreement, this deposit will be promptly released back onto your card once the vehicle has been confirmed to be in the same condition as when you collected it. For luxury cars, please note that sometimes the provider will require two major credit cards (Mastercard, Visa, Diners or American Express, for example) in the main driver's name due to the high value of such vehicles. You can find all the credit card-related information you need when making a search just by clicking on the blue and white info icon (i). For a list of the most common questions please visit our credit cards and deposits section.
Auto Europe's standard car hire rates always include the minimum amount of Liability Insurance, Collision Damage Waiver (CDW) and Theft Protection (TP) as required by law, with or without excess (depending on the local supplier). It is important to note that CDW does not cover any damage caused to tyres, wheels, roof, mirrors, undercarriage, engine, vehicle interior, locks or keys, so t cover these you might want to consider purchasing our popular Full Protection cover for a bit extra which will cover you for any damage caused to glass, mirrors, roof, undercarriage, damage or loss of keys, misfuelling, towing and administration costs during your rental period.
When you arrive to pick up your vehicle, you might find that the local car rental staff might try to sell you additional cover, which is completely optional, including Personal Accident Insurance (PAI), Personal Effects Coverage (PEC), Super CDW, Seguro Relax Insurance and Roadside Assistance, etc. However, it's worth keeping in mind that Auto Europe cannot give a refund for any such insurance should it be deemed surplus to your requirements at the end of the rental period.
When making a search for a cheap car rental in Glasgow, you can easily access all the terms and condtions such as CDW deductibles, Theft Insurance Deductibles and Liability Insurance and other aspects regarding coverage in the Auto Europe search results by clicking on the blue and white info icon (i), which are also provided with the car rental voucher once the booking has been confirmed. If you need to make a claim, please note that you must pay the car rental supplier first then claim the amount back from Auto Europe. When making a claim, it's essential that you provide all the required documents in order to receive your refund as quickly as possible.
For more information about Auto Europe's coverage policies, please call our rental specialists on +44 123 3225 114 and they will be happy to provide you with all the information you need. Please also read our page on the subject which provides a general overview of the types of car hire coverage available.
As a large metropolis, Glasgow receives a great amount of traffic, especially in the peak hours. In the city centre, there are many one-way streets and bus lanes, therefore it is advisable to pay special attention to the road signs. With a car hire in Glasgow you can reach Edinburgh within an hour via the M8, while the M74 will take you south to England. By driving north-east from Glasgow via the A82, you will arrive at picturesque Loch Lommond and Trossachs National Park. For more information, please consult our UK driving information page.
Parking on the streets is time-limited and fees depend on the zone you are in. Parking machines accept coins; after collecting your ticket, make sure you place it behind the windshield (parking time limits are displayed on the nearby road signs). There are also a number of public car parks dotted around the city to use as an alternative, when on-street parking is too difficult to find.
Yes, eventually. The launch of Glasgow's low emission zone (LEZ) is expected to be softly introduced in the summer of 2022 before officially coming into force a year later. This means that drivers will be banned from driving into the centre of Glasgow (Scotland's largest city centre) unless their vehicles have the cleanest engines, with restrictions operating 24 hours a day.
Travelling around Scotland and seeing all the sights in style and comfort is now possible with an Auto Europe campervan hire in Glasgow. Our modern and well-equipped motorhomes are available for rent in several locations throughout Scotland and other parts of the United Kingdom. To find out more, please contact our team of campervan rental specialists who will be happy to give you all the info you need and find you the best deal.
---
Glasgow Travel Guide
Glasgow offers its visitors a heady mix of culture, history and gastronomy with many first-rate museums and some of the best restaurants in the United Kingdom. It's also surrounded by some magnificent countryside, so once all the city sightseeing is over you'll have plenty of options available for an exhilarating road-trip to Loch Ness, the Highlands and other famous parts of Scotland.
Best day trips with my car rental in Glasgow
The spectacular Loch Lomond and The Trossachs National Park is also just a 30-minute drive from the centre with a car rental in Glasgow. From there, great places to visit include the Scottish Highlands, Robbie Burns country along the Ayrshire coast, Aran Island, as well as Oban. And, of course, famous Loch Ness is also within easy reach, although you may want to make an overnight stay of it.
For customers wishing to go beyond the city of Glasgow, it is also possible to plan a fun-filled road-trip with an Auto Europe car hire and drop the vehicle off in another city such as Edinburgh or Aberdeen by means of a one-way car hire, allowing for greater flexibility and freedom on your trip. Why not share the driving with a friend of family member and save money at the same time through our regular Free Additional Driver promotions.
Loch Ness
This spectacularly beautiful 23-mile-long and extremely deep body of water fills the geological fissure known as the Great Glen, whose steep green walls make it one of Scotland's loveliest sights. Few visitors, however, can resist the urge to gaze dreamily at the lake for several minutes just in case the fabled serpent known as the Loch Ness Monster decides to make one of its very rare appearances!
Stirling Castle
The spectacular 12th-century Stirling Castle, built atop a 76-metre-high volcanic crag, has played an important role throughout Scotland's rich history. The neaby town of Stirling is famous as the location of the Battle of Bannockburn where Robert the Bruce defeated the English invaders in 1314. It was also where legendary William Wallace beat the English at the Battle of Stirling Bridge causing a victory for Scottish independence.
Robert Burns Birthplace Museum
Located deep in Ayrshire on the outskirts of the city of Ayr, visitors can tour the beautifully preserved thatched house where Scotland's most famous poet, Robert Burns, was born and lived as a child. Commonly referred to as Robbie Burns Country, the spectacular Ayshire Coast has many other literary shrines dedicated to the great man, including the Robert Burns House where the poet lived for the four years before he died here in 1796 (aged just 36), which is now a museum. His body rests in the nearby St Michael's Churchyard.
Edinburgh
A lovely mix of a medieval old town and Georgian new town, Scotland's illustrious capital is just under one and a half hours away by car from Glasgow. Edinburgh is well worth the drive to see the famous castle which stands high on a rock to present one of the most iconic city images of anywhere in the United Kingdom
What to do in Glasgow
Full of ancient history and crammed with architectural treasures (more than 1,800 buildings in the city are listed for their historical importance), Glasgow is a must for culture vultures looking for additional attractions such as fine dining and first-rate galleries and museums. After many years of neglect, the city is still a work in progress with many more attractions in the pipeline.
Kelvingrove Art Gallery: Arguably Glasgow's best museum, Kelvingrove Art Gallery is housed in a grand, 100-year-old, Spanish Baroque-style building that is an attraction in itself. The collection includes everything from natural history exhibits to fine artwork by the great masters. Over the years it has added prominent works by the likes of Dali, Rembrandt, Van Gogh, Monet and Turner.


Govan Stones: One of Glasgow's top tourist sights is the unique collection of early medieval stones carved in the 9th-11th centuries to commemorate the power of those who ruled the Kingdom of Strathclyde. Located in the beautiful setting of Govan Old Church, the collection includes beautifully carved crosses and cross shafts and fine magnificent hogback stones, as well as the star exhibit, the amazing Govan Sarcophagus, the only one of its kind carved from solid stone from pre-Norman, northern Britain.


Glasgow Cathedral: This magnificent building offers a fascinating insight into the city's medieval past. A dark, Gothic structure, it was was originally built in 1136 and features a lower crypt containing the tomb of the city's patron saint, St Mungo. The church has several unusual aspects, including one of its original oak doors. Nearby, visitors can see the ornate tombs and gravestones of the city's 19th-century elite and stroll up to the hilltop Necropolis cemetery.


Riverside Museum: The Riverside Museum is the first purpose-built museum created by Glasgow Life in the 21st century. Located at the junction of the Rivers Kelvin and Clyde, it houses the city's fabulous transport and technology collections which have been gathered over the centuries and reflect the important part Glasgow has played in the world through its contributions to heavy industries like shipbuilding, train manufacturing and engineering.


Gallery of Modern Art: The most visited modern art gallery in Scotland, this world-class museum (more commonly known as GoMA) displays works by local and international artists. Housed in an iconic building located in the heart of Glasgow city centre, one its most famous exhibits stands outside on the pavement in front of the main entrance, namely an equestrian statue of the Duke of Wellington sculpted by Carlo Marochetti in 1844.
---
Useful links