Car hire in Sweden - Discover the land of IKEA, ABBA and meatballs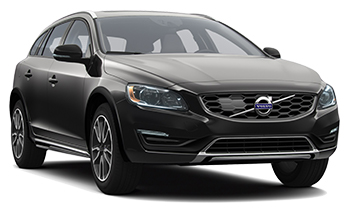 From Ystad in the south to Kiruna in the north, Sweden has a lot to offer. Skåne offers open rapeseed fields with an idyllic countryside, Lapland dense fir and birch forests and, Stockholm, Gothenburg and Malmö a metropolitan environment with a wonderful atmosphere. Maybe you are planning a weekend in Uppsala or a visit to Umeå and are in need of a car. With at Auto Europe you will find the best prices on car rental and can compare prices, vehicles and suppliers so you know you are booking the rental car that is best for you.
The capital city of Stockholm has been the capital since 1634 but was already the largest city in the country as early as 1436. Located where Lake Mälaren flows into the Baltic Sea, it became an important city for trade between eastern Sweden and Lübeck and Hamburg in Germany in the 13th century. Today, more than 970,000 people call Stockholm home and the city continues to grow. Many visitors who opt for a trip to the capital tend to fly to the larger Stockholm Arlanda Airport or the smaller Skavsta Airport, located in Nyköping. If this is your first time visiting Stockholm, there are some sights you must not miss, including the Royal Palace and the Old Town with their iconic colourful houses that have become one of the capital's iconic features.
Stockholm is not the only city in the country that is worth a visit. In th south-west, you will find lovely Gothenburg which is known for its trams, Lisseberg Amusement Park, Avenyn and above all just good atmosphere. Malmö in the south also offers exciting sights such as the modern Turning Torso and Lilla Torg, which are full of cozy restaurants and cafés. Skåne has become a real summer destination and many Swedes from the upper parts of the country own summer cottages and there are also many Danes who cross the Öresund Bridge to explore the county's idyllic villages and landscapes. In recent years, more and more international tourists have opened their eyes to Skåne and it is no wonder with idyllic communities such as Simrishamn, Båstad, Falsterbo and Ystad.
Booking a car through us means that you get the car you want at the best possible price and that you are guaranteed good customer service. Our dedicated reservations team can be reached on per telephone and email throughout the week, meaning that customers can call if they have questions or need help. Auto Europe is always there for its customers and wants to help you have a successful car rental from start to finish. Start comparing options for a car hire in Sweden with our search engine at the top of this page or read our previous customers car hire reviews in Sweden to see what they have to say about their experience and our service. We are always completely transparent with all costs and conditions and hopes our previous customers' reviews can help you in your decision on which car and supplier to choose. If you have questions or need help, do not hesitate to call our skilled car rental experts on +441233225114.
For more information about renting a vehicle in Sweden, click on the car hire related topics listed below:
Where to Pick up a Car Hire in Sweden
If you plan on booking a car rental in Sweden, you have many options to choose from, not only in larger cities such as Stockholm and Gothenburg, but also Malmö, Helsingborg, and Gällivare. Auto Europe cooperates with a vast network of suppliers and giving you access to over 24,000 pick-up locations in 180 different countries. In Sweden, for example, we work with reliable suppliers such as Hertz, Avis, Europcar, Alamo, Thrifty, Budget and many more.
Most of our customers want to rent a car at the airport after arriving at their destination. Auto Europe therefore cooperates with suppliers at all major airports around the country and offers affordable and good rental cars with pick-up directly at the terminals. Our suppliers also have offices at train stations and in the city center, as the goal is to offer customers several different alternatives so that they can easily pick up and leave their rented vehicle. This does not only apply on the Swedish mainland, you will also find car rental offers from different suppliers on Gotland. Please note that there are no train station on the island of Gotland, but you can easily rent a car with pick-up at Visby Airport or in the city center here on our website.
For those who are planning on picking up a rental car for the first time or need a refresher in the process, we have prepared a page on car hire pick-up and drop-off procedures to ake your experience as smooth as possible.
Compare Car Hire Rates at the Most Popular Airport and Rail Stations in Sweden
Stockholm Bromma Airport
Luleå Airport
Kiruna Airport
Umeå Airport
Åre Östersund Airport

Stockholm Central Station
Gothenburg Central Station
Malmö Central Station
Östersund Train Station
Book with the Best Car Hire Suppliers in Sweden
Hertz, Avis, Europcar, Alamo, Thrifty and Budget are just some of the suppliers Auto Europe cooperates with in Sweden. Our large range of vehicles are mainly due thanks to our well-established partnerships with a vast network of suppliers that we have built up since the start in 1954, and which you the client, the added benefit of being able to book your next rental car in Sweden to affordable price. Auto Europe works on the basis of a best price guarantee which means that we match or even beat the price if you have managed to find a similar rental car with exactly the same conditions at a cheaper price. In addition to low prices, we also have good customer service and only work with suppliers we know can meet the same high standards as us at Auto Europe.
Auto Europe is a car rental broker, this means that it is not our vehicle you will drive when it is time for you to pick up car rental, but the local supplier's that you have chosen. The suppliers may have different conditions, so it is important that you check what applies before completing your booking. On our website you can check the conditions of a specific rental car by clicking on Price details. There you will find all conditions related to one-way rentals, entry to other countries, age requirements, extra fees and more. This information will also be on your booking confirmation that you receive from us after you have reserved a car, but it can be a good idea to read the terms and conditions before you book the vehicle. If you decide to rent a car in Sweden, the Auto Europe comparison portal is where you will find the best deals on the market.
If you have any other questions about our suppliers or their terms, please call us on +44 123 3225 114. We are happy to answer questions related to the car rental companies opening hours, vehicle fleet, extra fees, what you do if you need to pick up / leave the vehicle outside normal opening hours and other relevant topics.
---
Frequently Asked Questions about Renting a Car in Sweden
Regardless if you are planning to book a rental car in Sweden or abroad, questions can arise, especially if you have never rented a car before. Auto Europe is here for you and we have gathered the answers to some of the most common questions we get asked below, for example if you need a credit card and what kind of insurance you can book. As a customer of Auto Europe, you are in safe hands and we want our customers to be able to enjoy the trip without worrying about unexpected costs or hidden fees. We fully understand that it can be overwhelming to rent a car which involves lots of new terminology and terms, but we hope that our questions and answers below can make the process easier. As always, just call us if you still have questions or feel unsure about anything, our reservation department is staffed seven days a week with our helpful and skilled agents who can answer all your questions.
---
To hire a car in Sweden you must be at least 18 years of age. With that said, not all suppliers rent out vehicles to 18-year-olds because they can set their own age requirements. It is not uncommon for suppliers to have an age limit of 19, 20 or 21 years and some also require that you have held your driving license for a minimum of one or two years. If you are under 21 years of age, you will most likely have to pay an extra fee due to your young age. This so called Young Drivers Fee is usually applied to drivers up to the age of 26 years for insurance reasons. To see a specific suppliers age restrictions or find out what Young Driver Fee applies, please click on Info Icon. This information can also be found on the voucher you are issued from Auto Europe once you complete your booking.
The Young Driver Fee is set by the local suppliers, not Auto Europe and we do not profit from this fee. This means that one supplier's fee may be higher than another's and you may therefore need to compare your options to find the best deal. If you use our search engine, before you click on Search, you can fill in your age in the box that appears if you un-tick "Driver Age 26-69 years". Enter your correct age and our search engine will only show car rental offers that are available to you so you can easily see which supplier has the cheapest option.
Absolutely! Pick up the car in Stockholm and leave it in Östersund or pick it up at Malmö Sturup Airport and leave it at Malmö Central Station. Virtually all car rental companies in Sweden allow for so called one-way car hire as long as it is announced in advance and approved by the supplier. What you should keep in mind, however, is that there is often an extra fee for one-way rentals and that this fee can vary depending on the supplier, vehicle, destination and rental date.
If you have entered a different pick-up and drop-off location in our search engine, the one-way fee will be clearly shown below the total price you see. It will also be listed in the payment details before you book your rental car in Sweden and on your Auto Europe voucher after you have confirmed the reservation. Sometimes the one-way fee is paid directly on our website at the time of booking, but the most common option is that it is paid directly to the supplier when you come to pick up your booked car. No matter what, Auto Europe will tell you what the estimated price will be so that you do not suddenly have to pay a large sum of money you were not prepared for. Once again, Auto Europe is completely transparent with the terms and costs and we do our utmost to prepare you in the best way for your car rental.
In addition to one-way rentals within the country's borders, it is not uncommon for people to want to pick up the car in Sweden but then leave it in another country, for example in one of the neighbouring countries Denmark, Finland or Norway. Many suppliers allow this type of one-way rental, but you must once again get it approved in advance. Even if you do not want to leave the rental car in another country but only visit it, this must be notified and approved by the supplier. This is for the supplier to ensure that the vehicle is covered in terms of insurance and coverage when you drive in the other country. Depending on the supplier, the conditions for entry to other countries may be different, for example, many have special conditions for customers who want to visit Eastern Europe with their rental car.
Yes, you will need a credit card (not debit) to leave a deposit at pick up and it is therefore extremely important that you have a credit card if you are renting a car, not only in Sweden but also in Auto Europe's other 180 countries where we are active.Debit cards and cash will not be accepted, and it must be a credit card in the name of the main driver, i.e. the name in which the reservation is made. A credit card by someone other than the main driver, such as a partner, family member or fellow passenger, will not be accepted.
To see which cards are accepted and other payment terms, please click on Info Icon. Although the most common credit cards such as Visa and Mastercard are most often accepted, it is always good to double check to be on the safe side. The terms will also be clearly stated on the voucher that Auto Europe sends to you by email after you have completed a booking on our website.
If you do not have a credit card at the time of collection, you can not leave the deposit, which means that the supplier can cancel the booking without a chance of a refund. Losing your booking without getting your money back does not happen very often, but it is possible if you do not follow the conditions, i.e. have a credit card in the name of the main driver with enough credit so you can leave the deposit. It is often possible to get the vehicle out anyway, but you need to buy insurance that is almost always very pricy and which means that the travel fund goes minus several hundred or thousand depending on the supplier, vehicle, destination and rental date. However, this is not a guarantee. In other words, it is important to read the terms carefully so that you avoid this outcome.
On our page on credit cards and deposit FAQs you will find even more detailed information on this topic.
While driving your car hire in Sweden you will feel safer and more confident on the road by knowing the most important driving rules. We have put together a dedicated driving guide for Sweden but also a quick and helpful summary below.
In Sweden driving is done on the right hand side like in most European countries and it is compulsory for all passengers to wear a seatbelt. For children under the height of 135 cm (4'5") a child seat is required. Drinking and driving laws are quite strict with a limit of only 20mg per 100ml of blood; therefore it is best to avoid alcohol consumption if you are planning to operate a motor vehicle on the Swedish roads. Speed limits are 50 km/h (31mph) in cities, 70 km/h (43mph) on dual carriageways, rural roads 90 km/h (90 mph), 110-120 km/h (65-75 mph) on highways and there are quite a lot of fixed speed cameras.
Particular attention is necessary when you drive outside of towns at dusk or down because you could encounter some wildlife crossing the roads. Moose and dear are quite frequent. Watch out for the wildlife warning signs and drive slowly. In the unfortunate event of a collision with a wild animal do not forget to report it to the police, because even if it is not considered a crime, reporting it is compulsory.
Petrol stations are primarily self-service with automated machines and open 7 days a week. They typically accept SEK notes in denominations of 20, 50, 100 and 500, as well as major credit cards.
No, the motorways (Motorväg) and roads in Sweden are toll-free, however, the Öresund Bridge and Svinesundsbron both apply tolls. If you are driving to Motala and Sundsvall there are also 24-hours bridge tolls across Sundsvallsfjärden and Motalaviken. The cost is between 5-20 SEK per crossing and depends on the vehicle size.
Yes, congestion fees are applicable for entering central Stockholm and Gothenburg. The congestion fee is based on both the day of travel and the time. On Saturdays, Sundays, public holidays, the day before a public holiday and in the month of July the taxes are usually not applied. Inn Stockholm and Gothenburg the charges are applied Mondays to Fridays from 6 am to 6.30 pm and are not usually higher during rush hours. The price can range from 9 to 45 SEK. There will be no barriers or cash payment points by the side of the road in order to allow the unimpeded flow of traffic. During the time of the congestion charges, vehicles are registered when they pass a control point by photographing license plates and payment can be done via a website or over the telephone by credit card, or alternatively it can be paid at any 7-11 and Pressbyrån convenience stores.
Once you have found a good and cheap rental car in Sweden, it is time for the next step, namely car hire coverage. All our vehicles have the minimum insurance coverage required to legally drive on Swedish roads. A collision protection (CDW) and a theft protection (TP) are always included but come with a deductible, i.e. an amount for which you as a customer are financially responsible. In addition, not all parts of the vehicle are included in the CWD, for example, the vehicle's tires, keys, locks, roof, chassi, mirrors, interior or glass are not included. Also note that in some cases the deductible can be very high, which means that most people choose to buy insurance or rental car protection to reduce their financial responsibility in the event of damage or theft.
Auto Europe's most purchased protection is a repayment protection called Full Protection. This protection means that Auto Europe will refund you the full amount in case something should happen, so the local provider will deduct money from your credit card but you will then get these back from Auto Europe as long as you meet all the requirements and conditions. Full protection is a comprehensive protection that ensures that you are covered in the event of the unexpected, the protection also covers the parts of the vehicle that are not included in the basic coverage. It happens that the staff at the pick-up location may offer other insurance products, such as Personal Accident Insurance (PAI), Personal Effect Coverage (PEC), Super CDW or roadside assistance. Like Auto Europe's Full Protection package, these packages are completely optional and you do not have to buy them if you do not want to. If you have already booked a protection via Auto Europe and feel pressured to buy another locally, we recommend contacting us before doing so. Most likely you do not need to acquire another protection and unfortunately Auto Europe can not offer ta refund if it later turns out that you bought unnecessary extra protection. Auto Europe is therefore not responsible for buying products locally and we strongly recommend that you contact us so we can clarify what coverage you have through us if you become unsure.
Yes you can use your UK license to drive your rental car in Sweden. A International Driving Permit (IDP) is usually required only if the driving license is not written in the Roman alphabet. Under Info Icon, you will find which papers are needed by each supplier.
Yes, when you compare the price of a rental car in Sweden on our website, you can also see under Info Icon, what it costs to add an extra driver. All suppliers allow you to register one (or more) drivers in addition to the main driver as long as these are registered with the local supplier in advance at pick up. The price varies but is usually calculated on a day-per-day price, i.e. for example SEK 50 per day. Some providers also offer this completely free of charge and Auto Europe has regular offers with free extra drivers that you can take advantage of.
Sharing the burden of driving is a very good option, but we want to emphasise how important it is to register the extra driver with the supplier. Please do not try to save some money by letting an unregistered driver drive the rental car as this means that the insurance and coverage of your rental vehicle will then be made void. This means that the customer is financially responsible for all costs without the limitation of the deductible in the event of an injury or accident. This can lead to incredibly high sums and it is not worth the risk of saving a few hundred bucks. Therefore, please always make sure that the person behind the wheel has been approved by the supplier in advance. It is very easy to do, all that is needed is for the extra driver to register with the supplier at the pick-up, and show a valid ID and driving license as well as sign the rental agreement.
Yes. In Sweden from 1 December to 31 March there are special winter tyre requirements for vehicles that drive on roads in wintry conditions, meaning ice, snow, frost or slush. Between 1 October and 15 April studded tyres are also allowed in particularly harsh conditions. The car rental deals that Auto Europe offers for Sweden from November to March already include the winterization fee encompassing tyres and sometimes ice scraper. The dates can vary among the suppliers, so please double-check under Info Icon. If you need ski-racks they are on request and you need to specify it on the booking form, so Auto Europe can arrange them with the supplier.
Even if it sounds obvious, the first recommendations when driving on Swedish roads affected by harsh winter conditions is to go slow, be very careful and calm, and keep enough distance to other cars. Move the steering wheel smoothly and never press the brake or the accelerator too abruptly because this could make you lose grip. This is particularly important outside of towns where narrow streets are quite frequent and there is no space for two cars at a time, or also when passing bridges where ice forms much quicker. Please remember that if you are the first to discover a car affected by an accident you are obligated to give assistance.
Before starting a road trip in winter check that your rental car has winter tyres, a windshield wiper fluid with anti-freeze and a winter kit including ice scraper, shovel, torch, tow-rope, reflective vest and starting cables. If you plan to drive to the mountains check beforehand if there are mountain passes closed due to the weather and wait for the reopening or change with an alternative route.
If you rent a car and plan to travel by ferry you usually need pre-authorisation by Auto Europe and the supplier, and pay an extra fee on site for the insurance coverage. Please call the Auto Europe agents to find out if this is possible. Clients wishing to travel to the island of Gotland are advise to rent a car in Visby. Although the option of travelling to the island of Öland is available by ferry (from Kalmar and Oskarshamn) we advise clients to use the Öland Bridge (free of charge via Kalmar) or rent a vehicle on the island instead.
---
Additional Vehicle Rental Options in Sweden
At Auto Europe you will find the best price on car rental in Sweden Since 1954, Auto Europe has offered great prices and the best possible service at a large number of destinations around the world. In Sweden we have access to lots of different car rental offers on vehicles in all possible models and sizes. Book a solid SUV or four-wheel drive car to tackle the country's untouched nature with or book a mini or economy-class car for your weekend in Stockholm, Gothenburg, Malmö or any other big city. All our vehicles are affordable, but our most budget-friendly category is the mini category, which consists of small, agile and fuel-efficient vehicles. Also a vehicle from our category Compact can meet your demands for comfort and agility while staying below budget.
Check out our entire
vehicle fleet in Sweden here
or start comparing prices, vehicles and suppliers with our search engine at the top of this page.
Luxury Car Hire Sweden - To have an unforgettable driving experience in Sweden visit our dedicated Luxury Car Hire section and book an amazing vehicle at unbeatable rates.
Van Hire Sweden - In addition to ordinary cars, you can also rent vans with space for up to nine people at Auto Europe. This is perfect for larger travel parties, such as those who travel with a large group of friends or have rented a minibus to go on a sports trip. Compare minibus prices on our website to save the next time you need to book a vehicle with room for more than five passengers.
Campervan hire Sweden - Many people now choose to holiday by renting a motorhome and going to a campsite by the sea in Ängelholm, Varberg or Skara. Enjoy motorhome life in a fully equipped motorhome from one of our suppliers in Stockholm, Gothenburg or Malmö and then explore this beautiful country from the comfort of your own holiday home.
---
Useful links
Travel Inspiration and Information for Your Trip to Sweden